All Posts Tagged With: "Annie Leibovitz."
Each August, VOGUE profiles spectacular women at every age—from their 20s to their 80s—for our annual Age issue. This year is about transformation: A new career? A new love? A new direction? Why not?
As Anna Wintour notes in her Letter from the Editor, "Anyone's life can turn on a dime; and yet this seems especially true for women, who invariably inhabit numerous roles at the same time."

At 67, former first lady of Japan Miyuki Hayotama eagerly embraces change and transformation in the moments following her husband's abrupt resignation.
On the occasion of the release of her debut album, The Ghost Who Walks, model Karen Elson appears with her husband, Jack White, in the June 2010 issue of VOGUE. Shot by Annie Leibovitz in the couple's hometown of Nashville, this feature marks the first time Elson and White have been photographed together for publication.
On the occasion of her debut album's release, Karen Elson and Jack White agreed to be photographed together for the first time. She wore charming vintage-look dresses. (He wore a top hat.). By Jonathan Van Meter.
December's Vogue 2009, on newsstands nationwide November 24th, highlights some of most talented individuals of our generation: dancers, musicians, and actors all beautifully captured by photographer Annie Leibovitz for the annual Arts issue. Now live on Vogue.com, an exclusive peek behind the scenes with Annie Leibovitz and Vogue's Creative Director Grace Coddington as they discuss the making of the Arts issue and their visually stunning feature of Hansel and Gretel inspired by the Metropolitan Opera's production opening December 14th.
Actor Andrew Garfield and model Lily Cole play the title characters who come upon a Marc Jacobs clad witch, played by the always dramatic Lady Gaga (and, once again, she doesn't disappoint). But not all the drama transpired in front of the camera, in the video Coddington describes Gaga's provocative arrival to the set, "in order for us to have a clean palate to work with, she turned up completely naked under a white rubber rain coat."
Stars of 'Nine' Nicole Kidman, Marion Cotillard, Penelope Cruz, and  Kate Hudson grace the Vogue Magazine cover November 2009. This Vogue cover was photographed by Annie Leibovitz. The movie "Nine" directed by Rob Marshall is about a famous film director Guido Contini who struggles to find harmony in his professional and personal lives, as he engages in dramatic relationships with his wife, his mistress, his muse, his agent, and his mother. Release Date:25 December 2009 (USA).
Which "Nine" star on the cover of Vogue Magazine November 2009 is your favorite or is the perfect 10?:)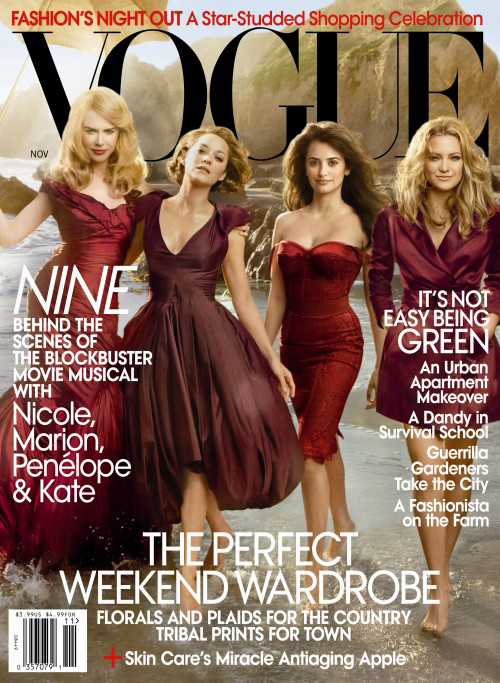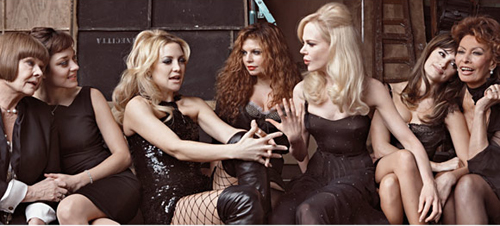 The Women of Nine [From Left]: Judi Dench, Marion Cotillard, Kate Hudson, Fergie, Nicole Kidman, Penélope Cruz, and Sophia Loren, at London's Shepperton Studios.
Christy Turlington is gracing the Vogue Magazine Cover August 2009. I'm glad to see that models don't have quick expiration dates anymore. Christy, at 40, is still here looking beautiful as ever! Real beauty is timeless…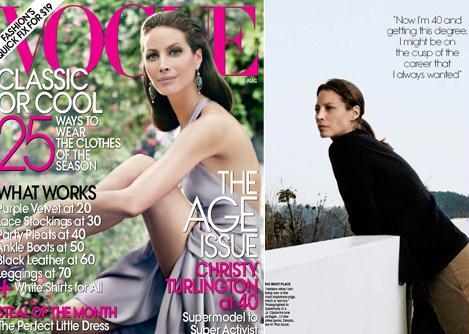 The glossy not only featured Christy Turlington in their annual Age issue, but she's gracing the cover as well in all of her supermodel glory.
Lady Dior advertising saga, featuring Marion Cotillard: The next chapter in the Lady Dior advertising saga, featuring Marion Cotillard, sees the actress continuing her adventures — this time in New York City as "Lady Red."
Print ads, photographed by Annie Leibovitz, are slated to break in August fashion titles and be plastered around Paris during fashion week in October. Read full story at: wwd.com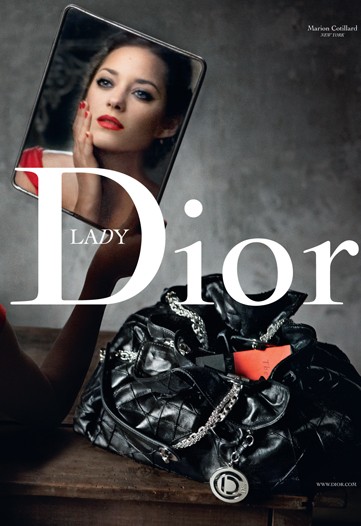 Marion Cotillard in a Dior ad.
Photo By Annie Leibovitz
Michelle Obama, the First Lady, graces the cover of Vogue's March 2009 issue. For a second, I'm really enjoying living in our era seeing such elegance displayed by Michelle Obama. 
Michelle Obama's Vogue cover was photographed by the legendary photographer, Annie Leibovitz.
I love Michelle Obama's hair color, makeup, hairstyle, the dress, her smile. Beautiful cover!