All Posts Tagged With: "Aromatherapy"
Yes To and the Yes To Carrots Seed Fund brings Organic Gardens to L.A. Schools with Nicole Richie, Amy Smart and Anna Getty.
Yes To Inc. together with Environmental Media Association (EMA) and LA Unified School District launched their partnership with a groundbreaking ceremony on May 12th at the Helen Bernstein High School in Hollywood.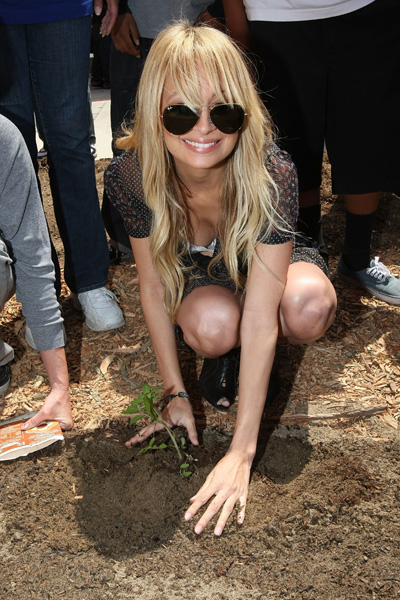 Nicole Richie at the May 12th event. 
Yes To Carrots is a complete family of skin and hair care products that combine the anti-oxidant power of Beta Carotene from orange organic fruits and vegetables, with Dead Sea Minerals.
Talking Makeup is excited to let you know about new product launches from REN Bio-Active Skincare.
I'm particularly excited about the launch of REN Moroccan Rose Otto Sugar Body Polish because I just can't get enough of REN Moroccan Rose Otto Body Wash (…it's SO good).
Moroccan Rose Otto Sugar Body Polish: Unveil a silky smooth finish with this aromatically scented exfoliating polish, formulated with Paraguay Cane Sugar, Kola Nut and Almond Oil that invigorates and tomes skin. SRP: $60. Available: June 2009. Exclusively available at Space NK.

REN No. 1 Purity Cleansing Balm – being hailed as the eco-friendly version of the iconic Eve Lom Cleanser. Exfoliates, removes makeup, cleanses and moisturizes all in one.
Talking Makeup is happy to announce a GIVEAWAY of Rx For Brown Skin products!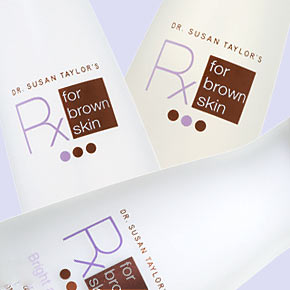 About Rx For Brown Skin: People are fundamentally the same-but their skin isn't. As a renowned dermatologist and leading authority on the treatment of skin of color, Dr. Susan C. Taylor created Rx for Brown Skin to treat the concerns unique to darker skin, including African American, Latin, and South Asian skintones. The irritant-free solutions target sensitivity, irritation, dullness, and hyperpigmentation, which can result in dark marks and blemishes. Plus, the exclusive Bright Skin Complex ensures your skin looks luminous no matter how deep your complexion may be. Treat your skin to Dr. Taylor's specialized skin savers and uncover your true brilliance.
THE PRIZE: 2 lucky winners will win either 1 Rx For Brown Skin Bright and Healthy Starter Kit ($75 value),
…or 1 Rx For Brown Skin Bright and Clear Starter Kit ($75).
This Earth Day, Wednesday April 22, Fresh is sharing the beauty with our Get More, Give More Earth Day special.
Fresh has always been committed to using natural ingredients. They are an integral part of the efficacy of their products. They connect us to time-honored beauty rituals of the past, and they keep us at the forefront of innovation.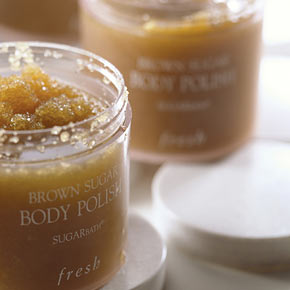 In honor of Earth Day, Fresh is creating awareness around five of our most iconic, natural ingredients: meadowfoam seed oil, rose, soy, sugar, and Umbrian Clay.
REN skincare is named after the Swedish word for "clean," and it sure lives up to its name. REN is formulated WITHOUT:Parabens, Sulfates, Synthetic Fragrances,Synthetic Dyes, Petro-Chemicals, and Phthalates.
REN skincare is natural yet an effective skincare line and these are my favorite products from the line:
REN Moroccan Rose Otto Body Wash is a gentle wash, it smells bit rosey without being overpowering. It is perfect if you have a sensitive skin or very dry skin. I even use REN Moroccan Rose Otto Body Wash on my boys, Jake and Kieran, who are 3 and 9 months. I've received a sample a week ago, between my husband and I, and the boys, my REN Moroccan Rose Otto Body Wash is almost gone and I'm tempted to buy another one!

REN Moroccan Rose Otto Body Wash: A luxurious body wash formulated with Moroccan rose otto oil. $27
REN Glycolactic Skin Renewal Peel Mask is perfect if you are looking to exfoliate and renew your skin without scrubbing and micro-beads. It goes on skin smoothly and gently and it does all the exfoliating work your skin needs without scrubbing! Simply leave for 10 minutes and rinse with warm water.
Watch Marta's video blog for today talking about her favorite body washes.

Marta's video blog for today was provided by www.misslush.com  style & beauty video sharing website. Upload your video today, just register it's FREE, and upload! Also, join & chat in Miss Lush's Forums!
Marta's top body washes include:
Top Body Washes include:
Aveeno Skin Relief Body Wash Fragrance Free: With Natural Colloidal Oatmeal. Moisturizes to relieve dry, itchy skin. Gentle cleansing. Aveeno Active Naturals. Dermatologist recommended. Aveeno Skin Relief Body Wash Fragrance Free truly moisturizes as it cleans, so your skin feels soft and smooth all day long. Under: $10.

Caress Evenly Gorgeous Exfoliating Body Wash: Caress Evenly Gorgeous Body Wash with burnt brown sugar and karite butter, gently exfoliates and lusciously moisturizes to reveal beautifully even toned skin. Go ahead, be daring! Under $5 (at Walmart).
Make a spa day at your home with Caudalie Vinoperfect Radiance Revealing Mask & Caudalie Crushed Cabernet Scrub!
Caudalie Vinoperfect Radiance Revealing Mask is a gentle, exfoliating mask. It is very gentle light cream that you smooth on your face with an attached brush, similar to a brush used at Caudalie's Vinotherapie Spas, and you don't get any bacteria in. Make sure to rinse brush after use, and dry before closing the tube. 10 minutes later and your skin is exfoliated, renewed and you feel very relaxed.
Find out what products to splurge on and when to save your hard-earned dollars
You don't have to spend half your paycheck on skincare products to stay wrinkle and pimple-free. That said, slathering household condiments on your face to avoid paying for the good stuff isn't necessary either. Dermatologist Dr. Ava Shamban and P&G scientist Mary Begovic Johnson helped us compare products with similar ingredients that are very different in cost. Here's what we found.
Tune in to the QVC on Saturday, April 4th at midnight (late night Friday TONIGHT) for the launch of 4 new products from Dr. Adrienne Denese, renowned anti-aging skincare specialist! Don't miss this!!!
Dr. Denese products contain the best and most advanced scientific formulas in the highest possible percentages, delivering breakthrough anti-aging prescriptions with cutting edge ingredients such as CoQ10, retinol, peptides and amino acids while using state of the art technology.
Dr. Denese is not only a medical doctor who specializes in anti-aging, but has become the only female scientist in this field. Dr. Adrienne Denese developed a vast body of knowledge of what the skin requires to look young. She launched Dr. Denese SkinScience exclusively on QVC so that she could share her scientific findings with consumers at an affordable price point. "Not only do I use the most advanced active ingredients but that have been clinically proven to work, I use far high concentrations of them in the skincare products I create than the more expensive products." Dr. Adrienne Denese.

Click image above to enlarge!
Dr. Denese's SkinScience will launch four innovative new products on QVC April 3rd Friday at midnight. Each product offers breakthrough technology with added benefits to the skin. Dr. Denese's products contain the best and most advanced scientific ingredients in the highest possible percentages.
Glow Younger Self Tanner The first Self Tanner with Pro Peptide Technology:
Emma Roberts at the Premiere of LymeLife:
Get Emma Roberts' makeup look:
Neutrogena Cosmetic Science Expert, Matin, created Neutrogena brand ambassador Emma Roberts' look for the premiere of her new film, LymeLife, at the Gen Art Film Festival – now Matin shares how you can achieve Emma's gorgeous look at home:
Face: "For Emma's glowing skin I began with Neutrogena SkinClearing Oil-Free Makeup in Classic Ivory followed by Neutrogena Mineral Sheers Concealer Kit SPF 20 in Fair."