All Posts Tagged With: "Banana Republic"
American designer, Narciso Rodriguez, will begin an advisory role on August 20, 2012, with Banana Republic in partnership with its Executive Vice President of Design and Creative Director, Simon Kneen, beginning with the Fall 2013 collection.
Tuesday, October 26th, 2010, New York City. Fashion Week may be over, but fashion never sleeps, nor does Rodney Cutler, owner of Cutler/Redken salons! Early this week he created a natural, carefree look for the Banana Republic Spring/Summer 2011 runway show, held at The Waterfront in NYC.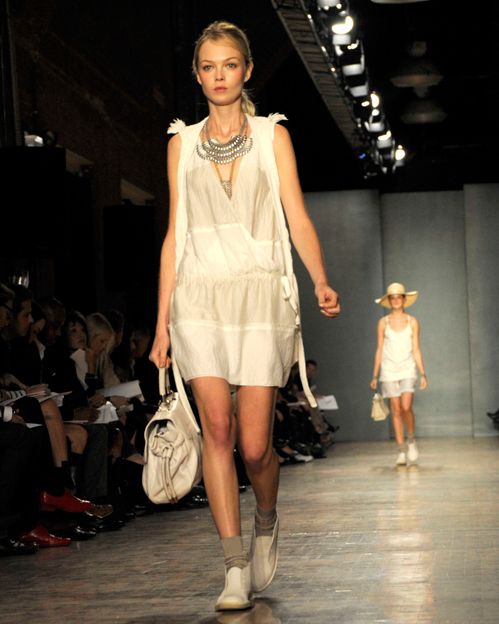 How to & products:
From perfect little stocking stuffers to glistening gift boxes, Banana Republic has the perfect gift options for your gift guide! Sparkling scents for him and her and festive home fragrances.
Fine Fragrance Holiday Gift Sets: The Republic of Us Collection ($49) – The latest shining stars from Banana Republic fragrances come back for an encore performance as part of the holiday gift collection for 2009. Each set will be offered in stunning two-piece boxes this season, featuring a giftable matte silver base and "dressed up" cover.
For Women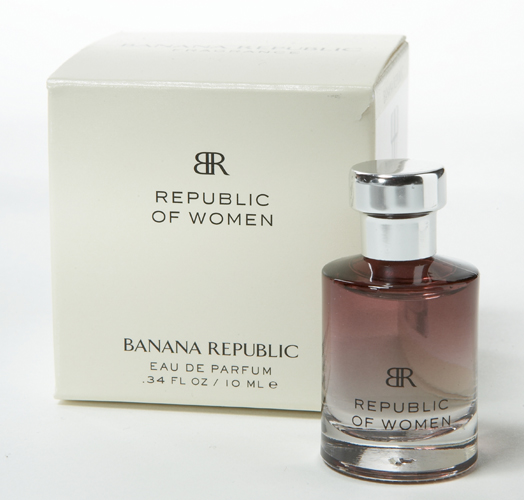 Republic of Women – Celebrate her sparkling energy and modern sensuality this holiday season with a Republic of Women holiday gift set. The limited-edition collection features a 50mL Eau de Parfum and a 50mL Body Cream available exclusively in the gift set. Banana Republic's newest women's fragrance, Republic of Women leaves an alluring impression with a seductive blend of juicy berries, pink jasmine, Moroccan rose and precious woods. For her, the set showcases a subtle cast of gold metallic.
Banana Republic reinvents the notion of physical and emotional chemistry with new fragrances for him and her. Inspired by the strong connection we have with ourselves, with others and with the world, the Republic Collection effortlessly captures individuality and equality in two new sophisticated scents: Republic of Women and Republic of Men.
Designed to complement each other, these extraordinary new scents celebrate the unique qualities that unite us all and the unspoken bond we share with humanity. Elegant with an edge and subtly provocative, Republic of Women and Republic of Men encourage modern souls to express their individual style while remaining open to new ideas, creativity, and most of all, to one another.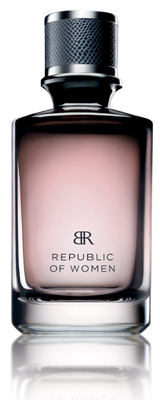 Introducing Limited-Edition Minis from Banana Republic.
Banana Republic Mini Fragrances come in these cute little travel sizes, perfect to take with you on your beach getaway in the upcoming summer months! Also, Banana Republic fragrances give you a chance to try a perfume without investing too much money. These fragrances are super super affordable 1 for $10, 2 for $15. This is what we call Beauty on a budget!
Banana Republic Mini Fragrances are available now only at Banana Republic stores nationwide.
Banana Republic introduces the latest way to wear their signature scents. The new limited-edition Miniature collection features 7.5mL versions of their best-selling Discover fragrances.
Shout it from the rooftops. Pour your heart out on paper. Whisper it in someone's ear. No matter how you proclaim your love this Valentine's Day, Banana Republic has the perfect compliment to your sentiment. Introducing the newest scent-ual offerings from the Banana Republic Home Fragrance and Discover Collections – new and best-selling fragrant blends for the home, skin and spirit that your valentine is sure to fall for.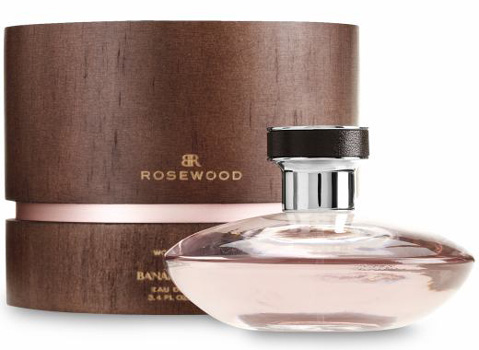 Rosewood – Pamper your sweetheart this Valentine's Day with this sensual blend of rare florals and rich amber. In addition to the EDT, available in this enchanting scent is a Body Cream, a rich, whipped moisturizer that helps to leave your skin feeling soft and smooth. To ensure your loved one's skin is as seductive to the touch as it is to the nose, the Rosewood Shower Cream is a creamy body cleanser that rinses completely leaving behind a silky smooth feeling.
The Banana Republic Home Fragrance and Discover Collections are available at Banana Republic stores in the United States and Canada, via bananarepublic.com or by calling 888-BR-STYLE.
Banana Republic is reintroducing a limited edition of it's iconic fragrance: Classic.
I must say, Classic fragrance by Banana Republic is one of my favorite fragrances as well. Classic is so fresh and easy to wear, so I'm quite excited about the new Classic Limited Edition by Banana Republic.
How do you reinvent a classic? Banana Republic sought to answer this question by updating the brand's iconic fragrance: Classic.
Launched in 1995, the unique, citrusy fragrance was an instant favorite. Now loyal fans of the fragrance and newcomers alike will have the opportunity to experience a more sensual, intense, feminine twist on the essential scent.
As part of Banana Republic's celebration of its 30th Anniversary, the beloved Classic fragrance has evolved into a more sophisticated scent. For the first time, Classic is formulated as an Eau de Parfum rather than an Eau de Toilette, creating a stronger, richer scent with higher fragrance concentration. Moreover, without changing any of the scent's core notes, Banana Republic has brightened and freshened the fragrance by rebalancing the top and mid notes. The new Limited Edition Classic is formulated with increased cedarwood and teak wood notes to add body.
The original Classic packaging is redesigned with an elegant BR monogram grid on the back, housing the revamped fragrance in a modern, feminine bottle.
The new Classic is infused with the same crisp notes as the original: TOP NOTES: bergamot, grapefruit zest, mandarin citrus, and green leafy notes. MID NOTES: lavender, honeysuckle, silver sage and syringa flower. DRYDOWN: cedar wood, ginger, musk and teak wood.
Limited Edition Classic is $48.00 for 100mL. The fragrance is available online at www.bananarepublic.com and in Banana Republic stores nationwide for a limited time only, from August-December 2008.
Banana Republic introduces the latest way to wear their signature scents. New minis, 7.5ml versions of the best-selling fragrances, are perfect pocket or purse sized additions to Banana Repulic fragrance collection. Mini perfume bottles are perfect to travel with, to try out a new fragrance, or as a gift.
Banana Republic Mini fragrances include: Women: Alabaster, Rosewood, and Melachite. Men: Slate, Black Walnut, and Cordovan.
Minis are $10.00 for one 7.5ml vial, $15.00 for 2 7.5ml. All are available online at www.bananarepublic.com and in Banana Republic stores nationwide.