All Posts Tagged With: "Bath And Body Works"
All too often, fashionistas are faced with an age-old dilemma: go practical, or stay stylish. Thanks to Bath & Body Works and LeSportsac, this winter you don't have to choose. For a limited time, LeSportsac is offering its iconic collection of bags with Bath & Body Works PocketBac waterless hand gel, providing a stylish way to keep hands healthy. This season, trade in the typical clinical hand sanitizer for Bath & Body Works' equally effective alternatives in fashion-forward scents. Paired with matching LeSportsac bags, the colorful formulas kill 99.9% of germs, offering clinical strength without the clinical scent.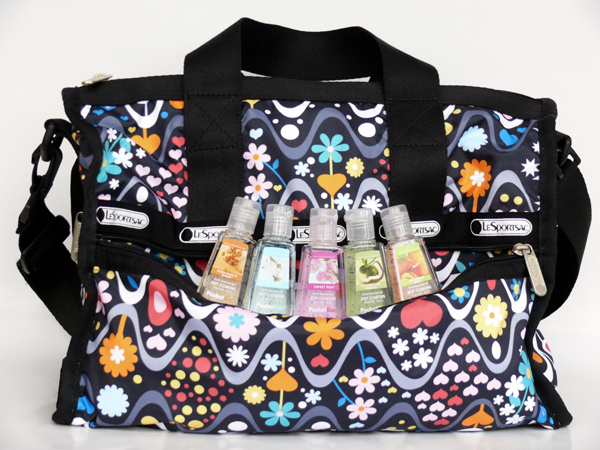 Americans are waking up to the reality that sleep is essential to health, happiness and productivity.  A recent New York Times Magazine article, "The Sleep-Industrial Complex" articulated what Bath & Body Works already discovered: sleep is finally claiming it place besides diet and exercise as a critical health issue.  Bath & Body Works and their in-house perfumers together with sleep expert Dr. Breus developed an Aromatherapy Sleep Collection that is effective, affordable and widely available to million of Americans searching for a better sleep solution.
"Most people who have trouble sleeping do not need sleeping pills," says Dr. Breus.  "Unlike over the counter sleep aids (which don't bring you to the deep stages of sleep) or prescription sleep aids (which bring you to a deep stage of sleep but can leave you even more tired if you don't have enough time to sleep), the Aromatherapy formulas use the scent of lavender and chamomile to ease you into a deeper sleep by working naturally with your body.  The Result is a more restful, healthier night's sleep without grogginess coming morning.
Bath & Body Works new Aromatherapy Sleep Collection includes: Aromatherapy Seep Body Lotion with Lavender-Chamomile and Vanilla-Chamomile, $13.  Aromatherapy Sleep Dream Bath Vanilla-Chamomile, $16.50. Aromatherapy Sleep Pillow Mist Lavender-Chamomile, $10, Aromatherapy Sleep Home Fragrance Oil in Lavender-Vanilla, Orange-Ginger, Eucalyptus-Spearmint, and Mandarin-Lime, $8.50.
Bath & Body Works Aromatherapy Sleep Collection is available from Fall 2007 at Bath & Body Works and Bathandbodyworks.com (Source: official Bath & Body Works press release).                 
Sir Elton John, together with Slatkin and Company, has created a special fragrance and candle collection called:  Elton John Rocks.  The new collection is sold in Bath And Body Works.  All proceeds from Elton John's collection will benefit the Elton John AIDS Foundation.  Elton John Rocks comes in 4 different scents with matching candles.  For example, Elton John Rocks 1 is potpourri, crystal-like rocks, made of Egyptian resin and scented with:  hyacinth, freesia, rose and jasmine.  Cost:  $32, Elton John Candle $34.
If you buy Elton John's Fireside Candle Box you may find a wining certificate for a $75000 6-carat Journey Diamond Pendant.  Elton John Fireside Scented Candle is a luxurious blend of rich vanilla bean, smoked cedarwood, sweet Chinese star anise and spicy coriander. Cost:  $16.50.  For more details and how to enter Elton John Legendary Rock Sweepstakes go to Bath And Body Works official site.
We love C.O. Bigelow Lemon Body Lotion, sold in Bath And Body Works.  Who is C.O. Bigelow?  C.O. Bigelow originated in New York City back in the 1800's.  It suppose to be the oldest Apothecary store.  C.O. Bigelow Lemon Body Lotion is as old as 1870.  It is an intensive lotion for very dry skin.  Ingredients include: lemon extracts which is super charged with vitamin C, shea butter, kukui nut oil  which is rich in essential fatty acids.   It is non-greasy, fragrance-free, and developed by Bigelow Chemists.  Contains no artificial colorants and not tested on animals.  And it smells delicious.  Cost:  $24. 
Also try C.O. Bigelow Mentha Lip Tints which is a mint-infused lip balm with a sheer hint of color.  It has an incredible refreshing and cooling sensation.   Ingredients include peppermint oil which refreshes your breath. You can wear it alone or over lip color for to enhance color and to add a high-gloss finish. C.E. Bigelow Mentha Lip Tints are also fragrance free, contain active levels of therapeutic apothecary ingredients, not tested on animals.  They come in following shades:  Nude, Red, Pink, and red brown.  Cost only $7.