All Posts Tagged With: "BCA Shopping Guide"
This year, Beauty.com has partnered with CEW's Cancer and Careers initiative. In addition to creating a BCA (Breast Cancer Awareness) store with an assortment of products that benefit different BCA charities, from October 12-18, if you click on www.beauty.com/cancerandcareers , 10% of all purchases made on Beauty.com will be donated to CEW's Cancer and Careers. You can buy ANYTHING sold on the site, not just BCA products (nothing is restricted in any way). This gives you the opportunity to stock up on their favorite brands and products you would normally buy and help give back – so easy.
Darphin Arovita C Energic Firming Cream for BCA: This invigorating, vitamin-enriched Darphin facial cream helps firm skin and fortify its natural resiliency to visibly correct first loss of elasticity of the face and neck. Arovita C Energic Firming Cream moisturizes and renews radiance while helping safeguard the complexion against environmental aggressors. Key Ingredients Include: Artemia salina, Carrot Protein, Noni Extract, Vitamins C and E. Darphin will donate $20 from each sale of Arovita C Energic Firming Cream during the month of October to The Breast Cancer Research Foundation.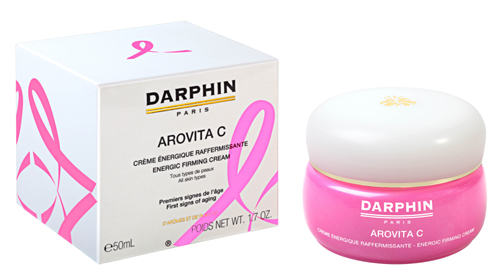 Price: $80, Available at www.darphin.com