All Posts Tagged With: "Beauty.com"
Touting celebrity fans including Zooey Deschanel, Rachel Bilson and Jessica Biel, Erin Fetherston is enjoying rave reviews for her latest ERIN by Erin Fetherston collections. Starting March 12, 2012, Beauty.com is thrilled to announce that Erin Fetherston is the newest collaborator in the beauty retailer's designer bag series.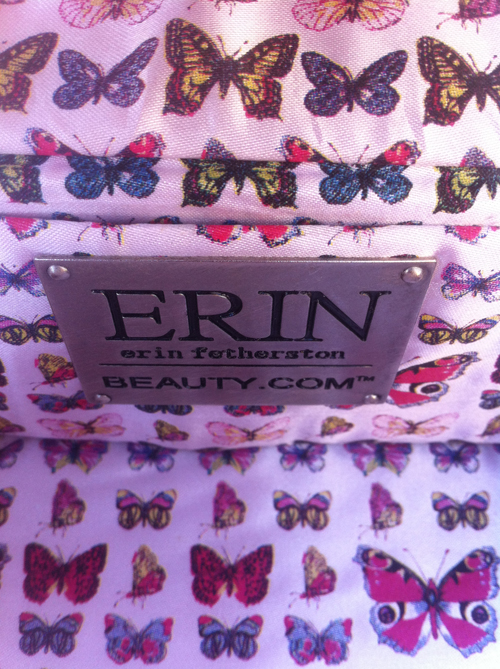 ERIN Erin Fetherston Beauty.com
Beauty.com and AtHisBest.com are bringing a whole new meaning to "Summer Stock" – no more drama –"stock-up" on the perfect products for summer at the summer's largest beauty giveaway featuring over 75,000 free samples and the chance to meet your favorite beauty gurus.
Everyone who walks by the Beauty.com and AtHisBest.com Summer Stock-Up will get a "scoop" from the oversized beauty and grooming "pools" (one for women and one for men) filled with thousands of must-have beauty products, all for FREE. Beauty.com & AtHisBest.com just had Sex And The City star, Kristin Davis, come by to scoop up lots of samples!
Mother's Day, bridal showers, and summer birthdays Gift Ideas: Beauty.com is excited to continue its ever-popular partnership with designer Lela Rose – offering a custom creation just in time for spring and summer, Beauty.com and Lela Rose launch the "Lela Rose Feather Painted Linen Beauty Clutch."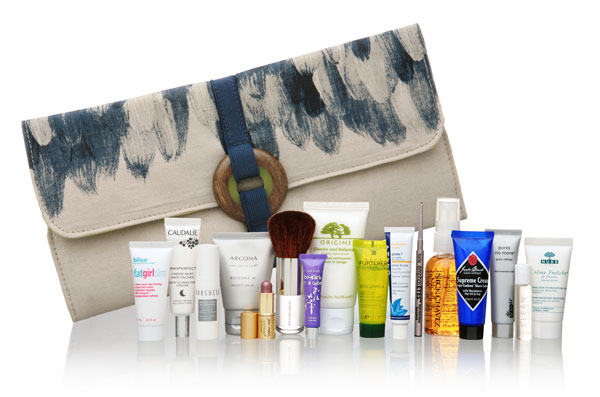 Starting May 4, 2010, when you visit www.beauty.com/lelarose you will receive this custom clutch and 16 deluxe samples with your purchase of $100 or more. The slim linen purse features the signature feather painted Lela Rose print from her spring 2010 collection. Accented with a handsome wooden closure, the clutch unfolds to reveal a bright citrine lining and two zippered compartments.
Michelle Trachtenberg and Kristin Chenoweth were spotted helping to put together Beauty.com baskets for CEW's Cancer & Careers breast cancer initiative. Each of the boxes they helped to assemble is being sent to cancer survivors, which hit home for Kristin as her mom is a breast cancer survivor herself. Also, Michelle plays a nurse on her new TV show, "Mercy," taking her role into real life and helping Beauty.com with the cause.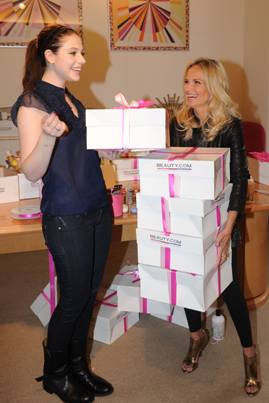 This year, Beauty.com has partnered with CEW's Cancer and Careers initiative. In addition to creating a BCA (Breast Cancer Awareness) store with an assortment of products that benefit different BCA charities, from October 12-18, if you click on www.beauty.com/cancerandcareers , 10% of all purchases made on Beauty.com will be donated to CEW's Cancer and Careers. You can buy ANYTHING sold on the site, not just BCA products (nothing is restricted in any way). This gives you the opportunity to stock up on their favorite brands and products you would normally buy and help give back – so easy.
Darphin Arovita C Energic Firming Cream for BCA: This invigorating, vitamin-enriched Darphin facial cream helps firm skin and fortify its natural resiliency to visibly correct first loss of elasticity of the face and neck. Arovita C Energic Firming Cream moisturizes and renews radiance while helping safeguard the complexion against environmental aggressors. Key Ingredients Include: Artemia salina, Carrot Protein, Noni Extract, Vitamins C and E. Darphin will donate $20 from each sale of Arovita C Energic Firming Cream during the month of October to The Breast Cancer Research Foundation.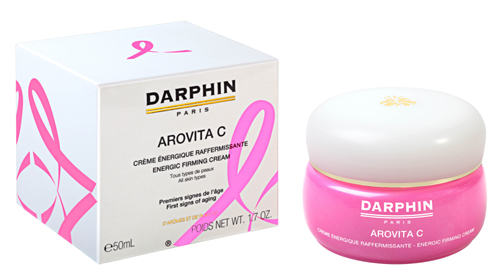 Price: $80, Available at www.darphin.com
New York Fashion Week Spring 2010 Report: The makeup look for the Julie Haus fashion show was created by Stila for Beauty.com.
The Look at Julie Haus:
Makeup: Stila for Beauty.com
Hair: Oscar Blandi for Beauty.com
Skincare: Arcona for Beauty.com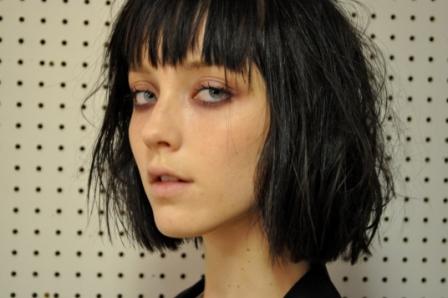 Nails: Lippmann for Beauty.com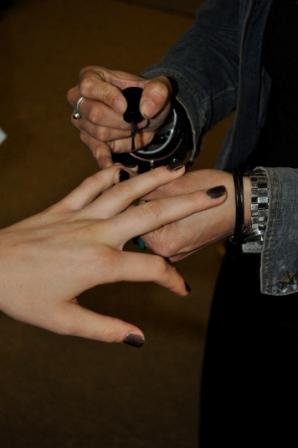 Join the fabulous follwing fashion and beauty brands during Fashion's Night Out in NYC, Thursday, September 10th, 2009! I feel New York Fashion Week Spring 2010 in the air:)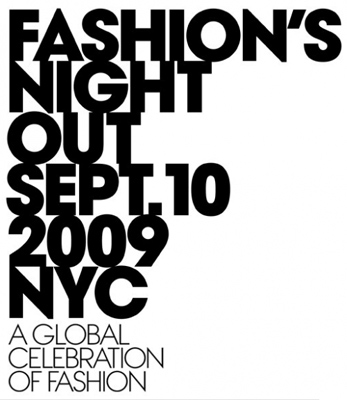 Oscar Blandi Salon: The Oscar Blandi Salon will offer an exclusive Blowout Lessons and Bellinis Master Class at 9pm. This service teaches clients the necessary skills to style and maintain the look of a salon blowout at home. Customers can sign up in advance to participate. Bellini's, champagne and hors d'oeuvres will be served.
Laura Mercier: The Laura Mercier counters in Saks, Bergdorf Goodman, Henri Bendel and Bloomingdale's will be hosting "Lash Out" events where consumers can receive complimentary lash application with a lash purchase.
The night before the big Orphan premiere, Vera Farmiga visited the ARCONA facial studio in Santa Monica and received their signature Facial Contouring & Enzyme Peel – her skin glowed.
Vera Farmiga's makeup look was created by celebrity makeup artist Tina Turnbow Inspired by Vera's gorgeous ivory Versace gown and her beautiful glowing skin, Tina created a soft look using gold and peach tones, with a shot of orange on her lips.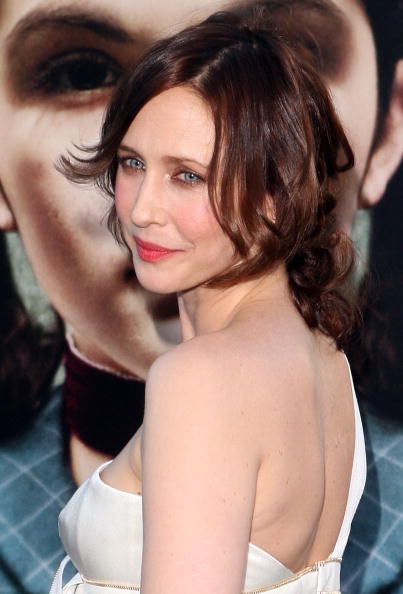 Skin: Tina prepped Vera's skin by first cleansing it with ARCONA's Triad Pads. She then spritzed ARCONA's Mineral Magic and applied ARCONA's Peptide Hydrating Complex to hydrate her skin thoroughly. "I loved using ARCONA's Mineral Magic on Vera's skin. It gave it a nice luminescent quality!" said Tina.
Foundation: Because Vera's skin had a natural glow, Tina kept the coverage to a minimum by using ARCONA's Sunsations Mineral Makeup in Ivory Seychelles.
Cheeks: Tina used Tarte Cheek Stain in Tipsy to add light peach tones to her skin.
Beauty.com's celebrity makeup artist Tina Turnbow as created the makeup look for Abaete Fall 2009.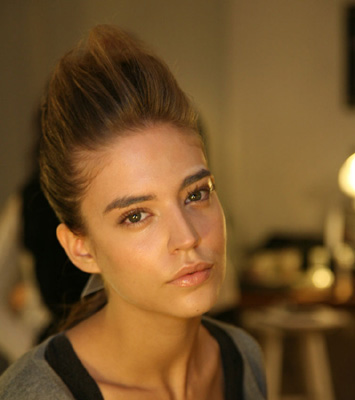 The makeup look at Abaete Fall 2009 Makeup Look: Think 18th Century France – regal, rebellious, and rich designs paired with a soft, feminine touch…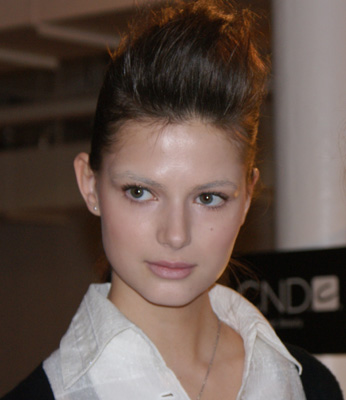 The look for Abaete's Fall 2009 collection created by Tina Turnbow with Tarte started with fresh skin. Caudalie's beauty elixir and lip conditioner hydrated skin prior to makeup application. The makeup was natural, no makeup-makeup. Tarte's ReCreate gave even color and coverage to the face. Brows were softened by wax from the toolbox brow kit and topped by provocateur mineral powder. Liquid Sunshine added a hint of shine on the lids, rejuvalash defined lashes, and Blushing Bride cheek stain, applied sparingly, added the slightest hint of color on lips and cheeks.
Straight off the Spring 09 Runway Stila Introduces Limited Edition Backstage with Lela Rose and Beauty.com Makeup Collection.
Stila Backstage with Lela Rose and Beauty.com collection contains four key products used by every artist backstage at the Spring 2009 show.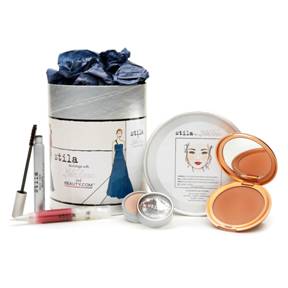 Stila Sun Shade 01 was used to bronze the models' cheekbones. This bronzer is known for its amazing buildable color, which makes it a makeup artist favorite season after season. Cranberry Lip Glaze popped the models' pouts.
For the eyes, Starlight Eye Shadow let the lids shimmer with a champagne glow, and a coating of Major Lash Mascara in Brown helped to create a balanced, feminine face.
Subtle and very wearable, this modern look is sophisticated in its simplicity, a must in order to complement the vibrant kaleidoscope of colors with a funky tribal twist fashions that paraded down the Lela Rose runway.
Price: $34, exclusively at beauty.com starting February 2009.