All Posts Tagged With: "Betsey Johnson"
Celebrity hair watch: Rihanna Got New Blonde Highlights.
Rihanna seems to not be afraid to try out trends straight off the runways. Rihanna's very short haircut now gets blonde highlights! It reminds me of the 80's punk look (George Michael "Wake Me Up Before You GO GO"?). I've seen the 80's inspired look and hairstyles making a comeback backstage at Betsey Johnson Spring 2010, during New York Fashion Week. With 80's classic music hits playing in the background, I must add. Loved it!!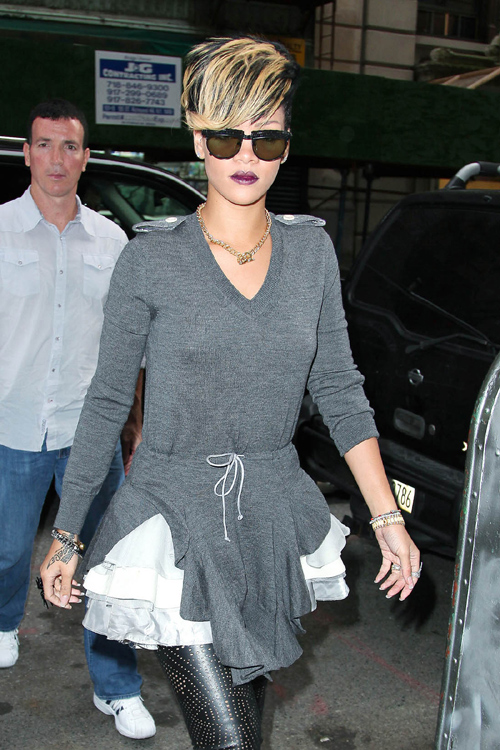 Rihanna is also sporting a fall makeup trend: dark purple lips.
To get Rihanna's dark purple inspired lips try MAC Mattene Lipstick in Night Violet. Shade description: Deep purple grape (Matte).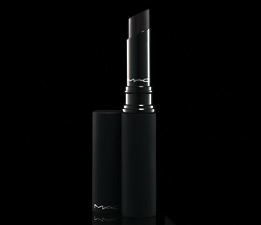 To get Rihanna's weightless volume and 'guts' to hair try: Aerate 08 bodifying cream-mousse by Redken. This new mousse was a huge hit backstage during New York Fashion Week Spring 2010 at shows like: Badgley Mischka and Betsey Johnson. I've been using this mousse myself for the past week, and it works amazing to tame my very wavy frizz-prone hair, air dried or blow dried. According to Redken's lead hairstylist backstage Peter Gray: many people afraid of a mousse as a styling product because all they think is the 80's and that big hair. But in his opinion, mousse was the best thing invented for hair. He also said that most people afraid of styling products which shouldn't be the case. Styling products are here to help you get the hairstyle you want. Also it is very important to apply styling products in the right way: use the right brush to apply or the right quantity.
 BTW: Do you love Rihanna's new blonde highlights?
Image via: www.hollywoodtuna.com
This year marks Make Up For Ever's very special 25th Birthday. Creator and Artistic Director, Dany Sanz, began the line in Paris back in 1984 with a few friends and some kitchen tools. Since then, the brand has grown up and out alongside the global make up artist community, and has long been known within that world as the "Industry's Best Kept Secret."
To celebrate Make Up For Ever's big year in an even bigger way, they have decided to let the rest of the world in on their not-so-little secret. Yes, Make Up For Ever is LETTING THE SECRET OUT!
Though Make Up For Ever has many secrets, they have chosen twelve of their favorite "Secrets" to tell us. Their "Best Kept Secrets" are new and old, silly and serious, but mostly, they have only been known amongst the professional make up artist community until now.
However, because spilling all of their "Secrets" at once would leave you spinning, Make Up For Ever plan is to send just a few at a time to keep you steady on your toes. 
Best Kept Secret #1: Make Up For Ever Glossy Full. Glossy Full. What it is: A unique, ultra glossy lip plumping gloss.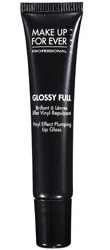 The highly acclaimed fashion designer Betsey Johnson, introduces her very own fragrance.  Called simply Betsey Johnson Parfum and is a very sexy Floral Oriental scent.
Betsey Johnson Parfum main noted include:  Grapefruit, Tangerine, Blackcurrant Berries, Pear, Freesia, Muguet Lily of the Valley, Apple, Cedarwood, Sandalwood, Amber, Musk, Praline.  Cost: Betsy Johnson Parfum 1.66 oz Eau de Parfum Spray, $55.  Betsey Johnson Parfum 3.38 oz Eau de Parfum Spray, $75.  Goes well together with Betsey Johnson 6.7 oz Body Lotion, $28.  Betsey Johnson 6.7 oz Bath and Shower Gel, $28.