All Posts Tagged With: "Betty Draper"
Mad Men's Hair Department Head Stylist Terrie Owens uses White Sands Liquid Texture Thermal Styling Spray to achieve January Jones' signature on screen style.

Betty Draper from Mad Men
Terrie's 'Betty' How To: "I set January's hair on a small curling iron and finish with White Sands setting spray… hairspray, and lots of teasing," details Owens. "Her hair pretty much falls into the 'Betty' hairstyle."
Lana Horochowski, Department Head of Makeup for Mad Men, loves using NARS on the cast-members of Mad Men. "I love, love, LOVE the NARS Velvet Matte Lip Pencils because they are long-lasting and give that perfect matte finish that is so authentic to the time period," says Lana. "In the past, we used mostly cream cheek color because that was used in the period. Since powder blush was invented in 1963, we were finally able to throw it in for this season!"
Below are details on what Lana has used to create the looks for January Jones' Betty Draper and Christina Hendricks' Joan Harris.
Betty Draper, January Jones: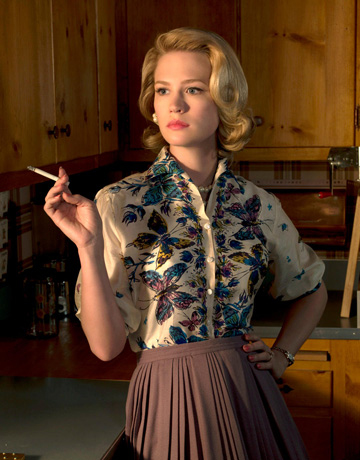 "January's character Betty wears NARS Madrague Duo Eyeshadow in almost every scene when she is at home. "It's a staple," explains Lana, "but when she goes out, we spice it up with color." To add emphasis to her eyes, Lana adds NARS Heart Of Glass Eyeshadow. For her lips, she uses NARS Calliope Velvet Matte Lip Pencil and NARS Belle de Jour Velvet Matte Lip Pencil. "I also love Barbarella Lipstick on January because it's perfect for her every day look." For blush, try NARS Penny Lane Cream Blush, NARS Gueule de Nuit Cream Blush, and NARS Gilda Powder Blush!