All Posts Tagged With: "Beyonce"
Jay-Z  showed up with Beyonce wearing a TOM FORD champagne silk shantung Buckley cocktail jacket and white evening shirt to the Floyd Mayweather vs. Manny Pacquiao fight in Las Vegas, Nevada last night, May 2nd, 2015. Do you love?
Beyonce Knowles looked absolutely beautiful singing "Star Spangled Banner" during President Barack Obama's inauguration event yesterday, January 21, 2013. Her Emilio Pucci dress was just perfection. Do you wonder how to get Beyonce's makeup? Here are some tips to re-create Beyoncé's look from famed celebrity makeup artist Mally Roncal, who worked with her for this special day.
Beyonce Knowles Makeup How To
To first set the skin, apply my Perfect Prep Poreless Primer all over the face and my Cancellation Concealer directly underneath the eyes.
Beyonce in OFIRA jewelry as she hosted the screening of "Live at Roseland: The Elements of 4". Beyonce glowed in OFIRA 18K Yellow Gold Crescent Hoop earrings and 18K Yellow Gold and Diamond Bangles. Do you love?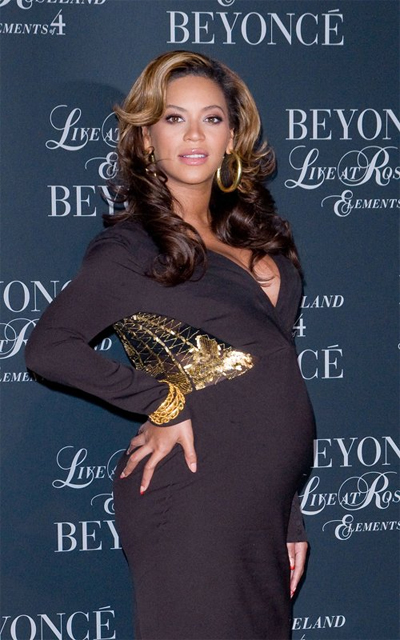 Beyonce
(Los Angeles, CA – May 25th, 2011) – Beyonce hit a high note in Zac Posen during her performance on last night's finale of American Idol Season 10. The pop megastar took Hollywood glam to the mainstage, performing at the most-anticipated American Idol season finale to date in a grey Zac Posen jersey gown from the designer's Fall/Winter 2010 Collection.

Beyonce in Zac Posen on the Season 10 Finale of American Idol
Beyoncé's New L'Oreal Paris "Feria" Commercial 2011. Watch.
Celebrity Style: Who Wore It Better? America Ferrera radiated the red carpet as she wore this Malandrino Resort 2010 dress at the 25th Annual Imagen Awards in LA this weekend. Beyonce wore the same dress last year. Who wore it best?

L to R: America Ferrera and Beyonce both in a Malandrino Resort 2010 Dress
Beyoncé Heat Ultimate Elixir: A lavish twist on her debut scent, Beyoncé Heat, Ultimate Elixir introduces a more intimate-side of the entertainer. Ultimate Elixir captures the essence of some of the world's most sensuous and rare flowers. The fragrance blends spicy-floral Red Vanilla Orchid and delectable Osmanthus petals with warm, sexy notes of Cedarwood and Amber for ultimate sex appeal. The richness of Vanilla and Tonka Bean infuse the tempting scent with an intoxicating sensuality.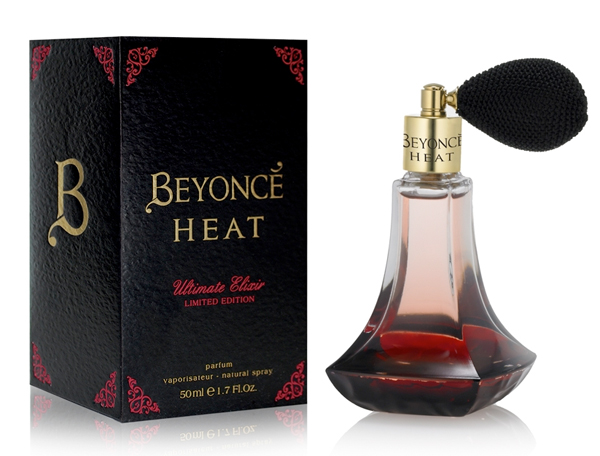 PRICE: 1.7 oz/50ml for $59
Summer Perfume Solids: Beyoncé Heat Solid Perfume Ring ($35) is the latest launch from the Beyoncé Heat franchisefor.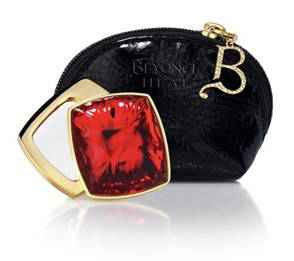 Beyoncé is literally "putting a ring on it" with the Beyoncé Heat Solid Perfume Ring, out this July 2010. A throwback to her single girl anthem and a fun new way to wear her fragrance (which is currently one of the highest grossing celebrity fragrances – having grossed $3 million in sales between early February and early March 2010, selling 72,000 bottles in an hour), the ring doubles as a statement accessory and is perfect for gift giving.
Available at Macy's.
To celebrate the arrival of summer, Milly is launching a Cabana Contest! Beginning Thursday June 17th, 2010, Milly Facebook fans can enter to win the ultimate beach package including $1,200 worth of Cabana merchandise: a signature Milly paisley-print bandeau bikini, cotton lace cover-up, luxe terry cloth tote and matching beach blanket with detachable pillow. A celeb favorite, Milly Cabana has been recently seen on Kristin Davis in "Sex and the City 2," as well as Beyoncé.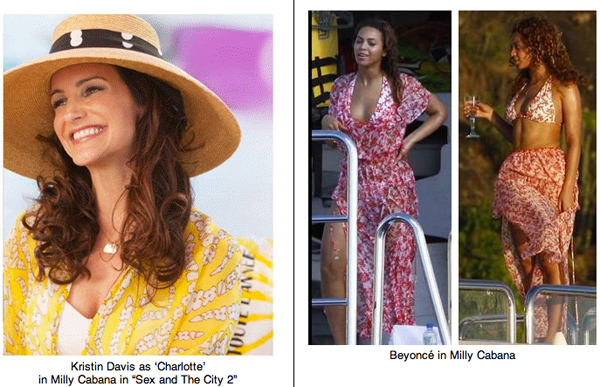 The contest ends on July 2nd, 2010, just in time for the holiday weekend, when the lucky winner will be announced and also receive $1 toward Millyny.com for every Milly Facebook friend in their network.
At the 52nd Annual Grammy Awards, music's all-stars showcased several beauty looks on the red carpet.
Bright Pinks
The night's big winner, Taylor Swift, as well as Lady Gaga, opted for bright pink lip shades. To get the look with Dolce&Gabbana The Make Up, try The Shine Lipstick in Precious or the Classic Cream Lipstick in Petal from The Intimate Sensuality Collection, new for Spring 2010.