All Posts Tagged With: "Bliss"
If you have that extra time in the sower you sure don't want to miss out on bliss Fabulips. It's a facial for your lips. Designed to recreate Bliss Spa's popular fabulips treatment, this kit cleans, exfoliates, plumps, and softens lips. " Pretty good!" says Marta Walsh🙂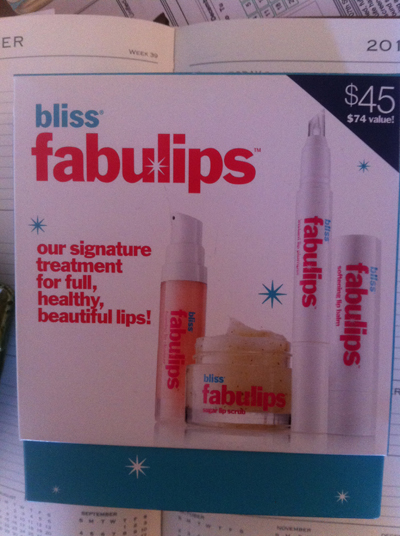 bliss Fabulips, the kit includes: Foaming Lip Cleanser, Softening Lip Balm, Fabulips Sugar Lip Scrub, Fabulips Instant Lip Plumper.
In Marta Walsh's bathroom: bliss skincare products and I love all of these in image below. They smell nice and clean and they work. If you like that spa experience in your own bathroom bliss is the one.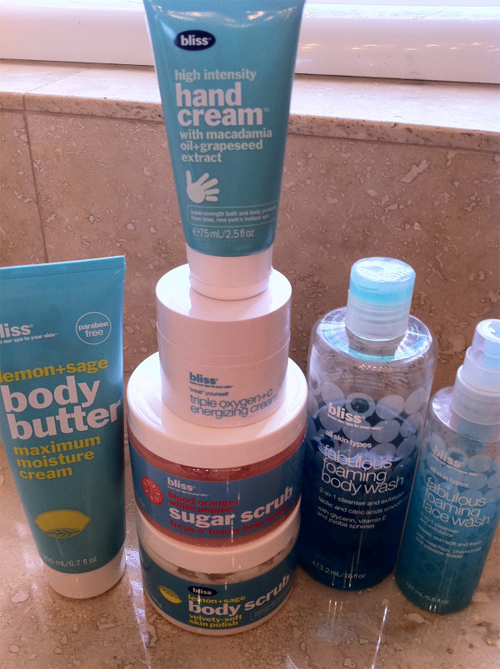 Transform your bathroom into a Spa-At-Home with these bliss skincare products
L to R:  lemon+sage body butter, high intensity hand cream, triple oxygen +C energizing cream, blood orange sugar scrub, lemon+sage body scrub, fabulous foaming body wash, fabulous foaming face wash.
This week my skin had a disco party LOL. Starting with my very satisfying fillers at Dr Bracci's office in New York City aka Verve Medical Cosmetics where now I look 7 years younger all the way to a Triple Oxygen Treatment at the bliss Spa (which BTW is their most popular facial) at the W Hotel Scottsdale Arizona. "What did I do to deserve this?" is all I can say. Let's go back to bliss. Talking about a sweet escape, my face was cleansed, exfoliated, hydrated, oxygenated, my legs massaged, hands/arms massaged, upper back massaged, scalp massage, you get the story. A complete heaven or should I say: bliss.

bliss Spa At The W Hotel Scottsdale photo by Marta Walsh
Tune in QVC for Bliss this Thursday, March 24th, 2011, at midnight and throughout Friday. Bliss will offer the "Today's Special Value" – it's thier famous Poetic Waxing Kit and Lemon + Sage Body Butter at an amazing price: $36.50! The QVC-featured at-home Poetic Wax kit is the exact same wax that's used in Bliss spas. Now you can get the exact same spa service … at home.
One of my ways to relax after a long week is to pamper myself with Bliss Triple Oxygen Instant Energizing Mask. It adds radiance to my face and some of the nutrients it needs. A little bit goes a long way, because it lathers up fast. And, I don't need to book a spa appointment. How much oxygen does my skin really get, I'm not sure. But it feels good.

Bliss Naked Body Butter is the unscented version of your favorite Bliss Body Butter Lotion Lemon & Sage and Bliss Body Butter Vanilla & Bergamot. 

Bliss Naked Body Butter is perfect if you are after a body lotion that doesnt clash with your signature perfume.  Here some of the ingredients in Bliss Naked Body Butter: coconut oil, arnica montana Extract, heather extract, and algae extract.  Cost: $35.
Bliss Triple Oxygen Instant Energizing Mask is inspired by Bliss Spa's most famous facial called: Triple Oxygen Treatment facial.  Bliss Triple Oxygen Instant Energizing Mask releases oxygen into the skin to make it brighter, fresher, and younger-looking instantly. 
Other ingredients include: a powerhouse form of vitamin C, time-released antioxidants, and a moisture fix.  Bliss Triple Oxygen Instant Energizing Mask promotes your skin's metabolism, collagen synthesis, and detoxifying action.  Perfect if you feel your skin is looking dull, tired, or stressed.  Cost: $52.
Bliss Poetic Brown Brow Shaping Sugar Wax kit is an east to use cold wax kit perfect for staying 'in shape' between spa stops.
Bliss Poetic Brown Brow Shaping Sugar Wax kit includes: goof-proof water-soluble Poetic Sugar Wax (0.63 oz.), aloe and chamomile Poetic Calming Balm (0.15 oz.), reusable spatulas, and pre-cut waxing strips.  Cost: $40.  You might also like: Bliss Poetic Waxing Kit, $45.   
FatGirlSlim by Bliss is a slimming cream with caffeine and QuSomes which what helps ingredients to penetrate your skin.

Bliss FatGirlSlim will get your skin smooth, firm, toned and energized.  For best results apply by massaging twice a day.  Cost: $29.
New from Bliss is Bliss The Youth As We Know which is an age fighting moisture cream.  Bliss The Youth As We Know It is full of goodness.  And as Bliss describes it: "An Extraordinary age fighting moisture cream that does it all".
Youth As We Know It by Bliss contains all these so good for you ingredients:  MMP Inhibitors, Wrinkle Reduction Peptides, Visual Facial Fillers, Cellular Respiration Boosters, Hyperdermal Destressors, 7-Day Hydrators, Barrier Repairing Ceramides, Wrinkle Relaxers, Multifruit Complex, and Vitazyme A.  The Youth As We Know It by Bliss will do the following to your skin: exfoliate, oxygenate, bind hydration, relax surface lines, cellular respiration, and regenerate collagen and elastin.  Cost: $79 for 1.7 oz .