All Posts Tagged With: "bob"
Katy Perry may have kissed a girl (and liked it), but the sultry songbird is now betrothed to British funny man Russell Brand. She is quite the style chameleon: In the past year, the blue-eyed brunette experimented with bangs, retro waves, bobs and updos with reckless abandon. So when we heard about her recent engagement, we couldn't resist giving her a bridal-specific makeover. Here, our favorite looks for Katy impending nuptials: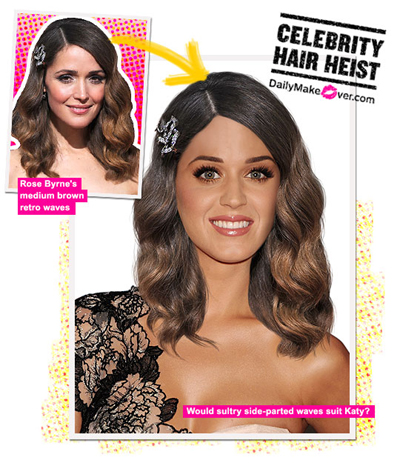 We loved Rose Byrne's sparkly barrette she rocked to anchor her side-parted Old Hollywood waves. Katy loves a side-part and would be able to pull off a little dazzle against her canvas of deep black tresses. Read full article in dailymakeover.com
GET THE LOOK: Adir Abergel for Frederic Fekkai created a perfect asymmetrical bob for Best Actress – Drama, Sandra Bullock. The Look: Adir's inspiration for Sandra was a modernized 1930's look with deep waves and interesting line.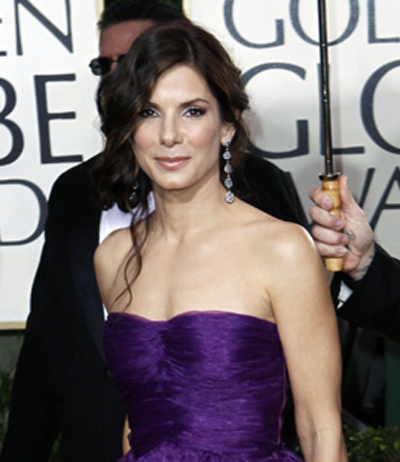 Here is Adir's hair tutorial on how to get Sandra Bullock's hairdo:
Adir Abergel started by parting the hair on an angle. He then blow-dried the hair adding FEKKAI COIFF Perfecteur Anti-Frizz Silkening Crème to create a smooth, frizz-free texture. Then with a 1" curling iron he curled the hair away from the face. Next, he created a foundation for the do by backcombing the bottom layers of the hair and tucking the hair under with pins.
Last night Frederic Fekkai Celebrity Stylist Renato Campora styled Jessica Alba, for the 2010 People's Choice Awards giving her a young, modern, undone bob.
Here is how to get Jessica Alba's hairdo at The 2010 People's Choice Award:
Starting with wet hair, Campora applied FEKKAI COIFF STRONG HOLD VOLUME MOUSSE all over the head to create the foundation for Alba's style. Next, he formed a middle part, and used a FEKKAI Large Round Brush to blow the hair dry. Using a 1 inch curling iron, he created loose curls letting them fall to cool. To finish the look, Renato applied FEKKAI COIFF Nonchalant Piecing & Forming Wax at the end of the curls, adding texture and creating a tousled look. This is a modern look for all women and can be worn as everyday or as an evening look.
HerCut the first-ever haircare for your haircut, not your hair type? What?! Read more.
Remember the last time you got an amazing haircut? Your stylist nailed the look, capturing your personality in the cut. Every hair fell into place just so, and you left the salon walking on air. Fast-forward to your first shampoo—how did your style stand up without the stylist?
It doesn't take an expert to maintain straight-from-the-salon style—it takes products that support your cut. HerCut introduces the first hair care line designed to keep first-day haircut performance alive by catering to the needs of specific haircuts rather than specific hair types.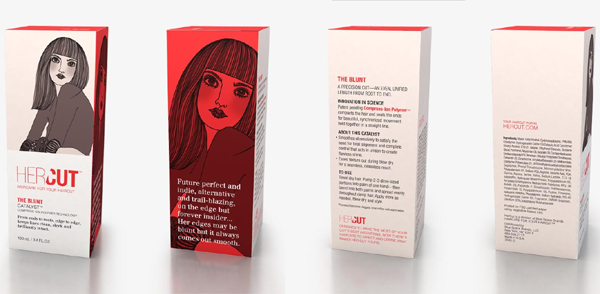 "Every time you get a haircut, you're making a huge investment—both emotionally and financially," explains Bob Salem, HerCut creator CEO and founder of Blue Space Brands. "HerCut empowers you to protect that investment, not only by preserving the impact of your cut but also by enabling you to fully embrace the personality of the style."
"It's an industry secret that there are really five essential hair styles that all stylists master during their training," adds HerCut Brand Ambassador and Emmy Award-winner Kyan Douglas. "No matter what your hair type, your stylist uses the same techniques to create your signature style. Maintaining that look is about using products tailored to the cut, not the hair itself. For the first time, HerCut offers products that bring out the best in every cut, giving you flawless style long after you leave the salon."
New York Fashion Week Spring 2010 Hair Trends Report: 
Designer: Costello Tagliapietra Spring 2010 Collection
Hair by: Sebastian Professional
Hair Trend: 40s inspired faux bob.
Inspiration: Costello Tagliapietra's Spring '10 beauty look is a seamless combination of elegance, youthfulness, natural beauty and romance. The hair, both feminine and fresh, is loosely inspired by the traditional roll style from the '40s with soft curls that sit just above the shoulder.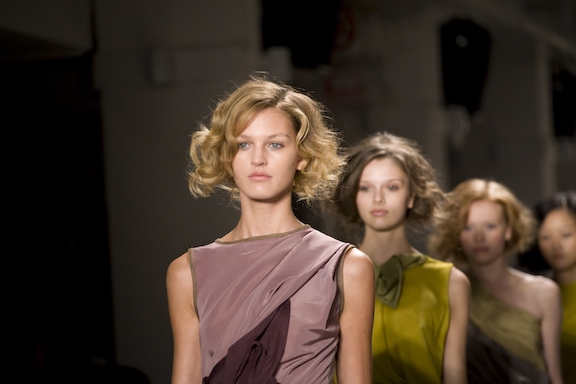 To put a modern twist on a '40s staple, Sebastian Professional lead stylist Thomas Dunkin recommends a method of building texture and shape with techniques that keep the hair looking soft, romantic and not too "done." Finish with an elastic touchable texturizer or flexible shine spray to create a look that's elegant yet playful. Here's how to create your own '40s inspired faux bob:
1) Apply Sebastian Professional Texturizer to damp hair; distribute evenly throughout.
2) Blow hair out straight with a medium to large-sized round brush.
3) Spray hair with a flexible hairspray for added texture, section hair, curl it with a medium-sized barrel curling iron and set.
4) Take out pins, gently brush out the curls and then roll hair under, section by section, fastening it under at the neck with bobby pins.
5) Apply Microweb Fiber to hands and gently work through the front of the hair to create an imperfect, lived-in effect. Finish by misting with a strong-hold hairspray.
Katie Holmes is looking her usual pretty on the cover of Elle Magazine November 2009 issue. Katie carries the LOB aka Long Bob very nicely. The LOB seems to me a very practical yet chic hairstyle that would look good on any woman. What do you think?
Katie Holmes on Fashion: On fashion: "I love Alaïa, for sure. Stella McCartney. I like Ralph Lauren because I feel like it's very American, and I'm pretty all-American, from Ohio. Isabel Marant and a new designer, Sari Gueron."
Scarlett Johansson's Summer Red Carpet Looks by David Babaii.
Celebrity hairstylist David Babaii recently coiffed his client Scarlett Johansson for a few summer Red Carpet Events, creating some dramatic variations to her long strawberry blonde locks.
Scarlett Johansson at Comic-Con 2009: To achieve this curly, wavy, sexy look for Scarlett Johansson's appearance at Comic-Con 2009, celebrity hairstylist David Babaii applied his Amplifying Whipped Mousse from roots to ends. This gives just the right amount of volume and hold to her strawberry blonde hair.
Next, he rough dried her tresses by using his hands, moving the hair in various directions. Once dry, he sectioned her hair into 3 different parts: top, sides and back leaving the nape area free. This is one of David's most important styling tips, since you need to have constant control over the hair at all times. To create his famous wavy curls, he used a 1 ½" sized FHI Heat Ceramic Curling Iron.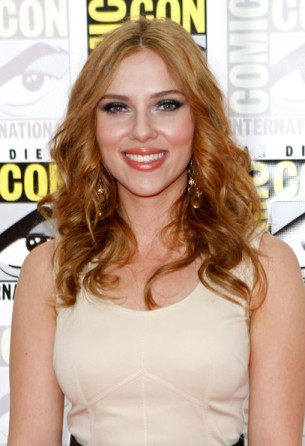 To style, he took small "V" shaped strands and wrapped them around the inside of the barrel. Then, David allowed each curl to fall naturally. Through selected strands, he ran his fingers up the partially curled strand to achieve added volume. For additional lift at the scalp area, he sprayed Volcanic Ash Root Amplifier on his finger tips and applied to the root area by roughly massaging into the area. This adds added fullness and texture. To complete, he sprayed Mise en Plis Light Styling Spray.