All Posts Tagged With: "Body Treatments"
FarmHouse Fresh introduces Bourbon Bubbler body scrub that exfoliates using real Kentucky Whiskey, brown sugar, vitamin E and rice bran oil. Comes in one size (available in a 12 ounce glass jar; retail price $32.50). The brown sugar helps remove dead skin and stimulates new cell growth, while the non-greasy bourbon and rice bran oil allow for a squeaky-clean dry-down with no greasy residue. The scrub is paraben and sulfate free. Bourbon Bubbler treatments available at spas now available in your own bathroom.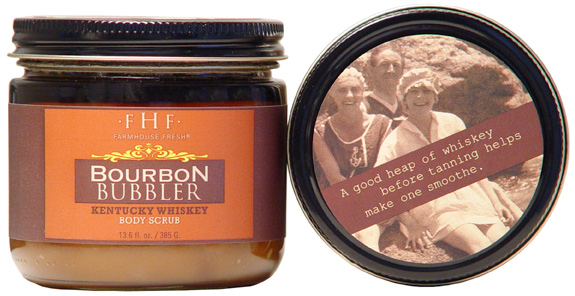 The FarmHouse Fresh Bourbon Bubbler Body Scrub is available online at farmhousefreshgoods.com, in finer gift stores and can be enjoyed at luxury spas and resorts across the country.
During the cold, winter months, skin is exposed to 75% less humidity leaving it dry, itchy and raw. This winter, the secret to escaping these irritating aliments lies deep within the banks of the Dead Sea. AHAVA's Dead Sea Mineral Mud is a rich, nutritious body treatment that instantly invigorates dull, dry skin to reveal a radiant, healthy glow.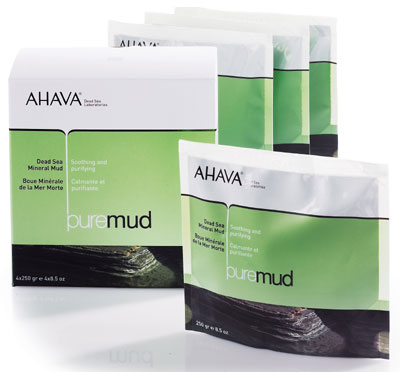 Combat winter woes with a powerful dose of these highly concentrated minerals for a nourished and youthful appearance. AHAVA's Dead Sea Mineral Mud works deep down to clean, purify and restore the skin's natural moisture balance, leaving it smooth and revitalized. Harvested from the lowest elevation on Earth, this rejuvenating mud contains life-enhancing ingredients with proven regenerative properties for guaranteed gorgeous skin.
I'm all about the FarmHouse (FHF) Fresh Whoopie whipped white velvet Shea body creme. I love rich moisturizers especially in the winter time and I also love to smell sweet. Not too sweet just a little. The FarmHouse Fresh Whoopie gives me all that! I even liked the vintage-inspired packaging so much so I had to stare at it for few days till throwing it away:)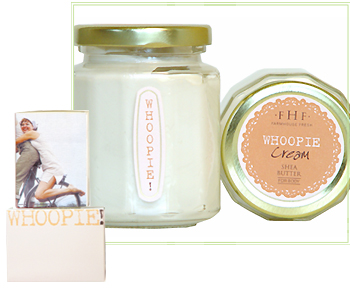 Whoopie! contains a supple blend of Shea and cocoa butters, jojoba seed oil, soybean oil, aloe and vitamins A and E. The butters and oils soften and soothe even the severest of dry, chapped skin, while helping to improve the skin's elasticity. The aloe and vitamin E also help to calm skin irritations and sunburns. Whoopie! is paraben and sulfate free.
Last Minute Valentines Day Gifts…That Last Longer than Roses: REN Skincare ROSE Range.
Moroccan Rose Otto Body Wash, $27. And, Damask Rose Ramnose Biosaccharide Body Cream, $44.


Check out Jo Malone's  February 2010 launches, just in time for Valentine's Day:
Jo Malone Vitamin E Body Balm, $75.00: The Vitamin E Body Balm is launching just in time to heal dry winter skin. The Jo Malone Vitamin E skin care collection launched over 20 years ago with the cult favorite, Vitamin E Gel, and has expanded into a collection that includes a Lip Conditioner, Nourishing Hand Treatment and Body Treatment Scrub. The Vitamin E Body Balm is a rich, concentrated cream that deeply conditions the skin with beneficial antioxidants which help fortify the skin against the damaging effects of the environment. Shea butter, cocoa butter and wheat protein all provide superior natural barrier.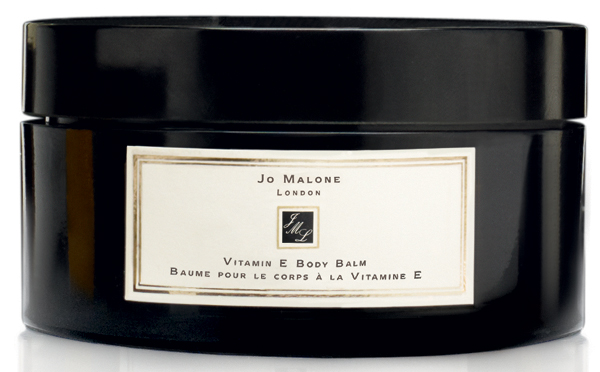 ENESSA'S New Organic Shea Body Souffle features African Shea Butter with natural nutty scent, citrus oils & no artificial colors or preservatives, moisturizing dehydrated CHAPPED skin in cold dry weather.
I like to use the ENESSA Organic Shea Body Souffle on small areas at the time such as my legs, elbows and feet. It smells a bit like citrus and clean. And my skin keeps super soft for hours.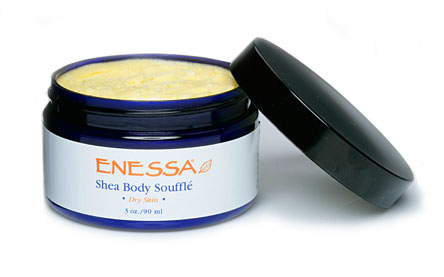 More about ENESSA Organic Shea Body Souffle: A moisturizer that has that feels like velvety smooth butter with colorful textured grains, the new Shea Body Souffle by Enessa is a luxurious blend of organic oils that richly moisturize dehydrated, chapped skin in cold or dry climates.
This season, give your loved ones the gift of soft, moisturized skin (Marta is all about it:) with St. Ives.
St. Ives Moisturizing Oatmeal & Shea Body Wash offers superb non-drying cleansing for visibly healthy skin. By incorporating two of nature's BEST ingredients, this body wash wraps skin in natural Oatmeal and Shea Butter extracts for the ultimate skin nourishment. ($2.99 for 13.5 fl. oz. bottle)
Looking for ways to prepare your house for the holiday season? Or are you looking for a great Christmas gift for your friend? Think Williams-Sonoma.
Williams-Sonoma's Essential Oils collections, include for the holidays a Hand Soap & Lotion Gift Set ($29.95). The gift set comes with a hand lotion made with shea butter & botanical oils and also a hand soap with olive oil and aloe vera to soothe. The sets make a great hostess gift for holiday soirees and comes in two new scents for the season: Winter Forest – a woodsy evergreen aroma with notes of pine, cedar wood, cinnamon, patchouli, thyme and citrus;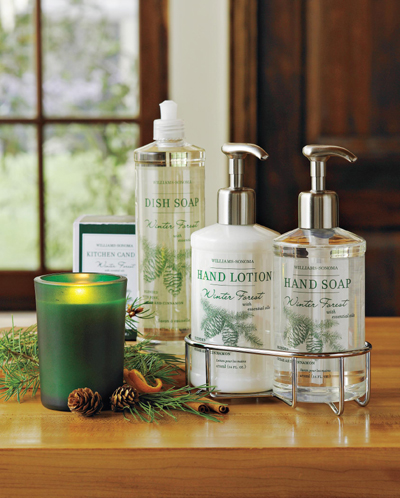 Kiehl's gives back with Limited Edition Creme de Corps Collection designed by KAWS to benefit RxArt.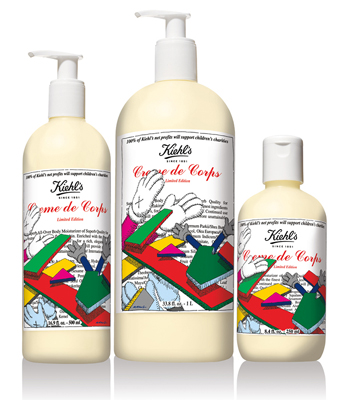 Maintaining its long-standing tradition of supporting children's charities, Kiehl's, the venerable New York-based purveyor of fine quality skin and hair care, is pleased to announce a collaboration with internationally renowned New York artist KAWS, to lend a helping hand to children in need. With the shared vision of creating safer, more sustainable environments for children, the Kiehl's and KAWS partnership will raise awareness though the sales of the Limited Edition Creme de Corps Holiday Collection, where 100% of net profits from the sale of each product will be donated to children's charities around the world.
Skincare that is also good for your shape?
NUDE Smoothing Body Refiner $70: Bioactive fig stimulates lipolytic activity and gently breaks down the build-up of fat cells. Mountain ash, ginger and ginkgo increase localised circulation to safely metabolise the fat cells and toxins for visibly smoother, firmer skin.  Apply morning and night to problem areas using firm strokes towards the heart. For all skin types. I can't wait to try!