All Posts Tagged With: "Bubble Bath"
I can't get over how cute is the NEW Limited Edition philosophy Classic Cookbook. It is THE perfect holiday gift for your beauty obsessed loved ones. They would be very impressed, and of course, love you dearly!:)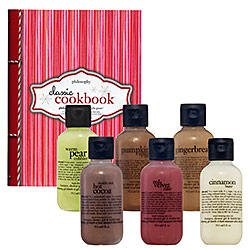 philosophy Classic Cookbook ($35) is a set of six delicious, high-foaming, multipurpose cleansers. This decadent ensemble of three-in-one Shampoo, Shower Gel & Bubble Bath formulas will make you swoon with scents of the decadent treats that come from the crinkled pages of well-loved holiday baking recipe books. This set contains: 6 x 2.0 oz Shampoo, Shower Gel & Bubble Baths in Pumpkin Spice Muffin, Red Velvet Cake, Double Rich Hot Cocoa, Warm Pear Cobbler, Gingerbread, Cinnamon Buns.
Nothing says fall, Halloween, and holiday season like I Love Candy Corn Shampoo, Shower Gel & Bubble Bath by Philosophy, $16. It smells sweet. And, it's very creamy, just like all the other signature body washes by Philosophy. If you love Philosophy body washes in Crème Brulée and in Vanilla Birthday Cake you would love this! It's a limited edition so don't miss it if you want it:) Calling all candy corn lovers!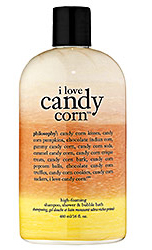 Philosophy's new limited edition soda fountain 3-in-1 shampoo, bubble bath and shower gel and soda fountain lip sets will transport you back to your favorite old-fashioned diner.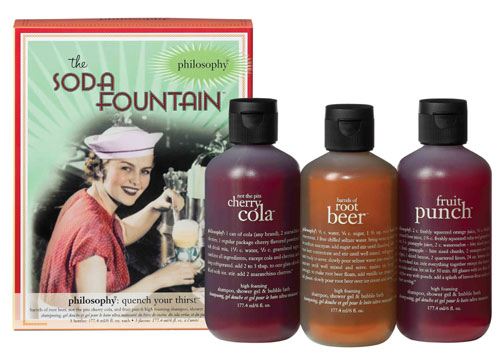 Slurp up the deliciousness of these calorie-free treats in your shower or a bath. Available in root beer float, not the pits cherry cola or fruit punch, you can savor every last drop because these good-for-you shower and bath indulgences are formulated to cleanse and condition your skin and thoroughly quench its thirst.
And, if it's a yummy summer time shine that you crave, give your pucker a little pop with all new the soda fountain lip set. These three tasty lip shines will give you a smooth and glossy pout with a hint of root beer float, cherry cola or fruit punch flavored goodness. Your lips will smell so sweet and delicious, you'll definitely want seconds!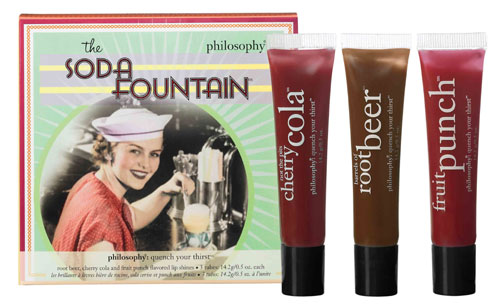 Philosophy's the soda fountain 3-in-1 shampoo, bubble bath and shower gel trio ($30) and philosophy's the soda fountain lip set ($28), are limited edition and are available at sephora and sephora.com only