All Posts Tagged With: "bun"
TRESemmé created three chic looks for Mercedes-Benz Fashion Week Spring 2010 in NYC.
The Show: Whitney Eve. The Hairstyle: Fun and Flirty Textured Pony.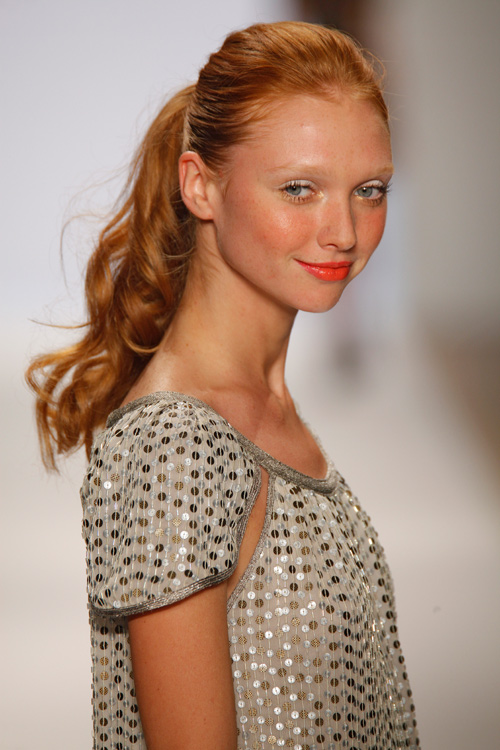 Hair Tutorial: How to get this hairdo: To coincide with the laid-back, fun-loving feel of the Whitney Eve collection, TRESemmé created a girly, textured pony. Using the right products, this playful look is easy to achieve at home:
1. Apply TRESemmé 24 Hour Body Foaming Mousse to damp hair, and blow dry upside down using a round brush.
2. Spray hair with TRESemmé Thermal Creations Curl Activator Spray, and lightly curl with a 1" curling iron for texture.
3. Gently tease the top of the head towards the front of the hairline for volume.  Using fingers, pull hair back into a ponytail towards the crown, and fasten with an elastic.
4. Create texture throughout the ponytail using hands, and finish with TRESemmé TRES Two Ultra Fine Mist Hairspray.
Getting glam for the Oscars Red Carpet is never an easy feat! Whether it be getting the perfect 'do, a clear complexion or a pearly white smile, our beauty insiders have you covered. Below are some tips and tricks used by the celebrities for getting an award winning look:
Award-Winning Hair Style
Iconic hairstylist Oribe recommends: "To add a little shine and sparkle into any Oscars look, I recommend 24K Gold Pomade. It's a nice unexpected element that will transform your hair into something extraordinary. 24K is rich in ingredients that impart a beautiful sheen to the hair and can be used with a light hand to add glamour to a chignon, bun or any red carpet-worthy style."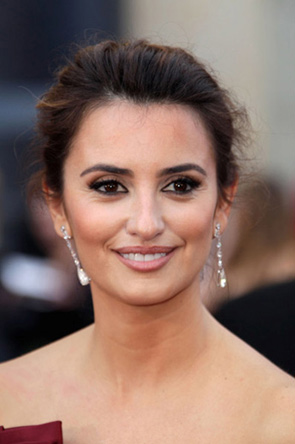 Oribe styled Penelope Cruz' hair for Oscars 2010
Award-Winning Hair Color
Celebrity Haircolorist Lorri Goddard-Clark recommends: "Before coloring your hair for the big day, make sure you have had your hair freshly cut – this allows your highlights to look like the sun kissed your hair. Always mark your favorite part (side, middle, center, etc.) before highlighting and when applying the color, keep highlights finer near your scalp and heavier at the ends for a more natural appearance. This is sure to keep color bright and vibrant!"
Maggie Gyllenhaal's Oscars 2010: The Hairstyle
"I'm calling Maggie's look for the Academy Awards 'Muse of Spring."-Celebrity Stylist Mark Townsend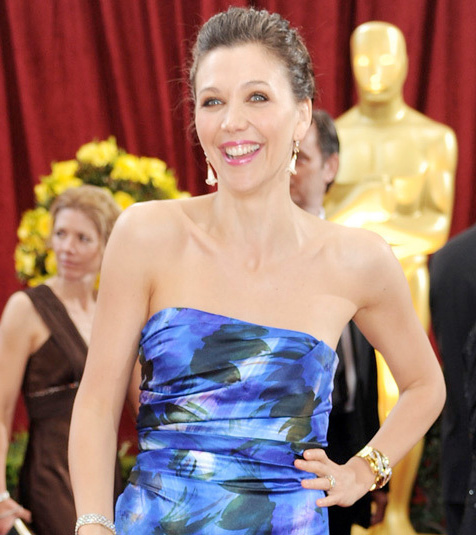 How to get Maggie Gyllenhaal's Oscars 2010 Hairstyle: Hair Tutorial
"I started by adding 4 or 5 drops of Moroccanoil Treatment The Original to Maggie's wet hair to keep the hair smooth and shiny and then added Sally Hershberger Style Primer for Thick Hair and blow dried with a round brush. I set the hair in barrel curls on top to keep some lift at the roots.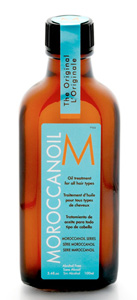 Anna Kendrick wore a romantic blush-colored Eli Saab gown on the Oscar red carpet, complimented by an effortlessly elegant, modern updo designed by stylist Craig Gangi.
The Hairstyle and inspiration: Gangi, inspired by the graceful off-the-shoulder look, created an updo highlighting softly waved texture accenting healthy hair with natural-looking shine.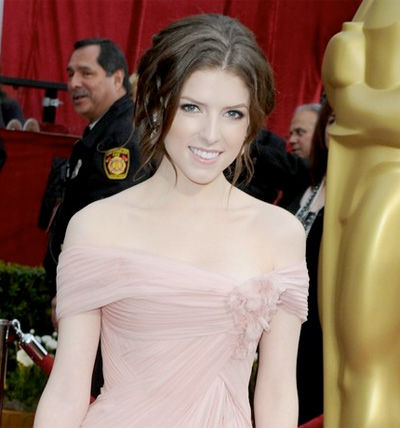 Hair Tutorial: How to get Anna Kendrick's Oscars 2010 hairstyle:
He first applied argan oil-infused Moroccanoil Hydrating Styling Cream to add moisture and give hair a soft hold that was smooth as well as frizz-free and static-free.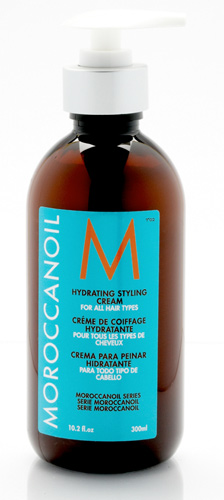 Amanda Seyfried Oscars 2010: The Hairstyle
Harry Josh, John Frieda International Creative Consultant, is sharing his styling secrets on how to get Oscar presenter Amanda Seyfried's cool, understated hairdo with easy-to-use tips and tricks.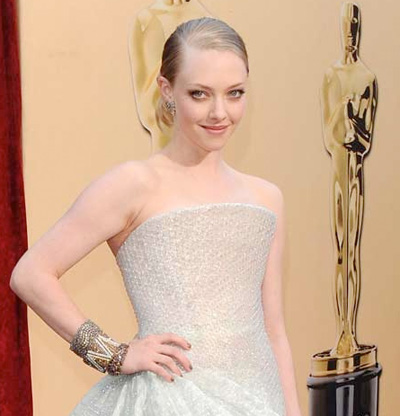 Harry gave Amanda the new Frizz-Ease Smooth Start Hydrating Shampoo and Conditioner in advance as the frizz-fighting formula was essential to smooth and hydrate dry strands and replenish moisture for a nice, smooth blow out.
"These shampoos and conditioners were the perfect way for Amanda to prep her hair," said Harry. "The look was flat, clean and sleek, so it was important to start the fight against frizz early so that Amanda's hair would be silky, shiny and totally manageable."
Penelope Cruz Oscars 2010. The Hairstyle and Inspiration: "We chose a very easy, elegant bun because with this look, it was all about the dress," says iconic hairstylist Oribe. "All of the elements were already there, from a beautiful movie star to a beautiful dress, so we wanted to go with less is more and keep the hair simple and chic."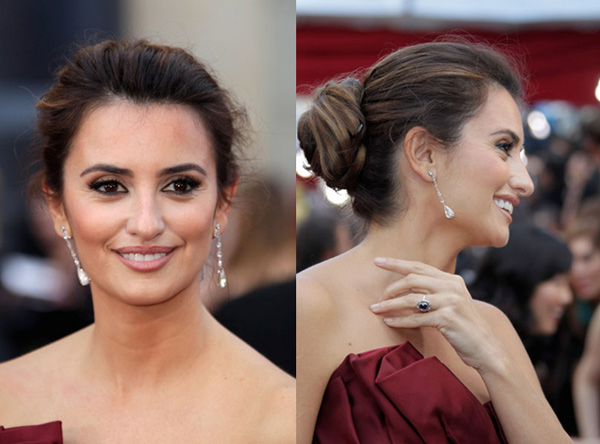 Hair Tutorial: How To Get Penelope Cruz' Oscars 2010 hairdo
1. Blow dry hair so it's dry but don't worry about making it too perfect.
Charlize Theron Oscars 2010: The Hairstyle
Charlize Theron's Oscar hair looked extraordinary this year. Inspired by the pale classic shape of her gown, her longtime hairstylist, Enzo Angileri, created a style that emphasized delicate, enduring beauty.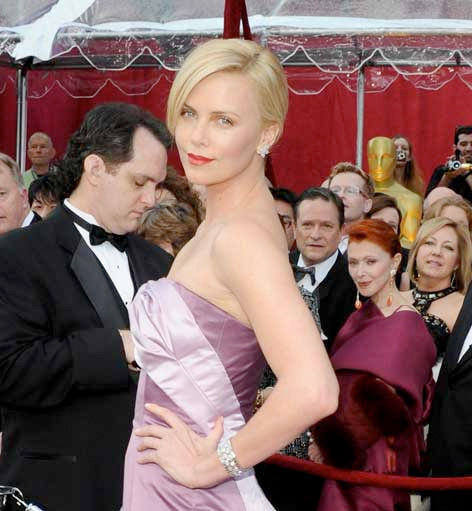 How to get Charlize Theron's Oscars 2010 hairdo by celebrity hairstylist Enzo Angileri:
"To create this look I needed a very smooth texture and lots of natural-looking shine," explained Angileri. He used new argan oil-infused Moroccanoil Light, made especially for fine and light colored hair, on wet strands before blow-drying to ensure the hair itself looked perfected. "After that about 50% of my work was done," he said, "and I had a texture that was workable, healthy-looking and naturally beautiful."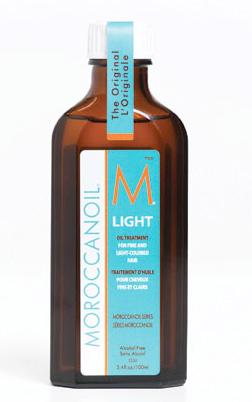 I'm excite to share with you my interview with Avon Global Stylist Advisor Tippi Shorter.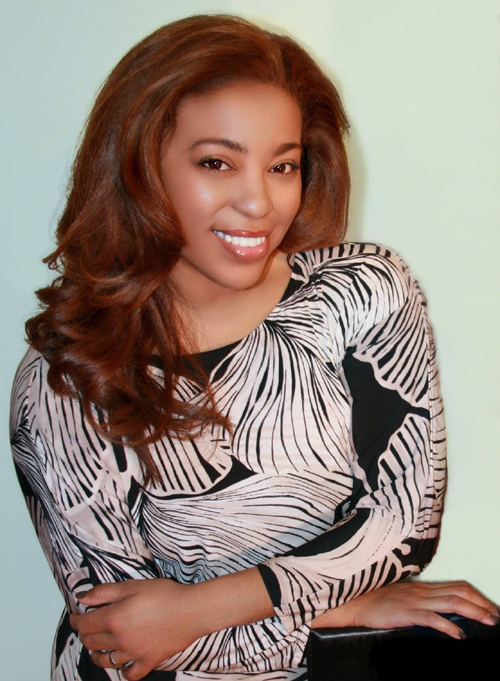 Tippi Shorter
In 1995 Tippi headed from home town, Long Beach, California to New York City, and within a year of her move she was asked to participate in a beauty feature for Essence magazine. Tippi opened Luxe Studio in Soho, but sold the successful salon after four years to pursue other career opportunities such as styling for photo shoots, music videos and commercials. Tippi is known for taming the tresses of A-list actresses, musicians, and supermodels including Alicia Keys, Rihanna, Jennifer Hudson, Beyonce, Jada Pinkett-Smith, and Vanessa Williams, to name a few! And while her beauty masterpieces are seen on the covers and editorial pages of In Style and Vanity Fair, Tippi remains modest and humble saying "I am not a celebrity hairstylist. I am a hairstylist who happens to have the opportunity to work with many wonderful celebrities."
Frederic Fekkai SoHo's Andre Rodman transformed the tresses of Sharon Stone, taking her from day to night . David Letterman to the Elton John AIDS Foundation's "An Enduring Vision"
Sharon Stone at the Late Show with David Letterman.  Inspiration: Sixties chic to match her vintage inspired Dior Dress.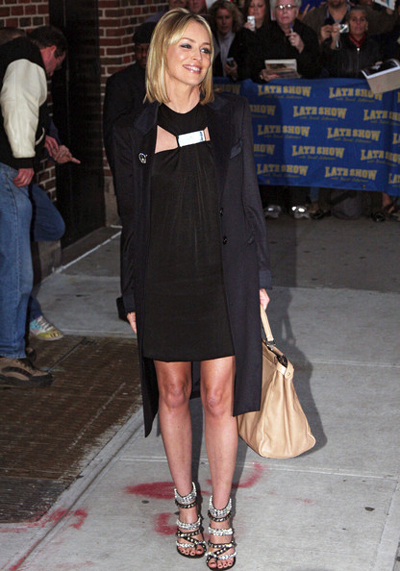 How to Get the Look: For David Letterman, Andre Rodman for Frederic Fekkai did a simple blowout using the Fekkai Extra Large Round Brush to get a stick straight bob. He parted the hair in the middle to frame her face, with a few wispy bangs falling to the front of her face. He created body and fullness at the crown using the Fekkai Full Blown Volume Spray. Finally, he finished the blow dry using Fekkai Top Coat Serum to finish the look.