All Posts Tagged With: "butter LONDON"
We're not talking about questionable trends like vajazzling or the Kylie lip challenge here, this is the ultimate guide to raising your brow game to the next level. Whether you're simply looking to tame your sprouts (the little guys at the front of each brow) or to transform your caterpillars into…slightly more colorful caterpillars—we have got the tools for you!  Here are products from butter LONDON and Manic Panic to help take your brows from random patches of hair above your eyes to showstoppers.
Your eyebrows better work
butter LONDON is the official makeup sponsor of Project Runway Junior Season 2, and it has partnered with the talented teens and tweens of the hit reality show for the highly anticipated season premiere. As part of their official makeup sponsorship, butter LONDON's beauty room was featured in last night's episode, where contestants worked with celebrity makeup artist Scott Patric to create one-of-a-kind looks to complement their designs on the runway.
Backstage at Nicole Miller's Spring/Summer 2016 show, butter LONDON's lead manicurist, Katie Jane Hughes, created a fashion-forward naildesign that perfectly complemented the fun, edgy collection.
What Katie says: "I created this bold nail look to play off of the street art inspired clothing in the collection. Black nails and edgy details are going to be a trend for spring. Spring beauty this season isn't about playing by the rules."
A report released this week by California Environmental Protection Agency's Department of Toxic Substances Control found that several nail polish products tested contained the three chemicals commonly referred to as the "toxic trio" – dibutyl phthalate (DBP), toluene, and formaldehyde.
What's HOT in the world of nail polish these days is the British Butter London.
Super rich pigments and runway material shades. The Butter London nail polish contain NO Formaldehyde, NO Toluene, NO DBP.
I had the luxury to discover the butter London nail polish collection backstage at Betsey Johnson Spring 2009 Collection. I was in love with the funky shades, particularly the super sparkly butter London in Rosie Lee. What I also noticed that Rosie Lee was layered with other shades, such as: British Racing Green. The overall effect complimented Betsey Johnson's super funky and playful collection. Other shades include: Minger. Scoundrel. Pearly Queen.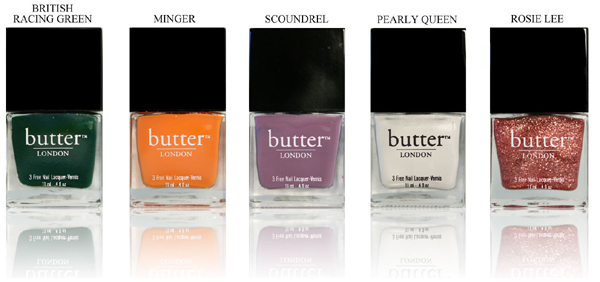 What else: butter LONDON stormed NYC Fashion Week this season (SS 2010), with the introduction of British Racing Green. Hand mixed by their Creative Director Nonie Creme for the Vena Cava show, this shade has already been noticed by Vogue, W Magazine, Lucky, Ladies Home Journal, and Redbook.
butter London is free of harsh chemicals nail collection.