All Posts Tagged With: "By Lauren Luke makeup line"
Talking Makeup is thrilled to introduce to you By Lauren Luke, the queen of makeup tutorials Lauren Luke's makeup line.
By Lauren Luke is launching with five distinct full-face color palettes. Each kit includes three eye shadows, an eye primer, two lipsticks, one blush, and of course, the perfect deep black eye liner.
By Lauren Luke makeup lines launches exclusively on www.bylaurenluke.com on April 27th! The Kit retails: $32.40 US, 23.99 UK Pounds.
"I just want to make people feel special and happy."-Lauren Luke.
By Lauren Luke My Fierce Violets:
Shadow Primer-nude slip light
Shadow Primer-nude slip dark
Eye shadow-crushed lilac
Blush-sepia rose
Eye Liner-raven black
Eye Shadow-turkish night
Eye shadow-porcelain dust
Lip Colour-sheer berry
Lip Colour-cherry whip
I'm so excited about introducing to you to Lauren Luke, a self-taught makeup guru watched by 39 million on her YouTube channel. I've been watching some of Lauren's videos as well and this girl is just incredibly talented makeup artist. Lauren Luke's story is just so inspirational and teaches all of us to do what you love and the rest will follow! Needless to say, I'm a fan:)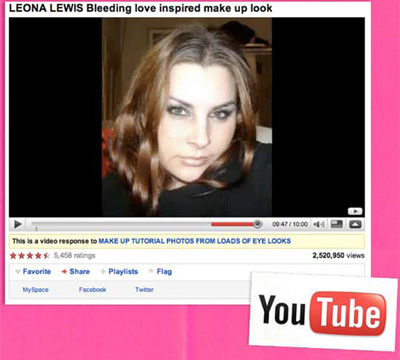 Lauren Luke was called "The World's Most Popular Makeup Artist" by the BBC, her new color cosmetics line — By Lauren Luke launches on April 27th.
By Lauren Luke makeup line includes five full-face palates with shades hand-picked by Lauren and tutorials meant to maximize the kit's value and glam quotient. It will be sold exclusively on her website: www.ByLaurenLuke.com
Lauren's story, though just beginning, is a thrilling one:
-39 million views of her video tutorials