All Posts Tagged With: "Calvin Klein"
Watch The Making Of : Calvin Klein Underwear Fall/Winter 2010/2011 Advertising Campaign : Zoe Saldana in Envy by Mikael Jansson.
Avatar star Zoe Saldana models for a Calvin Klein lingerie campaign. Saldana is promoting the brand's fall women's Envy line, the multi-million dollar ad will first be seen in circulation in mid-September 2010 upon the release of October magazines.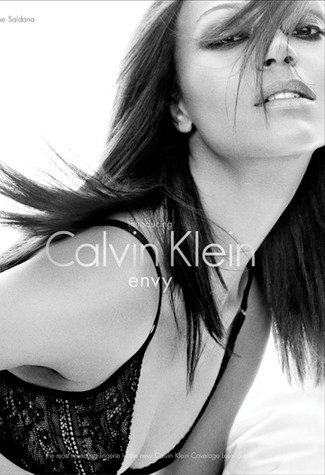 According to Hilary Alexander's article in the telegraph.co.uk Lara Stone is the new face of Calvin Klein.

Lara Stone in new Calvin Klein fall/winter 2010 campaign, photographed by Mert Alas and Marcus Piggott Photo: MERT ALAS AND MARCUS PIGGOTT via the telegraph.co.uk
Here is an exert: Lara Stone, the beautiful Dutch model who married the British comedian, David Walliams, in May, has been named as the exclusive face of Calvin Klein. Ms Stone, a voluptuous blonde covergirl and international catwalk star, who is currently ranked the No.1 female fashion model in the world by the industry website, models.com, will be featured exclusively in the forthcoming global autumn advertising campaigns for the Calvin Klein main collection, ck Calvin Klein, and Calvin Klein Jeans.
Actress Ali Larter made her mark looking absolutely stunning at the Friends Without Borders Gala in Los Angeles. Ali was absolutely glowing in a creamy beige dress from Calvin Klein.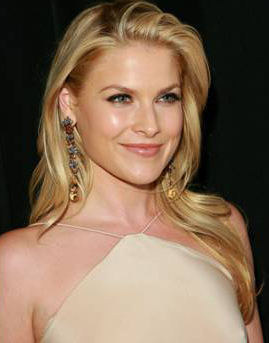 Here is how to get Ali Larter's red carpet makeup look thanks to mark Celebrity Makeup Artist Mai Quynh!
Eyes
"I used mark Keep It Going Longwear Eye Liner in Solid Gold (available Spring 2010) to rim the bottom of her eyes, and Jet Set to line her top eyelid. Next, I mixed mark I-mark Custom Pick Eyeshadows in Corset and Java and applied them on her lids using the mark All Over Eye Shadow Brush. I finished with mark Make It Big Mascara in Raven."
Model, Hilary Rhoda, attended the 2009 Council of Fashion Designers of America Awards or the CFDA. Hilary was escorted by Estee Lauder President, John Dempsey, and stylist, Mary Alice Stephenson.
Hilary Rhoda's style: Dress: Custom made by Francisco Costa at Calvin Klein. Shoes: Calvin Klein. Earrings: VBH. Clutch: VBH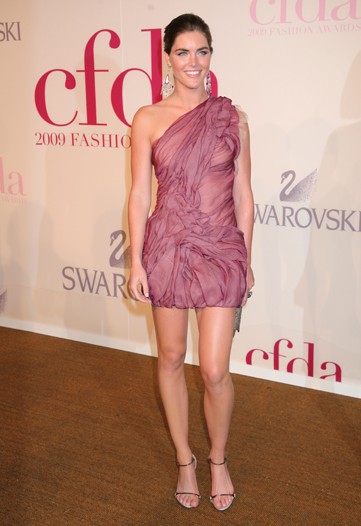 Image via: wwd.com
Celebrity Hairdressers Oscar Blandi & Mark Townsend get Hollywood's biggest stars glam for the 2009 Costume Institute Gala.
Calvin Klein (styled by Oscar Blandi, wearing Calvin Klein Collection).
With Brooke's hair, Oscar wanted to keep it very clean. "I decided to give her curls and keep them loose so that the look stayed soft." When her hair was still wet, he applied his Volumizing Spray to the root and then the Onde Wave Spray all over the hair to really lock in the curl. After drying the hair, he used both a medium and large barrel curling iron throughout. Using two different size barrels prevents the curls from all being the same size and ultimately blending together, so this way we avoid the blending and create more dimension. Once the curls were finished, he gently applied a small amount of Jasmine Oil on the hair to create sheen and sprayed Lacca hairspray all over.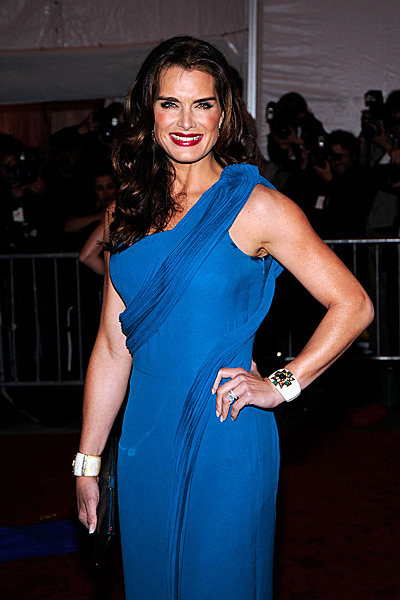 Rosario Dawson (styled by Oscar Blandi, wearing Diane von Furstenberg)
"For Rosario, I created what I like to call an abstract chignon." First Oscar blow dried the hair straight and then secured a low pony tail above the nape of the neck. Once the ponytail is set, you add medium and large size plastic rollers to the loose hair (again with both sizes to ensure texture throughout the hair). Then he sprayed Onde Wave Spray while setting the curl make sure the hair takes. Once he pulled out the rollers, it was easy to create a chignon with loose pieces– you just follow the curve of the hair and begin pinning sections in place with a bobby pin. Feel free to let hair hang and fall as it may and pull out pieces in the front to layer around the face. The final step was to spray the look with Lacca for hold through the night.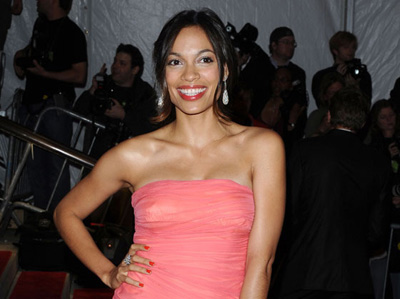 Ashley Olsen (styled by Matrix stylist Mark Townsend, wearing The Row)
Matrix celebrity stylist Mark Townsend recently cut Ashley's hair into an asymmetrical bob, so for the Met Ball they wanted to leave her hair down.
Calvin Klein most popular fragrance CK one has a new limited summer edition.  Called simply CK One Summer.  Summer fragrances demand fresher and lighter scents CK One summer does just that.  The delicious fragrance captures the freshness of summer with a sun-kissed feel.  CK One Summer also reflects the sparkling essence of the tropics. Mouth-watering citrus notes, invigorating lush tonalities, and exotic vitality make this the perfect scent for summer, for day or night, for him or her.  Notes include:  Tangerine, Pineapple, Grapefruit, Frangipani, Sea Breeze, Palm Sap, Driftwood, Hot Sand Effect, Glistening Skin Musks.  Cost:  $40 for 3.4 oz Eau de Toilette Spray.   If you get hooked on CK Summer also try Get Smooth Skin Moisturizer $20 for 6.7 oz, and Get Clean Foaming Body Wash $15.  All Limited Edition.