All Posts Tagged With: "Candles & Home Scents"
Marta's NEW Obsession in home fragrance: Transform your home into a 7 star resort with the fabulous Vie Luxe candles. They smell divine, and with names like: Palm Beach and St. Barth's who needs to leave home! More good things: burns clean and slow, packaging is super elegant to cheer you up or a gift to special friend. And smells AMAZING, sophisticated and well thought out scent.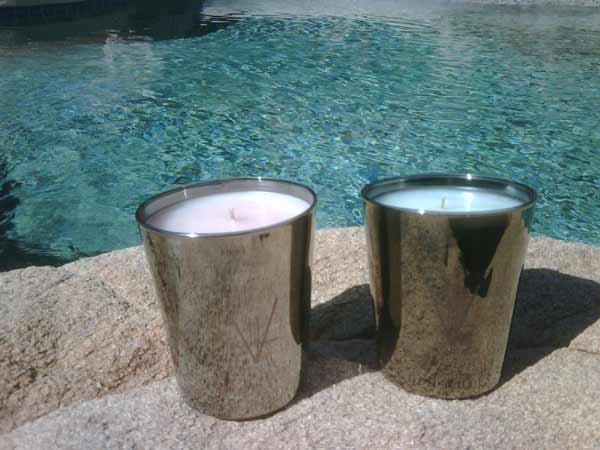 From left: Vie Luxe candle in Palm Beach and Vie Luxe candle in St. Barth's.
Visit the official Vie Luxe website for more details at: www.vieluxenyc.com
Wild Garden NEW Space NK Candle Collection: Indulge your senses with Nicky Kinnaird's new assortment of exclusive signature scents inspired by the ardent aromas of a wild garden. Each NK Candle is hand poured and blended with essential oils and the highest quality wax.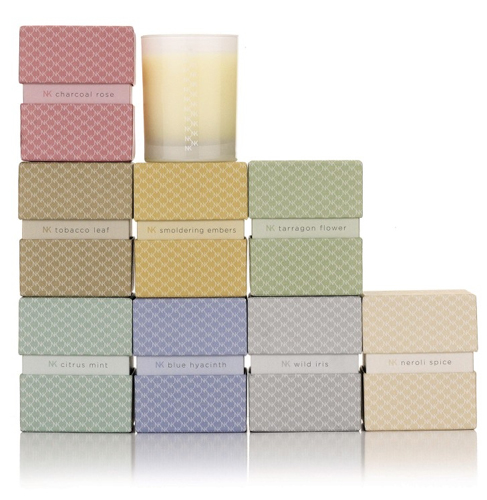 Blue Hyacinth
The essence of freshly cut blue hyacinth is blended with paperwhite narcissus, creamy gardenia and cashmere wood
From perfect little stocking stuffers to glistening gift boxes, Banana Republic has the perfect gift options for your gift guide! Sparkling scents for him and her and festive home fragrances.
Fine Fragrance Holiday Gift Sets: The Republic of Us Collection ($49) – The latest shining stars from Banana Republic fragrances come back for an encore performance as part of the holiday gift collection for 2009. Each set will be offered in stunning two-piece boxes this season, featuring a giftable matte silver base and "dressed up" cover.
For Women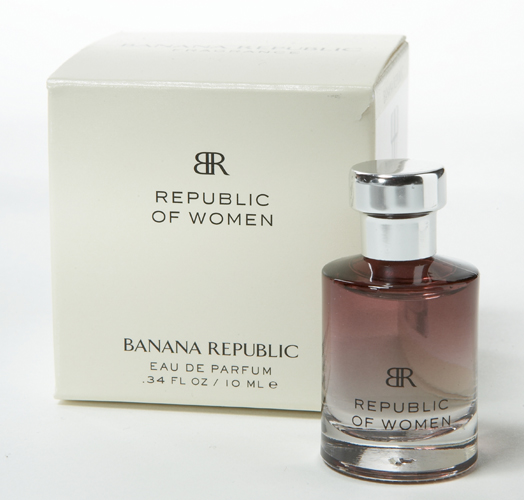 Republic of Women – Celebrate her sparkling energy and modern sensuality this holiday season with a Republic of Women holiday gift set. The limited-edition collection features a 50mL Eau de Parfum and a 50mL Body Cream available exclusively in the gift set. Banana Republic's newest women's fragrance, Republic of Women leaves an alluring impression with a seductive blend of juicy berries, pink jasmine, Moroccan rose and precious woods. For her, the set showcases a subtle cast of gold metallic.
This holiday season delight loved ones with a gift for the bath, body or home from British fragrance house Jo Malone. Luxurious and unique, Jo Malone offers the perfect gift for everyone on your list. Each offering is elegantly presented within the iconic cream-coloured box and tied with a grosgrain ribbon. When opened, the Jo Malone experience begins to unfold.
Gifts For The Home
Tea Box Deluxe Candle Collection: Elegantly understated, the Tea Box Deluxe Candle Collection brings a sense of refinement to the home. A suite of three Deluxe Candles are presented in a stately cream-coloured box accompanied with a silver-plated wick trimmer, candle snuffer and key. The Collection features Eau De Cologne, Parma Violets and Sweet Almond Macaroon Deluxe Candles; each candle includes an engraved Jo Malone Candle Lid. 3x400g 395 US / 450 CAN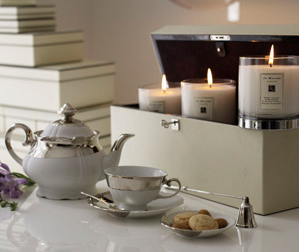 Pomegranate Noir Deluxe Candle: Combining the sweet, fruity notes of raspberry, pink pepper and pomegranate with patchouli, frankincense and spicy woods, the Pomegranate Noir Deluxe Candle envelops a room and lingers for hours. The Pomegranate Noir Deluxe Candle includes an engraved Jo Malone Candle Lid and is beautifully presented in a Jo Malone signature gift box. 400g 130 US / 150 CAN
Introducing Casa di Francesca: A Luxury Home Fragrance Collection.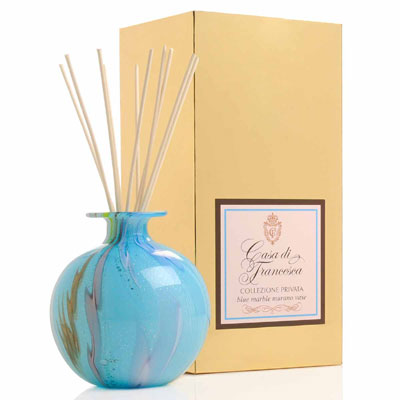 Casa di Francesca, a new home diffuser collection that captures the essence and aromas of Old World Italy. This unique fragrance collection was inspired by Francesca, a true Renaissance woman, and one of the few women to tour Europe via the Grand Tour in the late 1600's. With Francesca's story in her heart, Designer, Katie Borghese created Casa di Francesca, inspired by both the storied Italian lineage of her family, the Borghese's, and Katie's love of art and travel.
Banana Republic Beach House Candle: Evoke fond memories of barefoot days by the sea and breezy evenings in the hammock with Banana Republic's most summery scent. From the moment you light the Beach House Candle, its leafy blend of blooming florals and light woods brings back a flood of summer recollections. Experience the joy of discovering the perfect shell and the pleasure of drifting off to the sounds of crashing waves and chirping crickets when you infuse your home with the scent of Banana Republic's Beach House candle.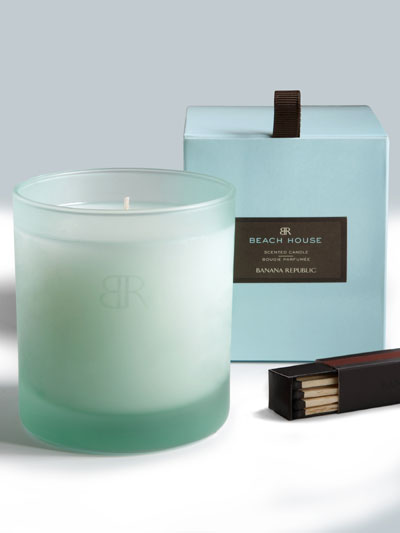 Top notes of beech tree leaves, sunny marigold, purple wisteria and honeysuckle nectar mingle with mid notes of English lavender, blooming white hydrangea, lily pond lotus and pink peony petals.
At Wednesday's (5/27) star studded Fifi Awards at Manhattan's Downtown Armory attended by Paris Hilton, P. Diddy, Marc Jacobs and Mary J. Blige, the royal couple of home fragrance, Harry and Laura Slatkin competed against each other for the first time in the Interior Scent Collection Category – he for Slatkin & Co./Limited brands, she for Candela Group.

Harry and Laura Slatkin
Photo by Steve Eichner via wwd.com
Laura's new line Nest brought home the award making the couple the first in Fifi history to both win an award in the same category for different collections. She will proudly place it on the mantle next to Harry's 2003 Fifi for Elton John's Potpourri Rocks.
The iconic unisex fragrance ck one will relaunch later this month with a NEW television and print ad campaign (shot by the legendary Steven Meisel), a beautiful song written by British musician and model Jamie Burke and a special, limited edition fragrance bottle packaged with an mP3 speaker.
About ck one Relaunches with Inaugural Campaign via Women's Wear Daily:
by JULIE NAUGHTON
Posted FRIDAY JANUARY 09, 2009
From WWD ISSUE 01/09/2009
Calvin Klein plans to bring new attention to its CK One franchise with a new TV campaign to be launched Jan. 20. Not coincidentally, it's the same day President-elect Barack Obama will be inaugurated.
"The CK One 'We are one' campaign is inspired by a social movement of people coming together in the spirit of unity," said Catherine Walsh, senior vice president of American fragrances for Coty Prestige, noting the campaign's centerpiece is a song commissioned from British musician Jamie Burke – who appears in the print and TV ads for this campaign, as well as two Calvin Klein Jeans spots. "There is such a natural synergy between the message of the campaign and the essence of our new president's platform that it seemed the ideal moment to share the TV spot. The campaign – and its original song – give voice to an optimistic new generation, that certainly made its voice heard in the latest election. This is a celebration of the power of coming together as one."
Shop at Space NK to benefit Baby Buggy!
The merchants of Greene Street in SOHO, such as, Space NK, invite you to a special day of shopping, special events and surprise! 

Click image to enlarge!
WHEN: Thursday, December 11, 2008.
WHERE: at the SPACE.NK apothecary 99 Greene Street, New York City, NY 10012. 212.941.4200
Space NK will donate 5% of their proceeds that day to benefit Baby Buggy, a non-profit organization founded in 2001 to help provide essential gear, clothing, and products for infants and young children living in poverty throughout the five New York boroughs.
Here is a list of holiday must-haves from Victoria's Secret Beauty:
Introducing At Home by Victoria's Secret, a home fragrance collection. At Home features three sophisticated, limited-edition scents inspired by wintry woods and lush Mediterranean orchards. And with six beautiful products, you can enjoy them in any living space. Go ahead, live in luxury.
The Scents:
Mandarin Woods: An invigorating mix of Mandarin and Alpine greens filtered through chilled winter air.