All Posts Tagged With: "Celebrity Beauty Secrets"
I'm very excited to bring to you my interview with Christina Moore who plays Tracy Clark, Naomi's mom, on CW's Beverly Hills 90210. I've interviewed Christina for Talking Makeup's celebrity beauty section: www.beautyinterviews.com
Christina Moore also plays the role of Candy Sullivan, a nurse with a unique sense of duty, in an upcoming television drama on TNT called HawthoRNe, directed by Mikael Salomon. Jada Pinkett Smith is also starring on HawthoRNe.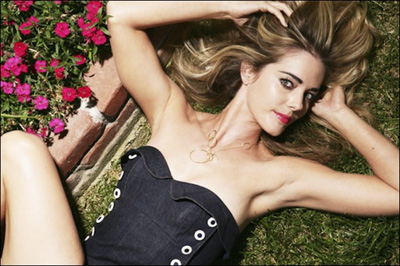 Photo Credit: Rudy Martinez.
Marta Walsh: How did you decide on a career in acting, and what were some of your first breaks as an actress?
Christina Moore: I loved the theatre. I got into a professional theatre troupe when I was in High School. We toured around the Chicago suburbs doing musicals. It was like a 2nd family for me. There is such a kinship in the arts and I knew I wanted to be a part of it forever.
I got lucky when I landed (alone) in LA. I was cast in a string of popular sit-coms all produced at the Warner Bros studio. (Friends, Suddenly Susan, Just Shoot Me, Drew Carrey) This led to me auditioning for Hyperion Bay, which was my 1st series regular job. I had only been in LA for 2 years at that point. And from there-I was off and running in television.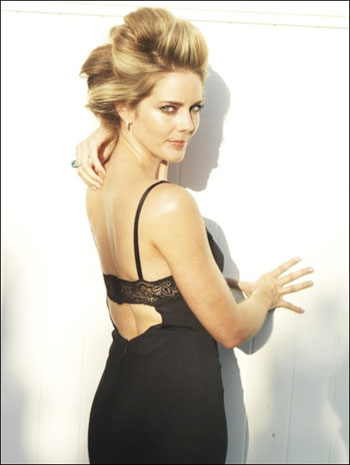 Photo Credit: Rudy Martinez.
Few days ago I had the great pleasure to interview actress Bree Turner for Beauty Interviews. Bree has a role in an upcoming film called The Ugly Truth opposite Katherine Heigl. Here it is:
Bree Turner is an actress who began her journey in Hollywood as a professional dancer. Bree was a background dancer in such hit films as The Big Lebowski (1998), She's All That (1999) and Mike Myers' Austin Powers: The Spy Who Shagged Me (1999). Bree's love for performing and being on stage makes acting a natural transition. Bree Turner can be seen opposite Katherine Heigl and Gerard Butler in The Ugly Truth- out July 24, 2009.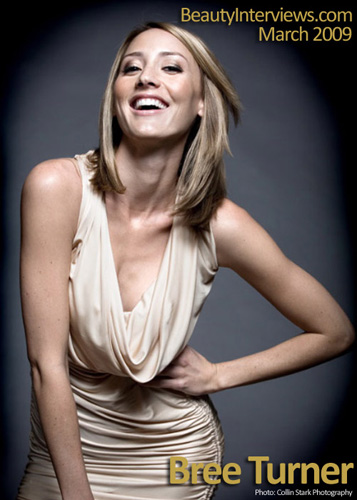 Bree Turner cover of Beauty Interviews March 2009.
Photo Credit: Collin Stark photography.
I caught up with Bree Turner via telephone from LA early in the morning, to talk about her beginnings in Hollywood, her upcoming film The Ugly Truth, future career plans and even some beauty secrets!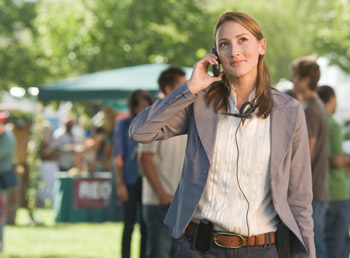 Bree Turner in The Ugly Truth.
Marta Walsh: How did you decide on a career in acting, and what were some of your first breaks as an actress?
Bree Turner: I started out as a dancer which got me on stage. I was pretty shy as a kid so my mom decided to enroll me in a dance class, and I fell in love with being on stage and performing. I danced all through my teens and early 20's. Dancing brought me down to Los Angeles with a dance scholarship in UCLA.
Few months ago I interviewed for Beauty Interviews the multi-talented host, actress and singer Layla Kayleigh from the hit MTV series "America's Best Dance Crew" with Randy Jackson (airs Thursdays at 10pm ET/PT).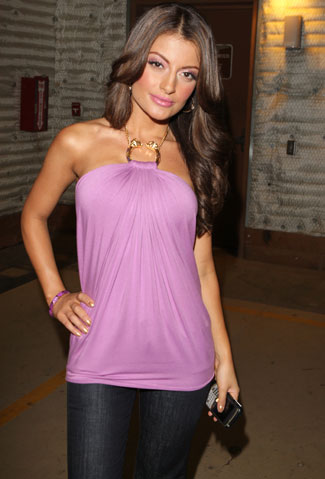 In the interview, Layla Kayleigh talks to me about some of her best kept beauty secrets, the two women celebrities she finds most beautiful, her favorite way to relax, and why does she think Randy Jackson the executive producer of "America's Best Dance Crew" on MTV is so amazing.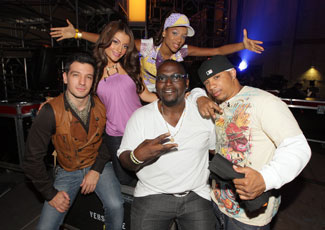 I keep my hair beautiful thanks to…
"Enjoy" is a line that I absolutely love because it's Sulphate-free, which is awesome- I'm a huge fan. Kerastase is also fantastic, they have this amazing hair oil that works wonders and doesn't make your hair greasy (especially for people with ethnic or coarse hair like myself).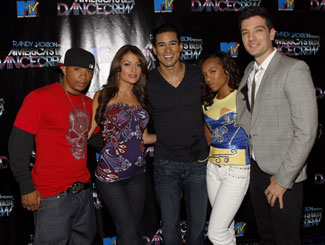 I recently interviewed actress Brea Grant from the hit NBC science fiction series Heroes for Beauty Interviews.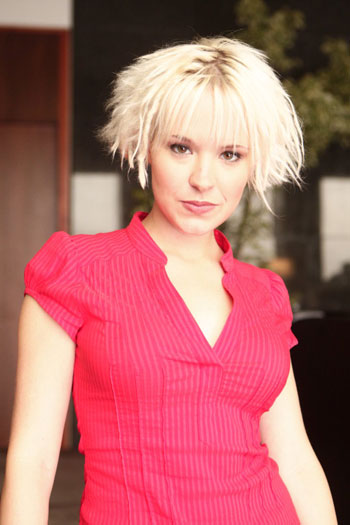 Brea Grant stars as the new "hero" on the hit NBC's science fiction series "HEROES". The season kicked off on September 22nd with all new episodes so make sure to stop by and watch Brea Grant as she playing the character of Daphne Millbrook. Brea grant has previously appeared in an episode of Cold Case and three episodes of Friday Night Lights, and is due to play the character of "Junkie Girl" in the upcoming Max Payne film.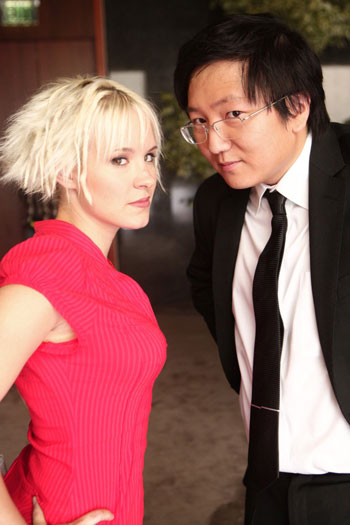 In this interview Brea Grant talks about how she got into acting, why was she attracted to the role of Daphne Millbrook in the hit series Heroes and what she has learned from it, shares beauty secrets, and her upcoming projects.
Marta Walsh: Why did you decide on a career in acting?
Brea Grant: As a kid, I did a lot of local theatre in Texas. When I was sort of at that crossroads of trying to decide what to do with my life, I fell back on the thing I remembered loving most – acting. So I took a few acting classes and moved to Los Angeles. Sounds simple but it was actually pretty hard.
Just in-Beauty Interviews August 2008 edition with CSI Miami's beautiful actress Eva La Rue  gracing the cover.
In this month's Beauty Interviews edition, Marta Walsh brought to you amazing interviews with: Tracy Austin one of the world's most famous tennis champions talking about some of her most memorable moments of her tennis career, how Juvederm dermal filler improved her skin, what made her join the Juvederm Decades of Smooth Campaign, and Bille Jean-her toughest opponent in her entire career.
Barbara Carey , a talented entrepreneur and the inventor of Spinlash, the first mascara that revolves around you. In the interview, Barbara Carey talks about her early entrepreneurial days from age 9, Hairagami her most successful invention to date, gives advice on how to decide about what business to be in, and her ten top beauty secrets.
Dr Howard Sobel the creator of DDF Skincare. In the interview Dr Sobel talks about his decision to create DDF, the best part of developing his own skincare line, why he thinks Giuliana Rancic's from E! News favorite DDF Cleanser is so amazing, and his passion to help women and men restore their skin to the most youthful appearance.
Soul Lee is an expert lash and brow expert at Shu Uemura. In the interview Soul Lee talks about her fascination with eye lashes, Shu Uemura's "Rebirth" Collection, gives tips on how to get the modern Marilyn Monroe eye makeup look, and reveals Hollywood's best-kept eye lash secrets.
Kattia Solano the owner of the popular Butterfly Studio Salon in New York City. In the interview Kattia talks about the Butterfly Studio Salon experience, her Best Haircut Award by Allure Magazine, best kept secrets for beautiful hair, and plans for developing her own hair care line inspired by her origins in Costa Rica.
Eva La Rue reveals some of her beauty secrets, her romantic engagement in Africa, what some people may not know about her, and her upcoming movie with Samuel L. Jackson called: Lakeview Terrace.
Happy reading!
I recently interviewed actress Eden Riegel for BeautyInterviews.com.
Eden Riegel is an Emmy winning actress who is also known for her role as Bianca Montgomery on the daytime drama All My Children, the first character on day time soap opera that 'came out' as a lesbian. Eden also made history when she shared the first lesbian kiss on American daytime television.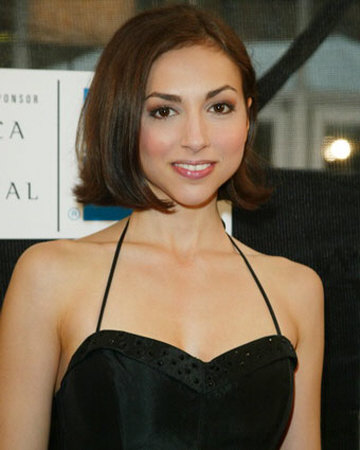 Eden Riegel, Actress.
Eden and I chatted about her beauty secrets, being part of The World Patrol Kids as a child together with Natalie Portman, and why she is passionate about her new Internet series: Imaginary Bitches.
Imaginary Bitches is a web series created by Andrew Miller that premiered on May 2nd, 2008. 13 five-to-seven minute webisodes comprise season one. New episodes are released weekly on Friday nights at 11:00PM EST on the Imaginary Bitches Official Web Site, and on the Imaginary Bitches YouTube Partner Page.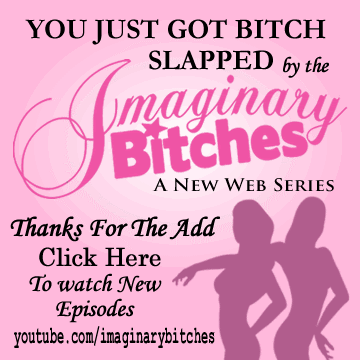 The series tells the story of a single girl (Eden) who deals with the lonely reality that all her friends are in serious relationships by creating imaginary friends to talk to… who turn out to be serious bitches.
Eden Riegel was a pleasure to chat with. Eden is super sweet, intelligent, funny, and sexy. She is the kind of girl any guy would love to be with. I know she is married to director Andrew Miller. So Andrew, if you are reading this, you are a lucky man!
Here is a preview of my interview with Eden Riegel and her beauty secrets:
I keep my hair beautiful thanks to…
I use Kerastase, I'm addicted to it. Wonderful products. I use everything from the whole line. I would never ever use anything else. When I travel I take it with me. The water in New York is so different than in Los Angeles, but it works on both coasts and even abroad. And I just love when my hair is thicker, softer, and much more luminous. My favorite is the ole-relax line, the orange bottles.
We are so excited to publish Beauty Interviews July 2008 Edition today, and feature the beautiful Khloe Kardashian (Kim Kardashian's sister) on the cover.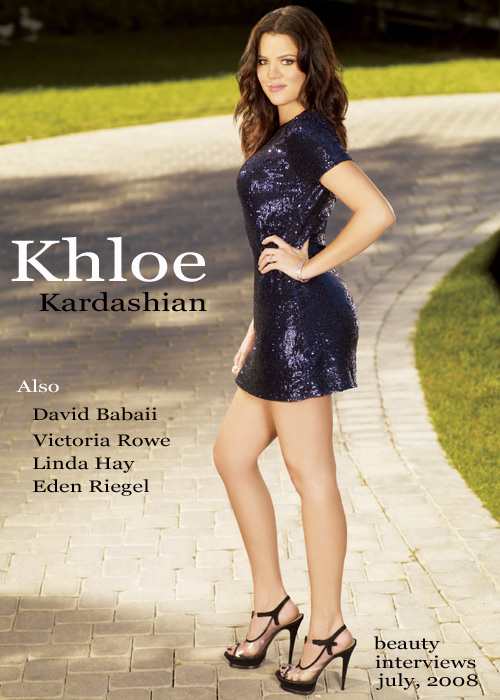 Read all about Khloe Kardashian's beauty secrets, from her signature smokey eyes look to the lip gloss her and Kim Karadashian are obsessed about, her favorite city in the world, and future career plans.
Other great interviews in Beauty Interviews July 2008 Edition include: