All Posts Tagged With: "Celebrity Hair Stylist"
GET THE LOOK: Celebrity hair stylist Laini Reeves used Living Proof No Frizz to perfect hairstyles for Leona Lewis and Emily Blunt last night at the 67th Golden Globe Awards.
Leona Lewis and Emily Blunt didn't let the rain spoil their perfectly tamed tresses on the red carpet thanks to Laini Reeves and her secret weapon, LIVING PROOF NO FRIZZ. Both Hollywood starlets stayed frizz free and perfectly glamorous in the pouring rain thanks to the new anti-frizz molecule created by MIT scientists doesn't leave hair looking wet or greasy.
For best actress nominee, Emily Blunt – Laini Reeves cut her hair to shoulder length just for the Golden Globes and then created a curl that was blunt and chic, but still a little fun.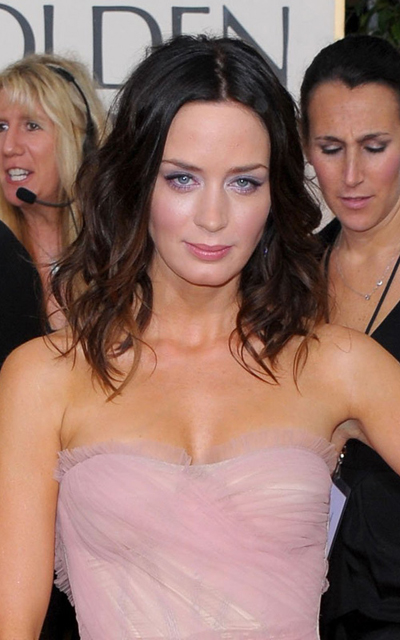 How To Get Emily Blunt's Hairdo:
First, Laini applied the NO FRIZZ, WAVE SHAPING CREAM FOR MEDIUM TO THICK HAIR ($24) to Emily's wet hair to prevent the hair from frizzing. She then added a bit of the new LIVING PROOF FULL ($24) to add a bit of body to the wave. She started creating the pin curls by taking half inch pieces of hair and wrapping each piece around her fingers and then pinning them to the top of the head.
GET THE LOOK: Frederic Fekkai Celebrity Stylist Renato Campora created a sexy undone chignon for Kate Winslet for the 67th Golden Globe Awards. The Look & Inspiration: Renato's inspiration was a glamorous woman leaving her hotel room in a rush. He created a sexy, low chignon with an undone feel and lots of texture.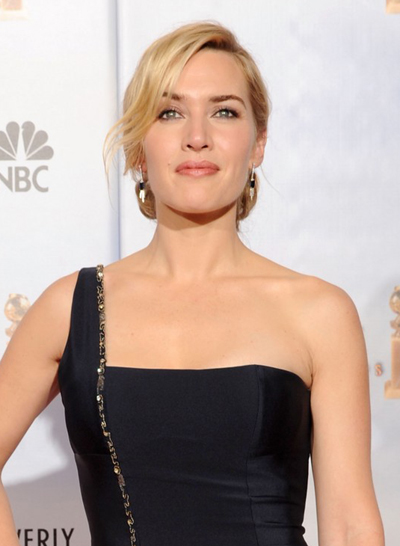 Here's Renato's hair tutorial on how to get Kate Winslet hairdo:
On wet hair Renato applied FEKKAI COIFF STRONG HOLD VOLUME MOUSSE mixed with FEKKAI ADVANCED BRILLIANT GLOSSING CREAM. These two products together provide the right balance to create a texture that leaves the hair hydrated. With the hair still wet, he created a side part and placed pins curls throughout the entire head and dried the hair with a diffuser. Once the hair was 80 percent dry, he removed the pin curls. Renato used his fingers to produce texture and finished drying the hair with the diffuser. He then applied FEKKAI Salon Technician Color Care Anti-Fade Top Coat throughout the hair for shine. Next, he softened the ends by using a curling iron. He then applied the FEKKAI Au Naturel Dry Shampoo all over the head to give the final look some modernity and volume.
Steven Lake is a top hair stylist to the stars.
Steven Lake has recently styled Carmen Electra for her Playboy cover. Other celebrities Steven Lake styled include: Christina Ricci, Brooke Burke, Stacy Keibler, Emilie de Ravin from the TV show Lost, Olympic gold medalist Nastia Liukin, and Rosalyn Sanchez.

Steven Lake with Olympic gold medalist Nastia Liukin.
Steven Lake can also be seen in Nikon's newest how-to webisode series called "Look Good in Pictures with Carson Kressley." Carson has been guiding viewers through different scenarios, showing them how to shoot, pose and shop to look the best in photographs.
Steven Lake as he appears at Nikon's Look Good In Pictures with Carson Kressley:
Marta Walsh: When did your fascination for style begin?
Steven Lake: It began early. When I was a kid my mom worked as a Mary Kay director. I would carry her bags and go with her to women's houses. I watched as she educated women on how to wear makeup to enhance their beauty and give them confidence. I also remember being in high school and the girls would show up in the fall with new hair do's. Some completely reinvented themselves. I remember thinking "wow" how cool!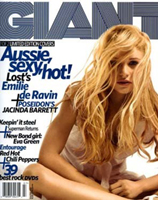 Tips by Celebrity Stylist and "Best of LA 2008" Winner Nelson Chan of Nelson J Salon.
Beverly Hills – Celebrity haircolorist and stylist Nelson Chan, also founder of the eco-friendly Nelson J salon in Beverly Hills, offers some quick tips for styling hair for the holidays without having to go into the salon.
Everyone is worried about the economy at this time, and holiday spending always puts pressure on individuals as well as entire families, so I thought it would be great to give girls and women some ideas of how to creatively style their hair at home this year," offers Chan, who was recently named "Best of LA" by Los Angeles Magazine for "ammonia-free haircoloring" (August 2008). "Being able to style hair at home versus going to the salon may save anywhere between $50 – $100 this season."
Fun, Sexy Curls Using Hot Rollers:
– Choose the right size rollers for you (large rollers create loose curls or soft waves, while small rollers create tighter curls and waves)
– Take 2-inch sections of dry hair and pull the hair at 90 degrees from the head
– Roll the curls away from the face
– Set for 5-10 mins
– Undo the rollers and comb hair with fingers
I recently interviewed the fabulous celebrity hair stylist Ken Paves for Beauty Interviews.com.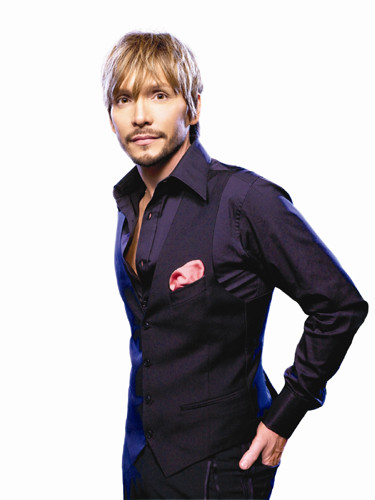 I know Ken Paves was attacked by the paparazzi after dining at Madeo on Beverly Boulevard on Saturday night with Jessica Simpson, so I really hope Ken is doing well.
Ken Paves was dubbed by the media as "the hottest hairdressers in Hollywood". Ken Paves is often recognized as Jessica Simpson's hair stylist and for his work with a variety of other high profile clients, such as: Jennifer Lopez, Eva Longoria Parker, Fergie, and Jessica Alba to name a few. In this interview, Ken Paves talks about his beginning as a professional hair stylist doing several international magazine covers with Nikki Taylor, how did his business relationship with Jessica Simpson evolve, how did the concept for Hairdo a line of clip-in-hair extensions come about, his must-have hair styling tools and products, and why using self-expression is so important when it comes to hair.
Marta Walsh: When did your interest in hair design begin?
Ken Paves: I grew up with my father working 7 days a week in the auto industry. My mom worked part time jobs and raised 3 boys. I would sit outside of my mom's bathroom as a "spectator" whenever she would do her hair and make up. This was only usually during the holidays or family functions. I was in awe at how these rare moments of self made her feel. My mom is my muse and has also appeared in the media with me. When my father retired from the auto industry after 32 years, he made me promise him I would choose a job that I would love to do after 32 years. It's been 14 years and I still love it. I love to help women recognize their own beauty and to feel confident about themselves – that is beautiful.
Want to go short for summer without having to deal with the awkward grow out in the fall? Believe it or not, there is a way to get a scissor-free bob! From runway shows like Marc Jacobs to celebs like Eva Longoria Parker everyone is doing the faux bob. SEE MORE CELEBS!

Actress Eva Longoria Parker in a faux bob.
What do you think? Would you wear a faux bob?
Fergie rocked a bohemian style and dress at the 2008 Teen Choice Awards with a bohemian hair style to go with. Fergie's bohemian hair style was created by Patricia Morales, Redken session stylist and hair stylist to Fergie.
It was all about having fun, clowning around, and winning some surf boards! The Teen Choice Awards, televised on August 4, was a fun-filled event with a lot of laughs and not to mention screaming fans. But like any award show, a big focus of the night was the styles seen on the red carpet. Lots of color, casual chic looks and a bevy of hairstyles were donned for the show. Always a crowd-pleaser, Fergie, graced the red-carpet with a bohemian-inspired look fitting for the award show.
"Since her dress was very bohemian, we wanted her hair to be a little edgier but still complement her look" says, Patricia Morales, Redken session stylist and hair stylist to Fergie. "I showed her a series of braids I have been working on and she chose the fish tail braids. I think she rocked it!"
This is how to create Fergie's bohemian hair style at the 2008 Teen Choice Awards: Morales applied Redken full Frame 07 Protective Volumizing Mousse (SRP$15.95) and Redken Extreme Anti-Snap (SRP$14.95), to the hair when damp. This provided lots of body and volume but also smoothness and shine, which allowed an easier time to create the fish tail.
Frederic Fekkai Melrose Place Salon's stylist, Johnny Wright, reveals his summer hair trends for 2008.

Celebrity Hairstylist-Johnny Wright.
From television's small screen to the catwalks of high fashion, Johnny Wright has helped create ultra-sleek, trendsetting hairstyles for entertainment's most stylist celebrities. Johnny was quickly catapulted into the high fashion world of hair artistry and became one of the most sought after names in the African American editorial world. Now with over seventeen years of experience with hair, Johnny has built a celebrity clientele that includes the likes of Anita Baker, Vivica A. Fox, Vanessa Williams, Selita Ebanks and Michelle Obama.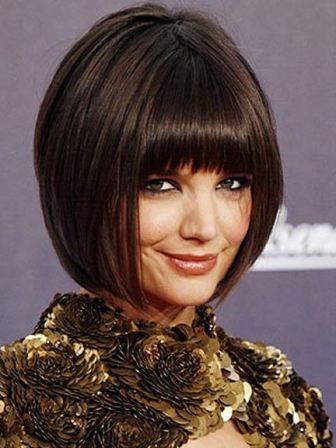 Bangs-Sported by Katie Holmes.
Johnny Wright says "Bangs are still going strong! The bang has been matched with several styles and cuts such as the bob, whether it be short, long, razored or blunt. It's a great way for a woman to express sex appeal and individuality at the same time to create modern, fresh new looks for the summer."
How To Wear Bangs This Summer?
Johnny says anyone can wear bangs and is about the individual expression. The summer trend is keeping them fresh and new from the winter season. For the summer:
1. Pair choppy bangs with trendy, fun cuts such as the bob.
2. Style wispy bangs with long soft layers that frame your face.
3. Put any kind of bangs with a simple ponytail for a clean, sleek look.
Talking Makeup's Top 10 celebrity hair stylist tips:
1. "I always use the same brushes: Mason Pearson for detangling and blowing out bangs and Spornett mixed bristle round brushes for blowouts. The mixed bristles grip the hair and create enough tension to get the hair really smooth without pulling on the hair"-Mark Townsend.
2. "There are so many to choose from now days so make sure you understand your hair type, etc. Do you have fine hair or thick hair or kinky hair….this makes a big difference in what shampoo and conditioner would be right for you. Fekkai has a very wide range of shampoos and conditioners that I love that would fit almost all hair-types out there…. Experiment till you find the one that makes your hair soft and shiny without leaving too much residue or buildup on your hair"-Adir Abergel.
3. "It is always important to apply strong volumizer on the roots to achieve a full and glamorous base. Polished, soft and natural curls always add to a glamorous look the without appearing too overdone. A good tip to make the hair fall glamorously around the face is to line the hair in proportion with the cheekbones. This tip emphasizes the beauty and the overall effect of the hairstyle"-Oscar Blandi.
4. "Moisture"-Jamal Hammadi.
5. "My number one hair care tip is: invest in good hair products and visit your hairstylist frequently. Don't be afraid of asking your hairstylist questions – that is part of their craft"-Omar Lopez.
6. "The Cutler Fly-Away Control Stick is definitely a must-have. It's easy to travel with and great to pull out to add shine and bring down fly-aways. Another great product is Redken's Workforce 09 hairspray it's lightweight and adds shine"-Rodney Cutler.
7. "Texture hair is always in need of moisture, conditioning, and a good stylist who understands their hair type. Most stylists are not trained to understand our hair, so a lot of Caucasian stylist will turn them away"-Kiyah Wright.
8. "The biggest mistake people make is going to the salon when they are emotional. It is important to explain to your stylist your lifestyle whether it is work, family or friends"-Kaz Amor.
9. "I cannot live without Vavoom Gold Heat Iron-In Control Protective Dry Mist! This is the product I used to create Reese's straight, sleek, shiny hair for the Globes. You spray the hair with this, then run a flat iron over the hair and it seals the hair and fights against humidity"-Mark Townsend.
10. " I love to use jasmine oil on my clients because I am usually working under fast turn around so it is easy enough for women to use it every day"-Oscar Blandi.
via: Beauty Interviews.