All Posts Tagged With: "Celebrity Makeup Artist"
Go behind the scenes with celebrity & fashion makeup artist Ashunta Sheriff in this video produced by Robert Reynolds. It's a inside look on a beauty shoot. On set Ashunta worked with photographer Karl Giant.
L'Oréal Paris and Allure have partnered to bring the runway to reality by recreating the hottest makeup looks seen on the 2008 New York fall fashion runways. From soft, romantic makeup to hints of metallic highlights to bold color, the runways showcased beauty at its best, inspired by the latest in fashion.
Collier Strong, celebrity makeup artist and consultant to L'Oréal Paris, suggests these top makeup trends to update your look for fall. Watch in video below:
Here is a recap:
Fall Romance
Romance is in the air this season with soft, smoky eyes and delicate, pale cheeks. Collier recommends achieving this look by using Bare Naturale Mascara in Black and Bare Naturale Eyeliner in Defining Onyx, two new products that bring attention to the eyes without overpowering the look. Add definition and a sweet kiss of color to cheekbones with a soft pink or peach powder, sweeping upwards.
I met up with Lori Taylor the lead makeup artist for Smashbox Cosmetics backstage at the Kavan Hall show.
Lori Taylor told me all about the makeup look for the Kevan Hall runway show for their spring 2009 collection at LA Fashion Week.
According to Lori Taylor, lead makeup artist for Smashbox, the makeup look for the Kevan Hall fashion show is high glamour, old school, old Hollywood with a modern twist. Instead of using black or charcoal smoky eye like in the 1920's, Smashbox is using a softer grey and somewhat metallic shade to accent or to 'smoke' the eye.
Lots of black mascara is also applied. Not a lot is applied on the cheeks, for a radiant and perfect skin. The lips are just lightly stained. The look is smokey eye with some color on the lip, but not heavy with lipstick or a lip gloss. This look is a bit different than what we normally see for spring.

Fashion Designer Kevan Hall inspects his models' look backstage.
Kevan Hall was inspired by Adrian who was a Hollywood custom designer in the 1930's and 1940's when planning the makeup look for his fashion show.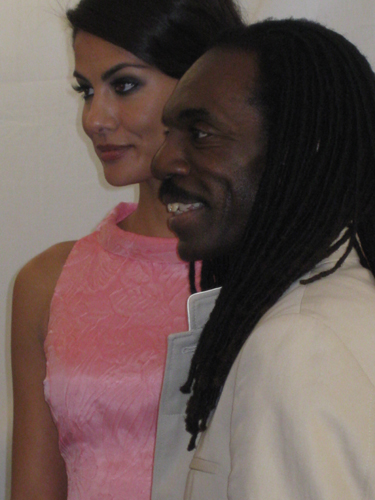 One product that you can use to achieve the look backstage at the Kavan Hall fashion show would be Smashbox Tinted Treatment Lipstick SPF 15 in Ray which can be worn by both men and women. It hydrates your lips with just a faint flash of color.
Smashbox Tinted Treatment Lipstick SPF 15 in Ray: This vitamin and antioxidant-packed sheer lip color has it all – a treatment core with SPF 15 to protect, vitamins A, C & E to revitalize, shea butter, jojoba and avocado oils to nourish, and chamomile and aloe to soothe. Honey provides extra moisturization and a deliciously sweet flavor and scent. TINTED TREATMENT LIPSTICK is sheer and fool-proof enough to apply anywhere – no mirror required!
Watch my interview with Lori Taylor, Smashbox's lead makeup artist, where she describes the look backstage at the Kevan Hall show:
Bryon Williams, whose clients include Demi Moore, Kirsten Dunst, Nicole Richie, Joy Bryant and Jordana Brewster, says "eye shades in pink, lilac and deep purples will be making a big comeback.
You can create this look by using Neutrogena Nourishing Eye Duo in Fairy Dust or Sugar Plum.
The Neutrogena Nourishing Eye Duos are perfectly coordinated eye shadow duos that not only enhance eyes but condition eyelids too. The base shade contains natural soy, silk powder and Vitamins A, C, & E. The accent shade contains luminizing pearls to brighten eyes and add vibrancy. Both shadows are fade resistant and crease-proof, so your eyes stay looking beautiful all day long.
Neutrogena Cosmetics are available at drugstores nationwide or on ULTA.com for approximately $8.50
Actress and Neutrogena spokesperson, Hayden Panettiere, reveals a sophisticated and glamorous Emmy look. Amy Oresman, celebrity makeup artist used Neutrogena Cosmetics to create Hayden Panettiere's Emmy look:
OVERALL LOOK: "Hayden's Emmy look is flat-out glamorous. Creating a look starts with selecting a focal point: I chose Hayden's captivating eyes. I love to accessorize with sheer washes of color and understated shadowing."
FACE: "Hayden's skin is gorgeous and she knows how to take care of it. I enhance that by using Neutrogena's Healthy Skin Glow Sheers. It glides on creamy and smooth and gives a dewy, sheer coverage. It is packed with Vitamins A, C and E and SPF 30 so it continues to revitalize your skin even after you take your makeup off."
"Everyone wants skin with a healthy glow. Bronzer is Hayden's favorite product I use Neutrogena's Mineral Sheer Powder to give Hayden a sun-kissed look that always seems natural. I lightly dust it around the perimeter of her face where the hairline meets the skin, continuing with her cheekbones and gently down the bridge of her nose, giving her an even, golden tone. But I don't stop there: I dust her neck and shoulders to complete the effect. To finish the look, a light sweep over the apples of her cheeks with the Neutrogena Healthy Skin Blends in Fresh, gives her face the perfect glow.
CHANEL Celebrity Makeup Artist Kate Lee gives tips for her signature Smoky Eye:
"Start with the CHANEL Professional Eyeliner Duo. Draw along the lash line, bottom, top, or both depending on the desired effect, and blend out with either your finger or a brush.

LA LIGNE DE CHANEL PROFESSIONAL EYELINER DUO
Line the insides of the eye with a kohl pencil in a dark colour for intensity, or use one of my favorite tricks of late which is to use a light color or metallic eye pencil to make the eye pop.
Next, take a flat brush and gently layer on the darkest eyeshadow shade on the lash line and lid being careful not to go beyond the eyelid for an intense smoldering look.
Mascara is definitely optional as sometimes the smoky eye looks great with none at all! The most important tip I give, is to work on clean skin. Apply foundation last, as then you can make sure skin is clean and avoid any circles under the eye."