All Posts Tagged With: "complexion"
The show: Abi Ferrin
The Trend: Green or purple pop of color under the eye
The Color Story: Creating a clear color contrast to balance the collection, the makeup look features a champagne lid, green or purple pop of color under the eye, soft, subtle lash, creamy, nude lip and healthy, glowing skin
The makeup look for the Abi Ferrin fashion show was created by Sephora PRO Beauty Team, lead by Jose Rivera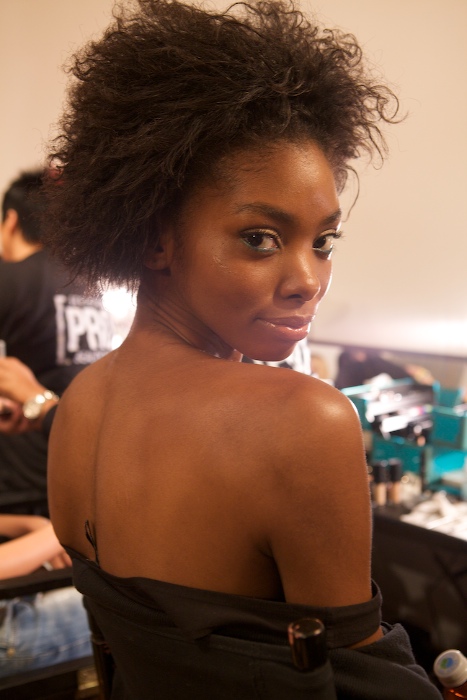 Photography courtesy of Nick Baratta
How to Get the Look:
• Complexion – Sephora Collection Mineral Double Compact Foundation SPF 10 provides buildable coverage and leaves skin with a fresh, luminous finish.
• Eyes – For a light, earthy hue, try the Sephora Collection Colorful Eyeshadow in Creme Caramel 11. Finish off the eyes by adding a fun pop of color to the lower lash line with the Sephora Flashy Eyeliner in Flashy Mauve or Flashy Green.
• Lips – Master the nude lip and achieve the perfect balance between pigment and shine with Sephora Collection Nectar Shine Hydrating Care Lipgloss SPF 8.
The show: Abbey Dawn By Avril Lavigne.
The trend: Smokey eye with a girly, pink pout.
The Color Story: Inspired by who she has become, Avril Lavigne's collection is rocker chic but with a feminine edge. The beauty look brings the seemingly contradicting styles together by pairing a messy, smokey eye with a girly, pink pout.
The Abbey Dawn By Avril Lavigne runway makeup look was created by Sephora PRO Beauty Team, lead by Gilbert Soliz.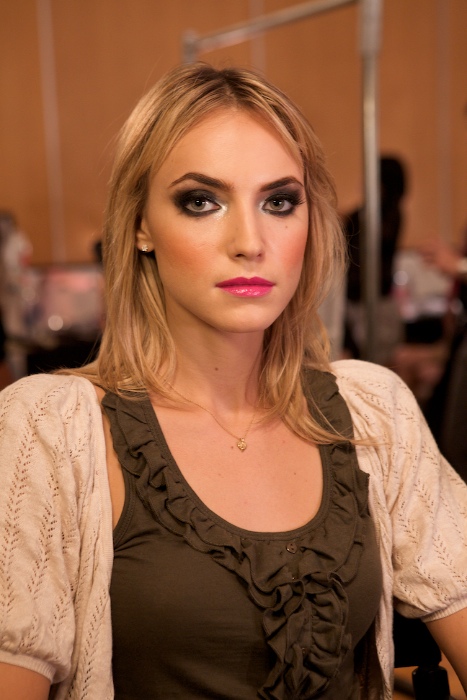 Photography courtesy of Nick Baratta
How to Get the Look:
• Complexion – Even out skin tone with Sephora Hydrating Liquid Foundation. Buff on Sephora Mineral Pressed Powder to perfect the look.
• Eyes – Smudge Sephora's Retractable Waterproof Liner onto upper and lower lash lines and apply shadow all over. It's a messy, imperfect look so no need to be exact.
• Lips – Go for a bold yet feminine fuchsia tone like Sephora Maniac Long-Wearing Lipstick in Mat 01. Top off with Sephora Sweet Candy Gloss in Apple Pomegranate.
Emmy Rossum wears NARS during New York Spring/Summer 2010 Fashion Week.
Emmy Rossum was spotted at multiple events this past week during New York Fashion Week. At Bergdorf Goodman for Fashion's Night Out on September 10th she donned a bold lip and bright eyes. She loved the lip color so much that she took it from our artist to keep for herself.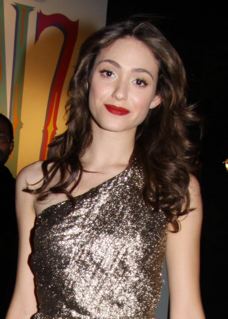 At Marchesa's SS 2010 presentation she opted for a more subtle approach pairing radiant skin with soft pink lips. "Emmy wanted a smokey-eye look suitable for daytime," said NARS Makeup Artist Lenna Scarrot about the celebrity's Marchesa look. "She wanted it to be more light gray- no black- like a seductive ballerina." Her flawless matte complexion was complemented by a soft, seductive eye and a naturally glossed pout perfect for a day to night transition. She kept everything that was used on her, and especially loved the new NARS Larger Than Life Lengthening Mascara, telling Lenna "there's no need for false lashes!"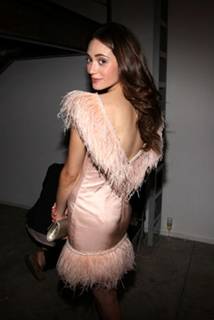 Celebs were hitting the streets of New York City last night to celebrate Fashion's Night Out. Giorgio Armani Beauty's A-Team was also out last night – getting top stars glam for a preview dinner for the Richard Hambleton exhibition, which will open September 15 and was presented by Vladimir Restoin Roitfeld and Andy Valmorbida in collaboration with Giorgio Armani.
True to the Armani aesthetic the A-list guests including, Bruce Willis and wife Emma Heming, Kerry Washington and Devon Aoki were outfitted in understated, elegant looks. The makeup was classic and featured strongly lined eyes and pinkish-nude lips. See below on how to get the looks from these celebs last night: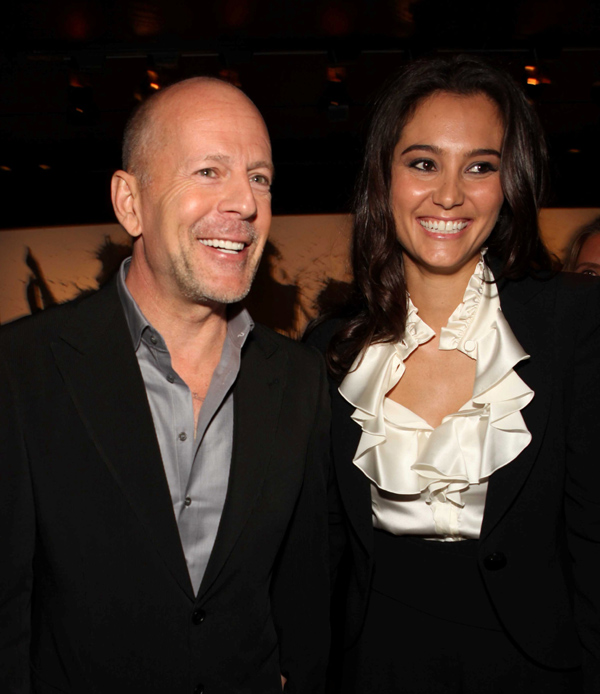 Emma Heming (above image next to Bruce Willis): Luminous Silk Foundation 7 gave Emma a dewy complexion and fluid sheer 11 was dabbed on to her cheeks to add a rosy glow. Her lids were dusted with Maestro Eye Shadow XX and Smooth Silk Eye Liner was blended along the lash line to create a dramatic smoky effect. A sweep of Eyes to Kill Mascara and a wash of nude lip shimmer were added as finishing touches to her natural glam look.
Kerry Washington: Lasting Silk UV SPF 20 Foundation 9 was swept across Kerry's face to create a matte complexion, with subtle luminosity. To add dimension, blending blush duo 4 was used for contouring and added a pop of color on the cheekbones. To add a touch of drama, maestro eyeliner and Eyes to Kill Mascara were used to define the eyes and a sweep of Lip Shimmer 59 in taupe completed the look.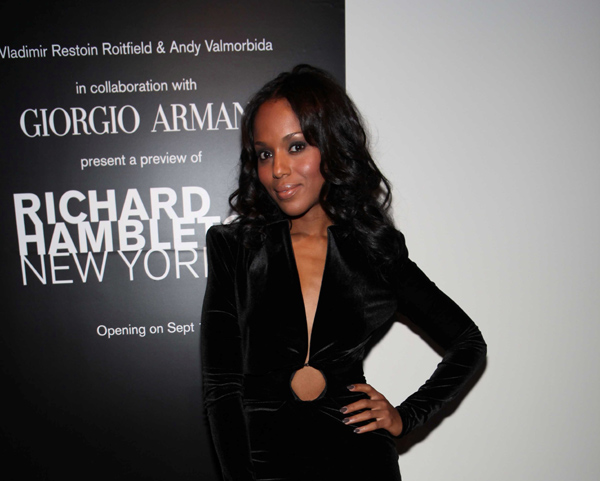 Devon Aoki: Face Fabric 3 offers sheer coverage and allowed Devon's natural glow to shine through. Sheer Bronzer 5 was applied to the cheekbones to define her look and give her complexion a sun-kissed effect. Eyes to Kill Palette 1 offers taupe and grey shades, which were used to create a subtle smoky eye with liquid liner and a sweep of mascara added to complete the look.
Few weeks ago I was given an incredible chance to chat with Tim Quinn over the phone. Tim Quinn is Giorgio Armani's Celebrity Face Designer National Director, Creative Artistry.
I met Tim in New York City during my trip with DailyMakeover.com this past July (2009). The meeting was in Pastis one of my favorite restaurants to hang out when I used to live in New York City. As soon as I was introduced to Tim during breakfast I knew I had to interview him and share with you his beauty insights and story of top celebrity makeup artist. As you can sense, I'm a huge fan. I remember telling him that I loved his style and that he looks "Very Armani": That very pale almost platinum blonde hair, and the chic eye glasses. Believe it or not, Mr. Giorgio Armani himself set a table next to me in Cipriani Downtown SOHO few years ago, so I got to know the look:)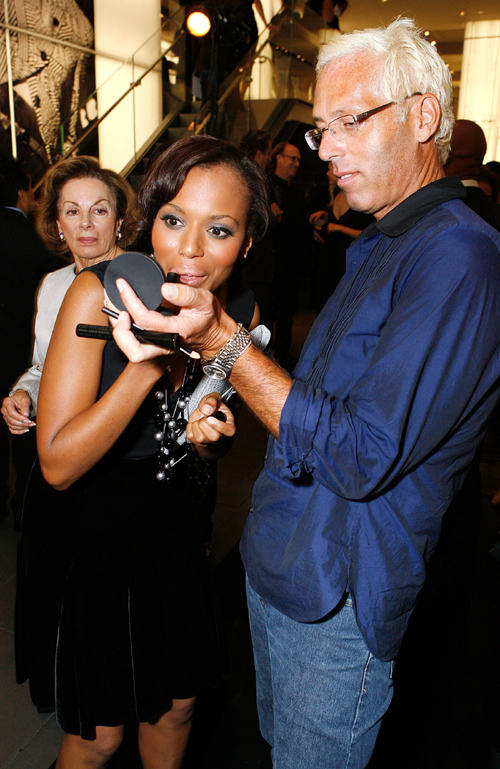 Tim Quinn and Kerry Washington
A little bit about Tim Quinn: After training in Milan alongside world-renowned makeup artist Pat McGrath, Tim Quinn joined the Giorgio Armani Beauty team with the launch of the brand in September 2001. His myriad experience as an artist includes work in TV, print, and film. Tim has been featured as one of the "25 Beauty Stars" in W Magazine and has worked backstage at several award shows including the Academy Awards and the Golden Globes. Tim has worked with a number of celebrities such as Glenn Close, Debra Messing, Victoria Beckham, Kim Cattrall, Gwen Stefani, Kate Bosworth, Minnie Driver, and Brooke Shields. He has designed faces for Helen Mirren, Julia Roberts, Naomi Campbell, Katie Holmes, Sarah Jessica Parker, Barbara Walters, Lucy Liu and Drew Barrymore.  I might even missed few names!
Marta Walsh: When did your fascination with beauty begin?
Tim Quinn: From as far back as I can remember I was drawn to the world of fashion and beauty. I was born and raised in the countryside of Connecticut and was always encouraged by my parents to go outside and play – TV was only for special occasions and the internet was still years away, so my siblings and friends would create our own worlds of entertainment. My paternal grandmother was widowed rather young and she remarried an attorney from New York. They lived in New York City during the week and at her country home in Litchfield, CT on the weekends. My visits and travels with them truly influenced my young mind – I thought of her life as my very own 'Green Acres'. I became a glamour addict – watching her dress for dinner in NY, DC and even Iceland – the whole idea of the hair, makeup, jewelry and furs created such a glamorous world that was so different then the life I knew in Connecticut.