All Posts Tagged With: "David Babaii"
The inspiration celebrity hairstylist David Babaii used in creating this years' 2011 Golden Globes red carpet looks for both Nicole Kidman and Sandra Bullock drew from vintage hairstyles from the 60's and 70's. His predictions for this years' award season is the use of natural textures and waves, creating healthy and shiny hair while simplifying how to get the look by using only 1 product and the finest styling tools.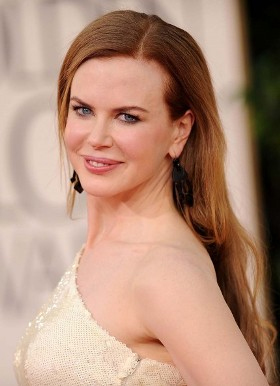 Angelina Jolie's hair at the international press junket for Salt. All eyes were on Angelina Jolie at the international press junket for her highly-anticipated film, "Salt," in Cancun, Mexico, July 1st, 2010.
Truly breathtaking, Jolie wore an elegant, white strapless dress with hair that was smooth, sleek and natural-looking. It was styled by David Babaii, who created her beautiful new style with bangs.
Here's how to get Angelina Jolie's hairstyle at the international press junket for Salt:
Bryce Dallas Howard looked amazing at the premiere of The Twilight Saga: Eclipse tonight. For her winning red carpet look, star stylist David Babaii created a relaxed, Bridget Bardot inspired hairstyle. Luminous waves highlighted her luxurious titian-colored hair as it was pulled back on each side, accented with a subtle beehive with shiny, healthy beautiful hair cascading sensually down her back. Babaii released several strands to strategically fall forward and frame Bryce's face for a modern 60's effect.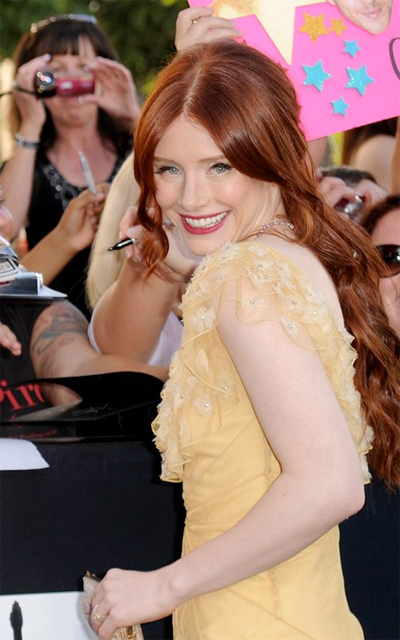 Bryce Dallas Howard's hair by Moroccanoil at The Twilight Saga: Eclipse Premiere
David Babaii Explains How To Get Bryce Dallas Howard's Hairstyle: The Hair Tutorial
I prepared Bryce's hair by applying a small amount of argan oil-infused original Moroccanoil Treatment on damp hair before blow-drying to condition, strengthen and protect strands from the heat of the curling iron as well as to eliminate any sign of frizz or static.

David Babaii for Living Proof Full styles Kate Hudson's hair for the 2010 MET Costume Institute Gala. The Hairstyle & Inspiration: A day spent sun-bathing in San Tropez, elegant but a little flirty, not too coiffed to match her chic Stella McCarthy dress.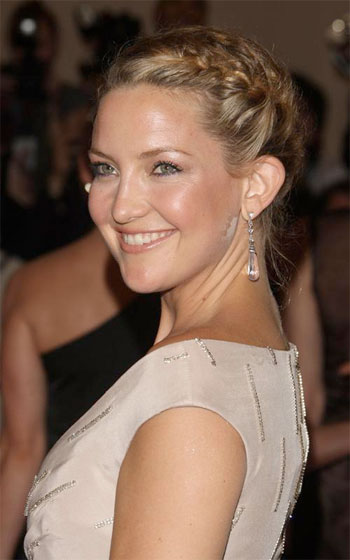 How to get the look: Hair Tutorial
First, David Babaii used Living Proof Full to give Kate Hudson's fine, limp blonde hair a thicker feel. He rubbed the product between his fingers to activate the ingredients and applied from the product root to shaft. He rough dried the entire head to add additional volume.
Scarlett Johansson at the Iron Man 2 premiere. Hair by Stylist David Babaii using Morocccanoil hair care products.
Scarlett Johansson' fresh, softly textured updo, created by leading celebrity stylist David Babaii for the International Premiere of her new film Iron Man 2 looked extraordinary. A perfect complement to the flowing waves and graceful lines of her ice blue Armani Prive dress, the look emphasized a flowing cascade of smooth, well-conditioned waves pulled back into a graceful bun.
Babaii used Argan Oil-infused Moroccanoil products to create the fabulous effect. "I started with wet hair, working in Moroccanoil Intense Curl Cream for gentle hold and to create a texture that was soft and smooth. With my hands, I then scrunched her hair and manipulated it to get the desired shape that I was looking for. I also used a diffuser to help shape the curls.
Nicole Kidman Grammy's Hair How-To. The Hair Tutorial.
Celebrity hairdresser David Babaii created this romantic and elegant up-do to emphasize Nicole's beautiful bone structure and Prada dress design. He began by spraying her entire head with David Babaii for WildAid Bohemian Beach Spray, scrunching into her hair for body, lift and texture. Next, he dried her hair using a large round brush concentrating on the root area for maximum lift.
Once dry, he divided tresses into 4 sections (top, sides and back leaving the nape area free). Using the H2Pro 300SE Styling Iron, he created "ribbon curls" by taking small "V" shaped partings. To achieve, wrap the hair around and inside the styling iron close to the scalp area and pull the iron down (similar to curling ribbon). After curling the entire head, he applied some David Babaii for WildAid Hair Polish into his hands, using his fingers to loosen the curls from the mid-section to the ends only.
GET THE LOOK: Nicole Kidman's hairstyle at the 2010 SAG Awards
Celebrity hairdresser David Babaii achieved Nicole Kidman's red carpet look by combining eras of vintage fabric textures with the perfect epoch red hair color. According to David, "Nicole Kidman always inspires me but for the 2010 SAG Awards, her beautiful skin tone and breathtaking beauty took the lead. The right style and hair color became my main objective." David fell in love with this unique period wig that had various tones of ginger.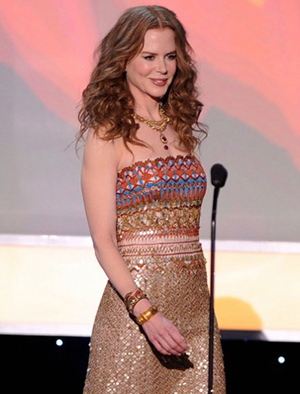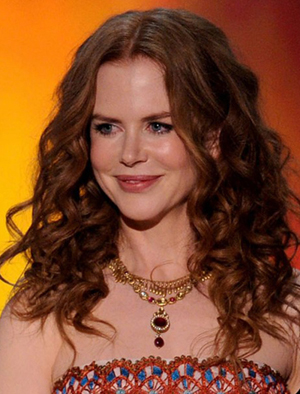 In order to achieve the perfect color match, David sought out the master talents of celebrity hair colorist Lorri Goddard-Clark. Lorri created Nicole's rich new color, while David created the perfect texture needed to enhance this natural but classic "Bohemian" look.
The Color: Lorri Goddard-Clark matched the vintage wig selected by David Babaii by utilizing a combination of deposit-only color, her signature foil-out reverse highlighting technique and a sulfate-free glaze. Nicole's hair was transformed from a medium blonde into a rich, warm Gingered Toffee Red to enhance her azure eyes and porcelain skin.
Love Kate Hudson's hairdo at the Premiere of "NINE"? Talking Makeup has the scoop on how to get Kate's look thanks to Celebrity Hairdresser David Babaii.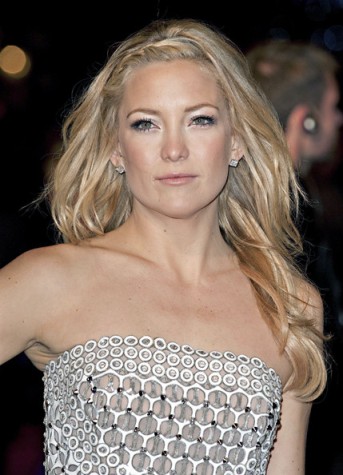 I prepared Kate's wet hair by massaging a dime size amount of my David Babaii for WildAid Hair Polish into her hair. For greater control, I parted her hair into 4 sections (both sides and crown leaving the nape area free). This helps achieve the perfect blow dry.
I dried each section straight, giving the ends a soft rounded finish with my David Babaii for WildAid Blow Dryer. For added lift and volume, I sprayed some David Babaii for WildAid Volcanic Ash Root Amplifier.
To finish, I french braided her shorter layers to sweep hair back and away from her face. For hold, I used my Mise en Plis Light Styling Spray. It's like oxygen for the hair! It doesn't weigh your style down or make it feel tacky. At the end of the night, Kate's look was completely fresh without any product build up
Visit the David Babaii for WildAid website for additional product details.
I'm getting mixed comments on Scarlett Johansson's hairdo At The Moet & Chandon Tribute To Cinema. Some, like myself  love it, and some don't. I thought to bring to you the scoop on how to get Scarlett's hairdo, anyways, just in case you do want to try this look at home.
Celebrity hairdresser David Babaii traveled across the ocean to Tokyo, Japan to create this Red Carpet look for actress Scarlett Johannson at the Moet & Chandon "Tribute to Cinema" event on October 20, 2009.

The hair jewelry worn by Scarlett Johannson is DeBeers. Scarlett's dress was Givenchy with Dior shoes.
To create this "power look" and accentuate her fire red dress, David Babaii took Scarlett Johansson's long strawberry blonde hair and transformed her tresses into a dramatic side swept, short textured bob. After rough drying her locks with Hair Polish applied to damp hair, David loosely twirled large sections of hair and sprayed them with Bohemian Beach Spray, while finishing the drying process.
For her red carpet look during the August 10, 2009 premiere of "Inglourious Basterds", celebrity hairdresser David Babaii created a naturally tousled look for Angelina Jolie's long tresses.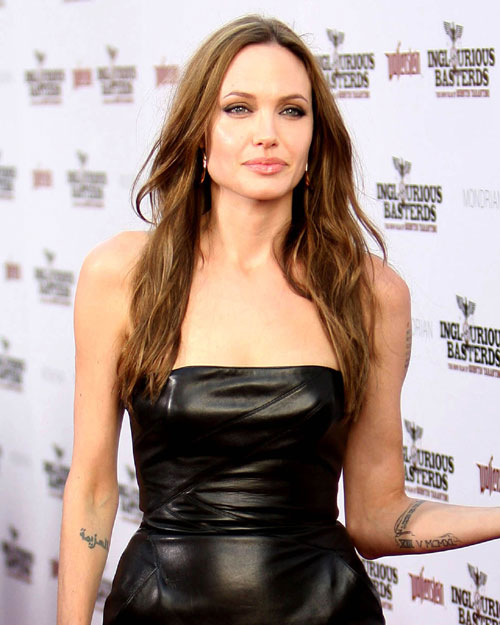 Image via hollywoodtuna.com
First, David applied Hair Polish to her entire mane…
…followed by spraying Volcanic Ash Root Amplifier to the root area for lift and volume. Next, he parted hair into 3 sections (This is David's "key" signature tip).