All Posts Tagged With: "Deborah Lippmann"
GET THE LOOK: Penelope Cruz style and look at the 67th Golden Globe Awards was one of my favorite. I loved her super chic black Armani dress which had a mixture of stripes and lace. And I loved her hairdo and makeup.
Inspiration & The Look: Inspired by Penelope's vintage Armani dress and her fresh from vacation tan, iconic hairstylist Oribe channeled classic Hollywood glamour for Penelope's red carpet style. He created cascading, pinned back waves for a relaxed, elegant look.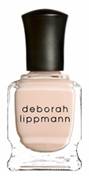 Manicurist Deborah Lippmann polished off some of Hollywood's hottest looks at the Golden Globes on Sunday. Penelope Cruz wore Night And Day to compliment her bronzed glowing skin.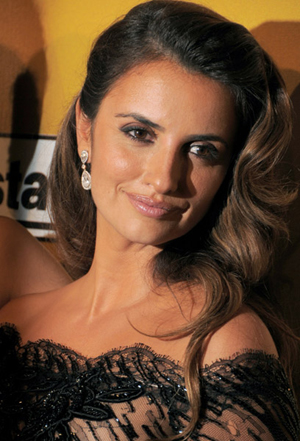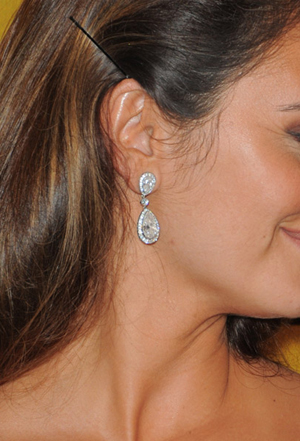 Oribe used his Imperméable to shield Penelope's hair from the day's rain and humidity.
How To Get Penelope Cruz Hairdo at the 2010 Golden Globes:
1. Start by working Gel Serum through the hair and then use hot rollers or a curling iron to set the hair. Spray Imperméable or an anti-humidity spray on the hair before using the curling iron to help protect the style and prevent frizz.
2. Brush loose curls into place
GET THE LOOK: Love Marion Cottilard hairdo at the 2010 Golden Globe Awards? Marion Cotillard's dramatic Golden Globe hair look, created by master stylist Robert Vetica, complemented her elegant Dior gown with a subtle touch of rock and roll.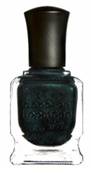 Manicurist Deborah Lippmann polished off some of Hollywood's hottest looks at the Golden Globes on Sunday. Past Golden Globe winner Marion Cotillard wore Don't Tell Mama. The young and modern shade was the perfect accent to her green Dior gown.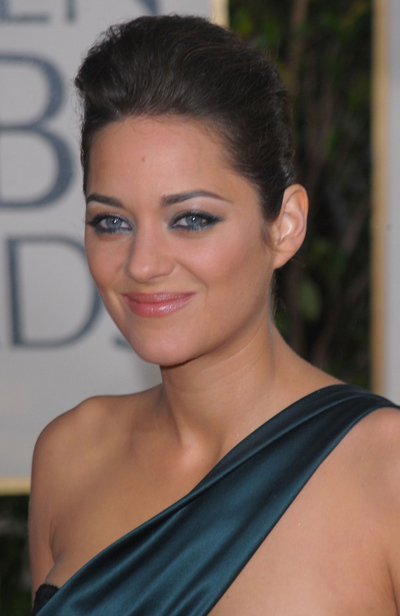 "I wanted a look that was glamorous, but with an edge," said Vetica, "and was inspired by the rock and roll pompadours of the 50s, further strengthened with a sleek, modern French twist. Since shiny, healthy-looking hair was essential to the look, I first applied argan oil-infused Moroccanoil Treatment to wet hair, and blow dried it straight using a diffuser to keep a bit of natural texture. Then I pincurled the entire head front to back, so that hair would easily flow back and up into the pompadour shape. After releasing the pin curls, I ran Moroccanoil Hydrating Styling Cream through the hair with my hands. After brushing back and up, I back combed the top, and pulled the sides back tight, leaving some volume on top. Next, I twisted the hair into a tight french twist which was then asymetrically attached with eye-catching diamond hair clips created by Chopard. I fishined the look with a light misting of Moroccanoil Glimmer Shine Spray to give Marion's hair a beautiful, naturally luminous shine."
Kate Hudson looked pretty and elegant in Marchesa at the 67th Golden Globes. Kate wore a strapless silk crepe gown with sculptured band bodice and bottom flared skirt.
Celebrity manicurist Deborah Lippmann polished off some of Hollywood's hottest looks at the Golden Globes on Sunday. Kate Hudson wore a classic deep red called Lady Is A Tramp to offset her pure white Marchesa dress.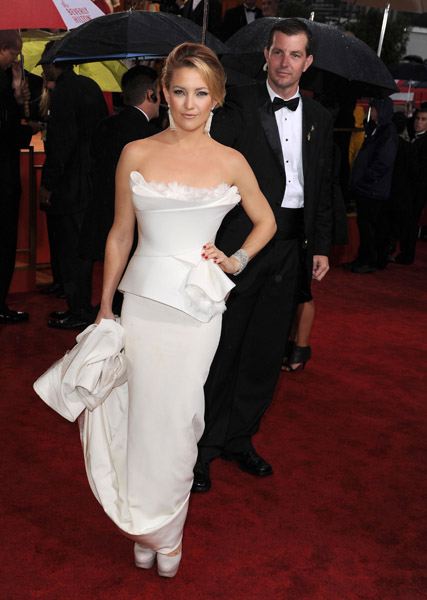 Lippmann Collection is celebrating their 10 year anniversary next month! To kick off the celebration, they are giving away a $50 gift certificate to every 10th customer who makes a purchase on www.lippmanncollection.com  on September 1, 2009. The promotion only lasts one day so act fast!
To commemorate this milestone, fashion manicurist to the stars Deborah Lippmann created a limited-edition collection of glitz and glamour shades available for just $35. Celebs are flocking to the colors; Lady Gaga loves Ruby Red Slippers.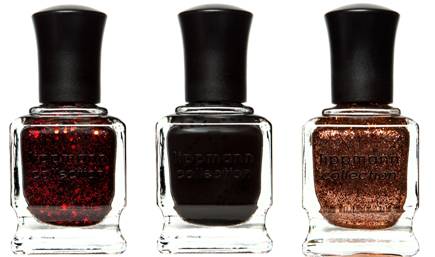 The perfect accessory for any red carpet look- flawless manicured nails. While wearing an electric blue Narciso Rodriguez gown, Kate Winslet looked stunning yet again as she won an award for Best Supporting Actress last night at the SAG Awards.
To compliment Kate's vibrant look, fashion manicurist Deborah Lippmann polished her nails with a sheer, misty pink called Prelude To A Kiss.
Have you noticed celebrities hitting the red carpet wearing all black with a white metallic nail? It's the new way to accessorize the traditional black gown. From Kate Winslet at the Golden Globes and on Oprah to Faith Hill at the inauguration festivities, and Hayden Panettiere.
To achieve this black & white trend, Deborah Lippmann used a shade from her collection called Rhapsody In White on Kate's nails. Deborah and can speak about the trend, how to wear it and what type of skin tones can carry off which shades of metallic white.