All Posts Tagged With: "Demeter Fragrance Library"
I definitely smell the holiday season, pun intended. What makes my holiday is also the smells that come with it, the Pumpkin Pie in Thanksgiving, the Cranberry sauce. The scary Funeral home for Halloween (I bet you never thought this extremely unusually perfume even existed), and the Tootsie Roll when Trick-or-Treat-ing. Well if you're like me a Holiday 'softie', you might want to check what Demeter Fragrance Library is up to. What caught my attention is these 2 perfume collections: Demeter Fragrance Library Autumn memory making classics and Demeter Fragrance Library deliciously wicked Halloween classics.
See What's inside these Demeter Fragrance Library packages!
I like my perfumes to smell sweet. I'm not the floral kinda girl. I know, different strokes rule the world. I've picked some of my favorite sweet smelling perfumes by Demeter Fragrance Library. Honey, Sugar And Spice, and Angel Food do satisfy my 'sweet tooth'.
What I love about Demeter is that their perfumes are not just a faint hint of the smells we love but almost an exact duplicate of the real thing. In other words, their Honey fragrance smells all honey baby.
Have you ever wondered what it would be like to bottle some of your most favorite smells of life in a perfume bottle. Well Demeter Fragrance Library has done just that. Their fragrances are clean and not too strong and  capture the familiar scents of everyday experiences. These scents are drawn from memories and will help you remember those special and priceless moments of your life. Demeter's true-to-life fragrances are fun and playful and smell good.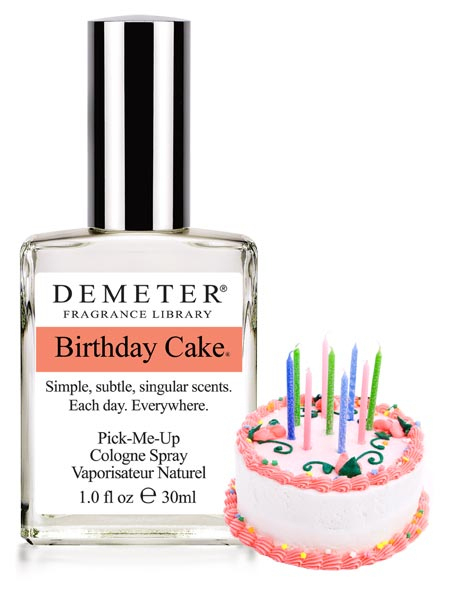 Demeter Birthday Cake perfume chocolate cake with butter cream icing and pink icing flowers. yum.
Demeter Fragrance Library true-to-life fragrances