All Posts Tagged With: "Diane von Furstenberg"
Here's my list of Little Black Dresses aka LBD that I love.
DIANE VON FURSTENBERG. "AFRICA AS A NEW BEGINNING…AFRICA TODAY."-JAMES KALIARDOS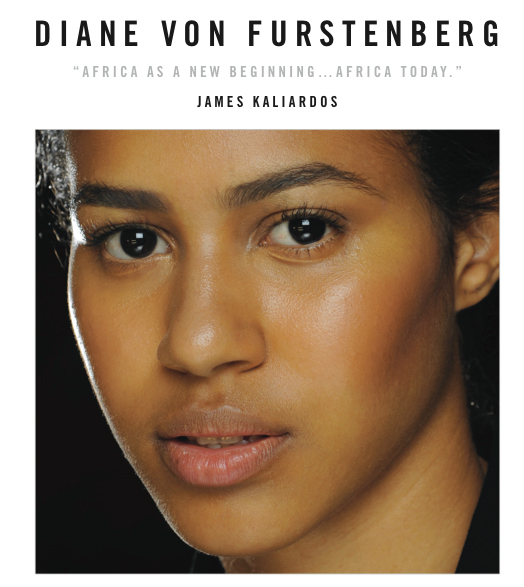 How to get the makeup look with MAC Cosmetics…
New York Fashion Week Report. Diane Von Furstenberg Fall 2011. Makeup by MAC Cosmetics.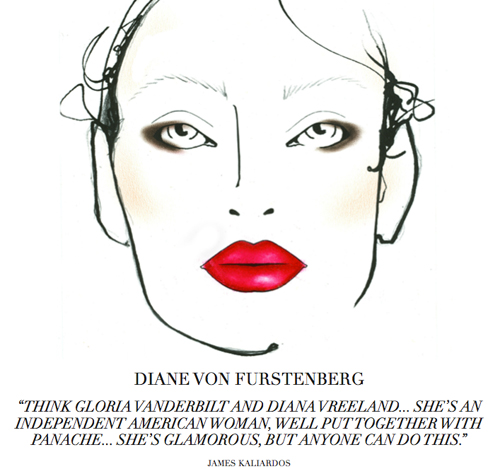 Diane Von Furstenberg Fall 2011 makeup face chart by MAC
"Think Gloria Vanderbilt and Diana Vreeland… she's an independent American woman, well put together with panache… she's glamorous, but anyone can do this."-James Kaliardos
Model, actress, and jewelry designer Molly Sims attended the 2010 CFDA Awards at Alice Tully Hall, Lincoln Center, New York City on Monday, June 7th, 2010. Sims looks stunning in a Diane Von Furstenberg Boyfriend Wrap Dress – Resort 2011 Collection. Shoes by Christian Louboutin.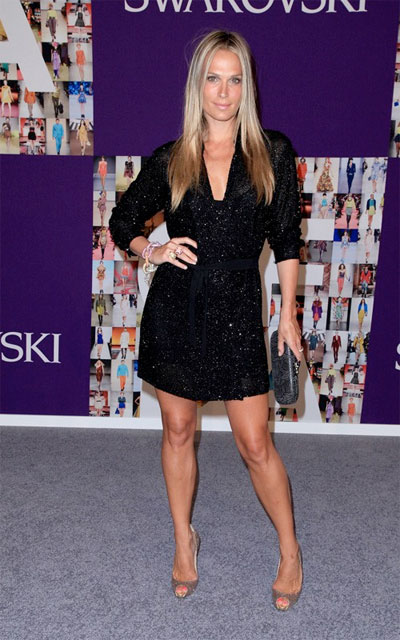 Rings by Grayce by Molly Sims the Collection Colored Cushion Ring in Light Pink & Clear Bracelet‐ H. Stern. Earrings‐Grayce by Molly Sims the Collection Crystal Tassel Earrings (Rings & Earrings available on Graycebymollysims.com)
MODELINIA Magazine has been seen in the hands of Chanel Iman, Coco Rocha, Diane Von Furstenberg, and Emily Didonato.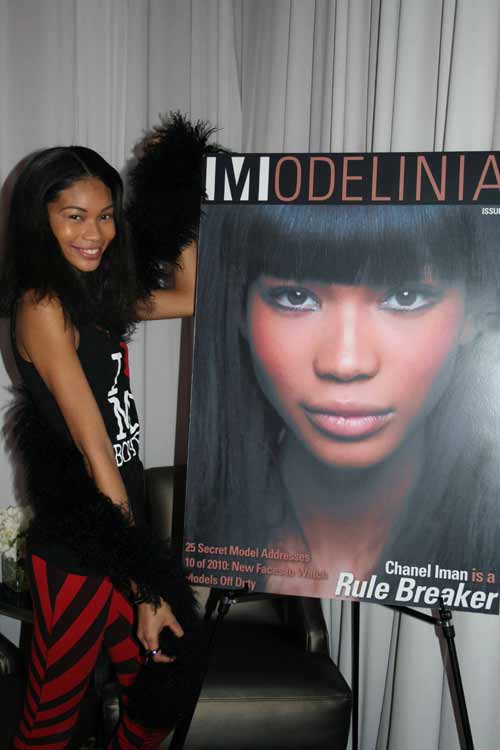 Chanel Iman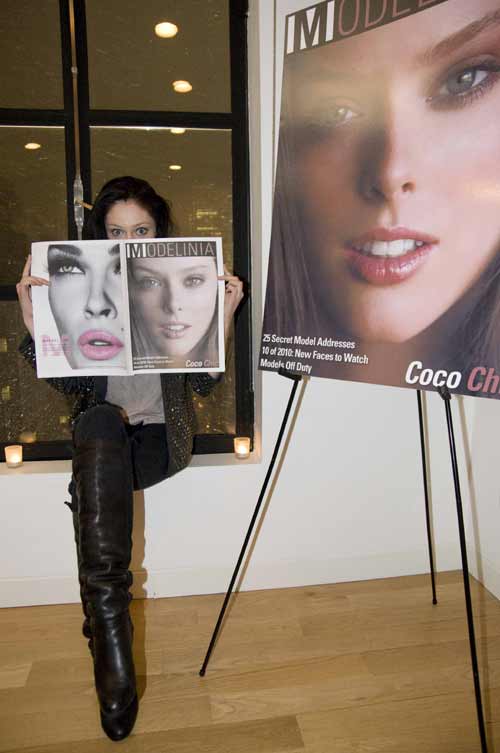 Coco Rocha
American Express announces its continued partnership with top fashion designers including Diane von Furstenberg, Phillip Lim and Tory Burch, to provide Cardmembers with five days of exclusive shopping experiences during NYC & Company's NYC Extreme Local™. Now through December 20, Cardmembers may register their American Express Card at www.nycgo.com/x  to take advantage of special events and offers citywide.
From December 7 – December 11, DVF, Lim and Burch, along with J. Crew and Intermix, will invite American Express® Cardmembers into their stores for after-hours, private Cardmember-only shopping events.
Here is how to get LC's aka Lauren Conrad VMA 2009 makeup look: mark Spokeswoman, Lauren Conrad made her mark last night on the red carpet of the 2009 MTV Video Music Awards (VMA's). Celebrity makeup artist Amy Nadine explains how to get Lauren's gorgeous red carpet look.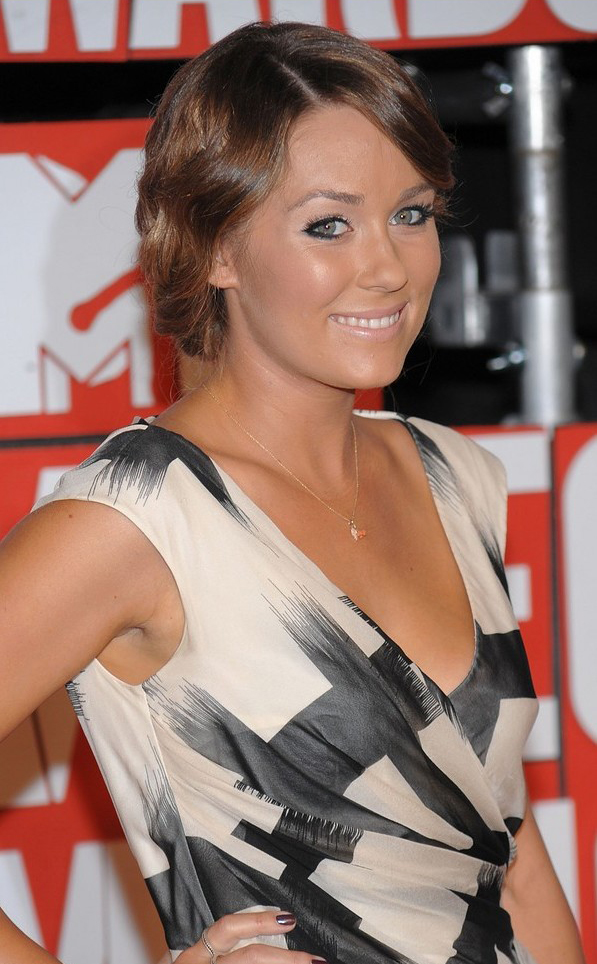 Eyes: "Lauren wore a beautiful black and cream Diane von Furstenberg dress, so we decided the inspiration for her look would be "smoldering sophistication". Lauren wanted a statement eye so we started by lining her eyes with mark Get in Line Hook Up Waterproof Eyeliner in Painted Black with a sweep of mark I-mark Custom Pick Eyeshadow in Corset on top and smudged outward with an eyeliner brush."
Celebrity Hairdressers Oscar Blandi & Mark Townsend get Hollywood's biggest stars glam for the 2009 Costume Institute Gala.
Calvin Klein (styled by Oscar Blandi, wearing Calvin Klein Collection).
With Brooke's hair, Oscar wanted to keep it very clean. "I decided to give her curls and keep them loose so that the look stayed soft." When her hair was still wet, he applied his Volumizing Spray to the root and then the Onde Wave Spray all over the hair to really lock in the curl. After drying the hair, he used both a medium and large barrel curling iron throughout. Using two different size barrels prevents the curls from all being the same size and ultimately blending together, so this way we avoid the blending and create more dimension. Once the curls were finished, he gently applied a small amount of Jasmine Oil on the hair to create sheen and sprayed Lacca hairspray all over.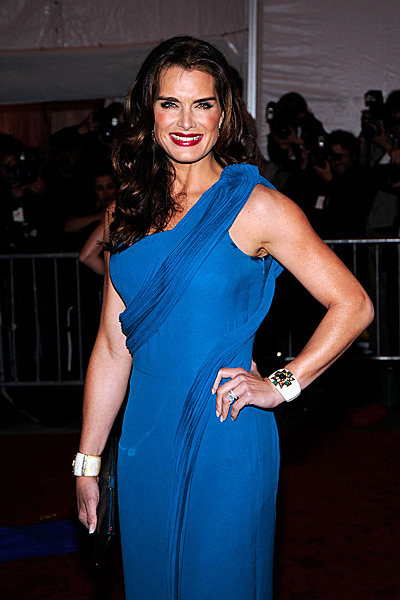 Rosario Dawson (styled by Oscar Blandi, wearing Diane von Furstenberg)
"For Rosario, I created what I like to call an abstract chignon." First Oscar blow dried the hair straight and then secured a low pony tail above the nape of the neck. Once the ponytail is set, you add medium and large size plastic rollers to the loose hair (again with both sizes to ensure texture throughout the hair). Then he sprayed Onde Wave Spray while setting the curl make sure the hair takes. Once he pulled out the rollers, it was easy to create a chignon with loose pieces– you just follow the curve of the hair and begin pinning sections in place with a bobby pin. Feel free to let hair hang and fall as it may and pull out pieces in the front to layer around the face. The final step was to spray the look with Lacca for hold through the night.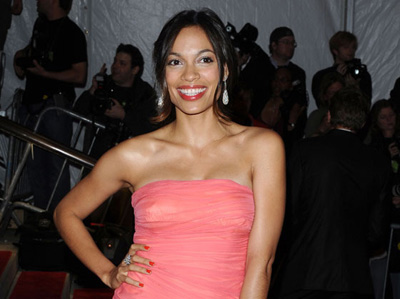 Ashley Olsen (styled by Matrix stylist Mark Townsend, wearing The Row)
Matrix celebrity stylist Mark Townsend recently cut Ashley's hair into an asymmetrical bob, so for the Met Ball they wanted to leave her hair down.
Here are some of the celebrities seen at Oscar 2009 party hopping: Lindsay Lohan, Victoria Beckham, Madonna, Gwen Stefani and Gavin Rossdale, Rachel Zoe, Diane von Furstenberg, and Padma Lakshmi.
Lindsay Lohan: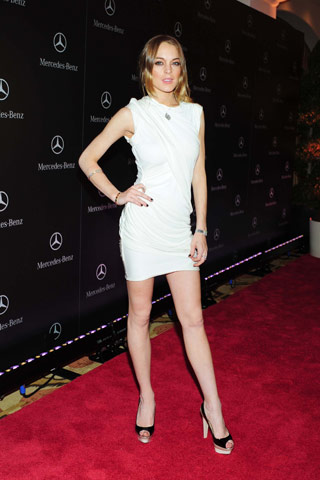 Victoria Beckham aka Posh And 'Mrs David Beckham':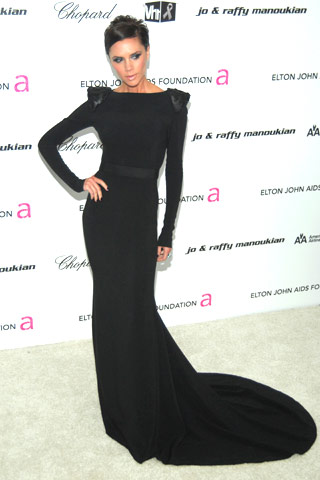 Madonna: