All Posts Tagged With: "DKNY"
NEW YORK, Oct. 19, 2011– DKNY and DKNY Jeans have tapped Ashley Greene for an exclusive one-year agreement to represent the brands in its advertising campaigns. Ashley Greene, best known for her recurring role as Alice Cullen in the Twilight film series, will also serve as the brands' ambassador.
Introducing the DKNY and Martin Katz  DKNY Golden Delicious Million Dollar Bottle.
Martin Katz & DKNY Million Dollar Bottle
DKNY Golden Delicious Million Dollar Fragrance Bottle to Tour the World Bottle To Be Sold For Charity
Last night, Thursday, October 21st, 2010, marked the opening party for the pureDKNY – SHFT pop-up art gallery in Soho, hosted by pureDKNY fragrance supermodel, Angela Lindvall and actor and co-founder of SHFT.COM, Adrian Grenier, to celebrate the launch of the pureDKNY fragrance.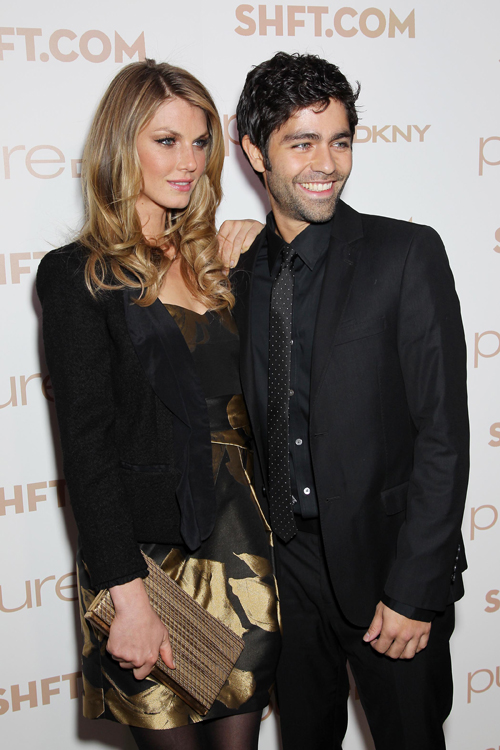 Angela Lindvall, pureDKNY fragrance spokesmodel, and Adrian Grenier, actor and co-founder of SHFT.COM celebrate the launch of the pureDKNY fragrance at the pureDKNY – SHFT pop-up art gallery in Soho
DKNY Fall 2010 – Hair by Wella's Eugene Souleiman and Eva Scrivo.
The Look: A refined side-swept ponytail projects a sexy equestrian vibe with a subtly strong, yet not too masculine look. The ponytail's length falls over the shoulder on the side where hair is parted, while just a few face framing layers are left to brush along on the opposite side of the face. The effortless elegance of this asymmetric look complements the proportions of any face because it offsets any imbalance of the facial structure.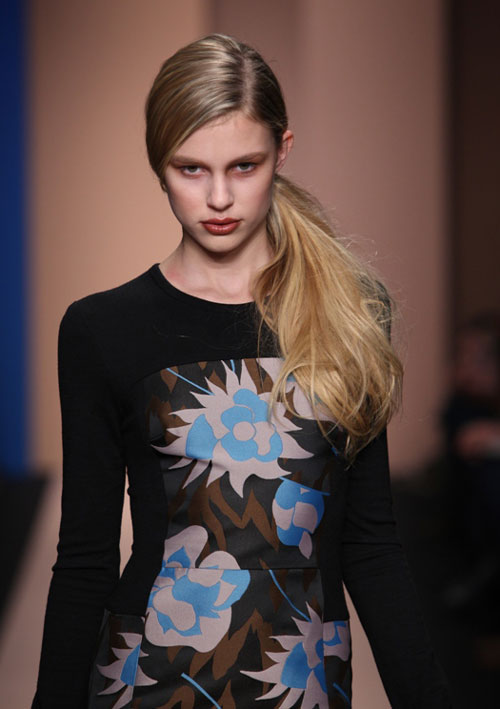 Inspiration: The fall '10 DKNY collection encapsulates NY art and soul, reflecting the convergence of creative worlds and individual style that is the spirit of New York City. The graphic, modern, and unique style resonates throughout the collection, including silhouettes as tall and lean as the skyline. A neutral palette of blacks, charcoal, umber, vicuna and oxblood is brightened with accents of bluebird, sapphire, peach, and oyster. Pieces are architecturally paneled with color, texture, and pattern, but maintain the versatility of the classic urban and sporty chic modernism befitting of NYC sophistication.
Holiday Gift Guide 2009:
DKNY Fragrances is pleased to present you with new DKNY Be Delicious limited-edition items for the 2009 holiday season. Packaged in cartons inspired by the 1960's Pop Art era, the designs include ben-day dots, lettering, thought bubbles and whimsical stripes. From stocking-stuffers to gift sets, these delicious treats are sure to make the holiday season "pop" for all fans of DKNY Be Delicious.
Introducing DKNY Fresh Blossom Delicious Art, $55: The DKNY apple is transformed into its comic counterpart filled with ben-day dots and thought bubbles. Take a juicy bite of a scent that is innocent, lighthearted, intensely feminine, and radiant in a pop art inspired limited edition bottle. Available at Macy's, Ulta and www.dknyfragrances.com  beginning November 2009.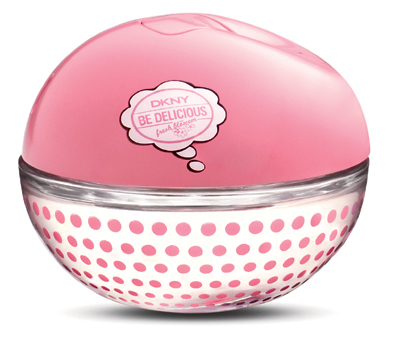 It's Breast Cancer Awareness month aka BCA and the Estée Lauder Companies has many of your favorite beauty products designed especially to raise funds for the Estée Lauder Companies' Breast Cancer Research Fund. Last month during my visit to New York City during Fashion Week Spring 2010 I was given an incredible opportunity to participate in an Estée Lauder special Breast Cancer Awareness event. Listening to Evelyn Lauder's speech and the rest of the Estée Lauder team I can't tell you enough how passionate they are about the Breast Cancer cause!!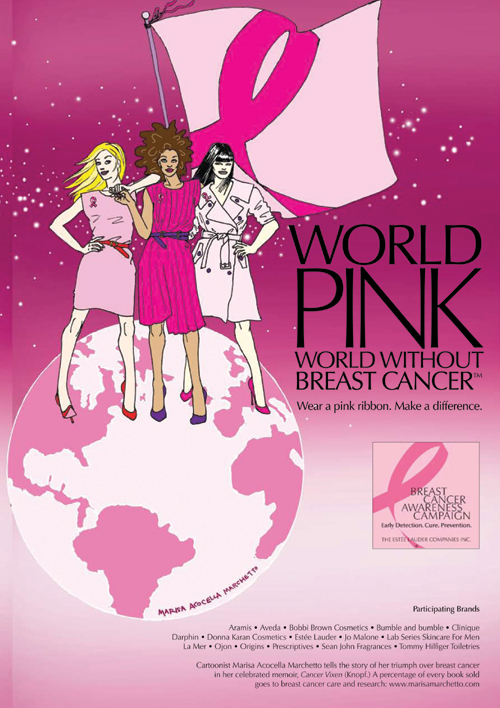 Here are highlights of some of the people involved in the Estée Lauder Breast Cancer Awareness Campaign and And Fundraising, and the beauty products you can purchase where portions of their proceeds go towards the Breast Cancer Research Foundation.
Actress Elizabeth Hurley and Evelyn Lauder: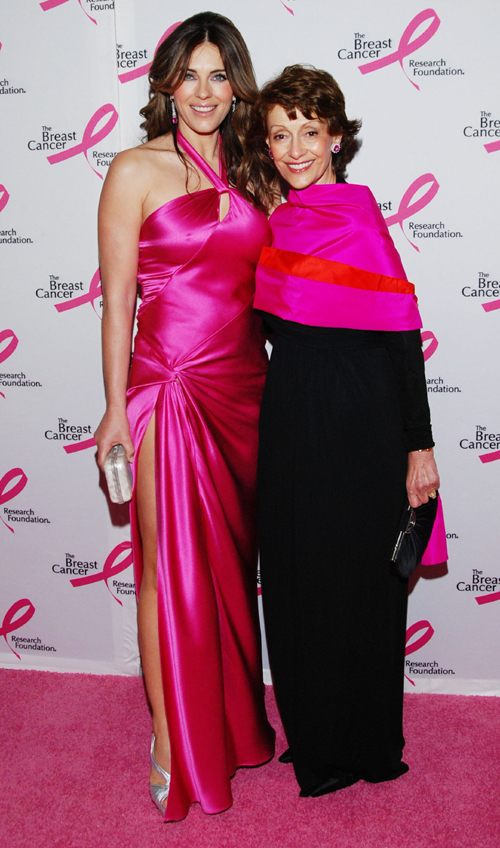 From Left: Steven Plofker, Elizabeth Hurley, Elton John, Evelyn Lauder, and Bobbi Brown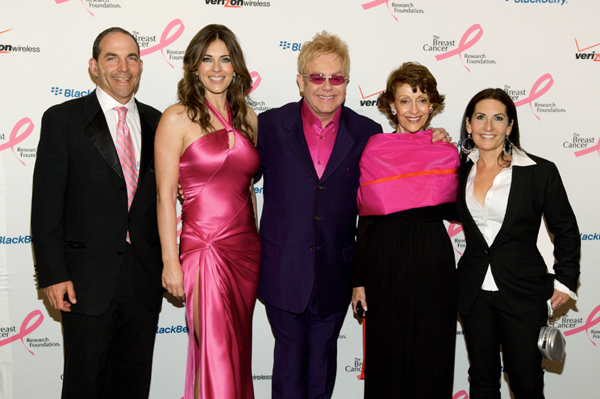 Watch the animated and live action of DKNY's Pop Art-inspired Be Delicious, fragrance goes on sale on August 1st!
Also, you can view the comic strip for DKNY's Pop Art-inspired Be Delicious by award-winning illustrator Brad Hamann at: http://www.dknyfragrances.com Pretty cool!
For additional products details visit: www.DKNYFragrances.com
Spotted! Jessica Szohr sampling fragrances from Michael Kors and DKNY at Bloomingdale's in Los Angeles. We're told the "Gossip Girl" star was getting a jump start on Mother's Day shopping, picking out fragrance and other gifts for her mom.
Here are photos of Gossip Girl Jessica Szohr testing the DKNY Be Delicious and Island Michael Kors Bermuda scents (photo credit: Wire Image).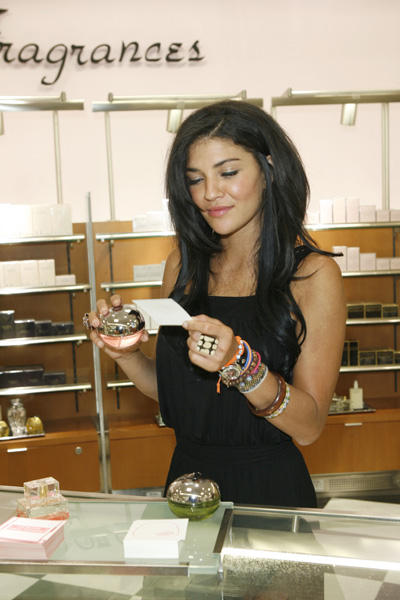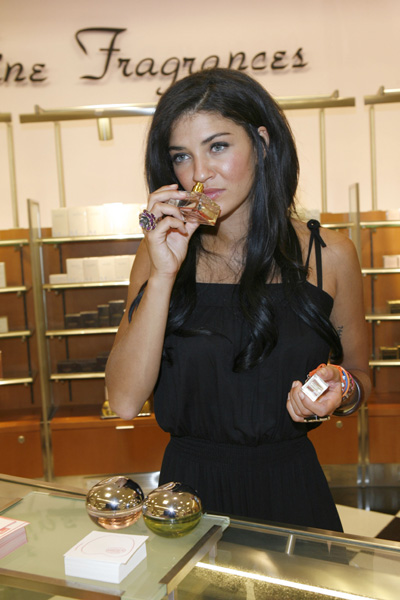 Mother's Day is this Sunday (May 10) and you can also pick up these great gifts for mom!
DKNY Be Delicious EDP Spray (1.7 Fl. Oz. / $55.00 SRP): A modern feast for the senses. Served in a sleek metal and glass apple bottle, this juicy fragrance combines the scent of apple with a sophisticated blend of exotic flowers and sensual woods. Like the city that inspired it, DKNY Be Delicious celebrates individuality with refreshing spirit.