All Posts Tagged With: "Elton John"
Frederic Fekkai SoHo's Andre Rodman transformed the tresses of Sharon Stone, taking her from day to night . David Letterman to the Elton John AIDS Foundation's "An Enduring Vision"
Sharon Stone at the Late Show with David Letterman.  Inspiration: Sixties chic to match her vintage inspired Dior Dress.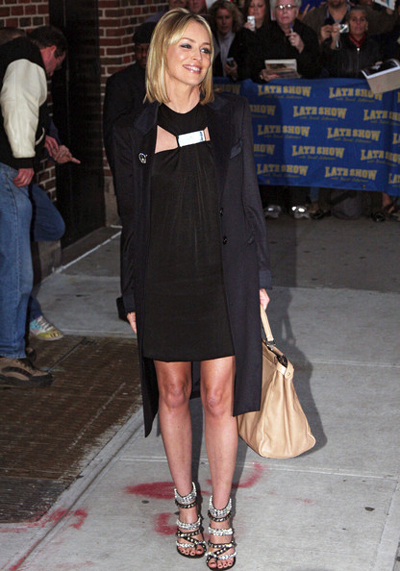 How to Get the Look: For David Letterman, Andre Rodman for Frederic Fekkai did a simple blowout using the Fekkai Extra Large Round Brush to get a stick straight bob. He parted the hair in the middle to frame her face, with a few wispy bangs falling to the front of her face. He created body and fullness at the crown using the Fekkai Full Blown Volume Spray. Finally, he finished the blow dry using Fekkai Top Coat Serum to finish the look.
Jimmy Choo and Elton John AIDS Foundation have launched a photo competition to support the launch of Project PEP, a charity collection that donates 25% of sales to the Simelela Rape Centre in South Africa. The money goes towards providing the HIV-preventative treatment PEP (which must be taken within 72 hours of exposure to HIV) and counselling to victims of rape in South Africa, which has the highest count of rape in the world.
ENTRIES: The theme of the photo competition is 'You, Your Shoes and 72', and as you can see from some of the photo entries below, Jimmy Choo had a very diverse response. Enter the Jimmy Choo competition HERE!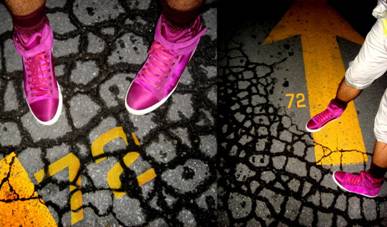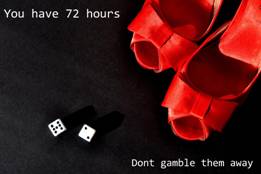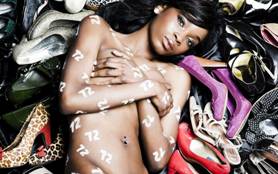 PRIZES: The overall winners will be announced after the competition close on 7th December, in just a few weeks' time. On offer is a Grand Prize of the ultimate Jimmy Choo VIP experience – the winner will be invited to spend a day of luxury and the Jimmy Choo HQ and choose 7 pairs of shoes and 2 handbags to keep. Plus over 100 exclusive Jimmy Choo prizes will also be awarded.
Follow Jimmy Choo 72 on Twitter
Join the Jimmy Choo 72 Facebook Fan Page
It's Breast Cancer Awareness month aka BCA and the Estée Lauder Companies has many of your favorite beauty products designed especially to raise funds for the Estée Lauder Companies' Breast Cancer Research Fund. Last month during my visit to New York City during Fashion Week Spring 2010 I was given an incredible opportunity to participate in an Estée Lauder special Breast Cancer Awareness event. Listening to Evelyn Lauder's speech and the rest of the Estée Lauder team I can't tell you enough how passionate they are about the Breast Cancer cause!!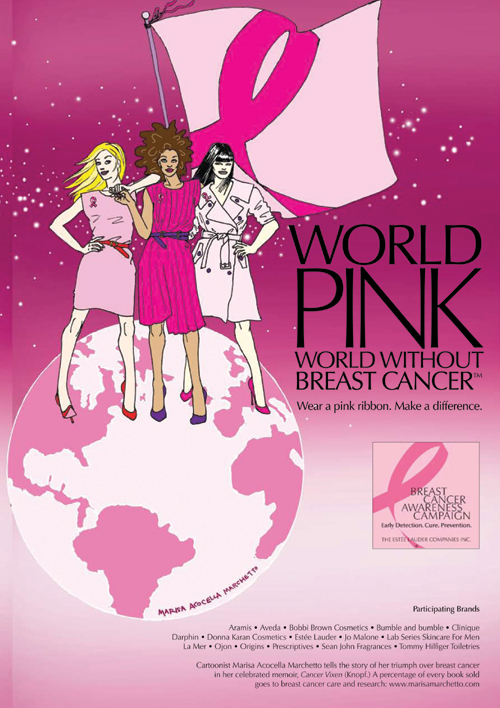 Here are highlights of some of the people involved in the Estée Lauder Breast Cancer Awareness Campaign and And Fundraising, and the beauty products you can purchase where portions of their proceeds go towards the Breast Cancer Research Foundation.
Actress Elizabeth Hurley and Evelyn Lauder: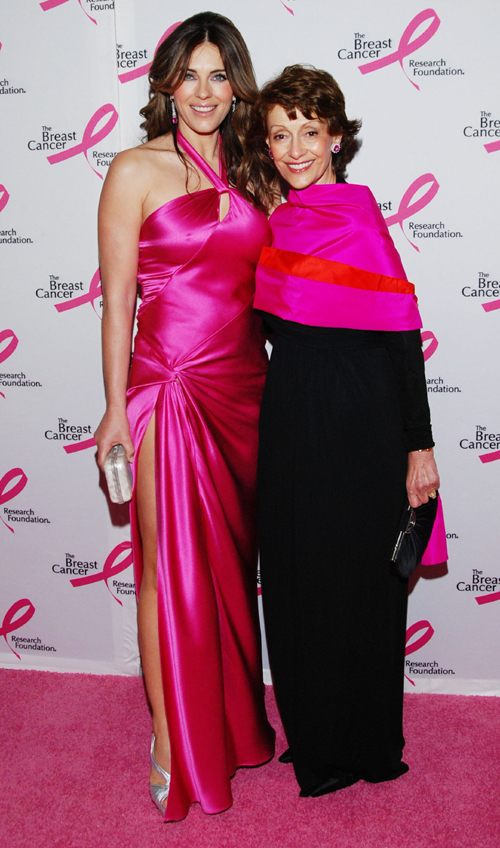 From Left: Steven Plofker, Elizabeth Hurley, Elton John, Evelyn Lauder, and Bobbi Brown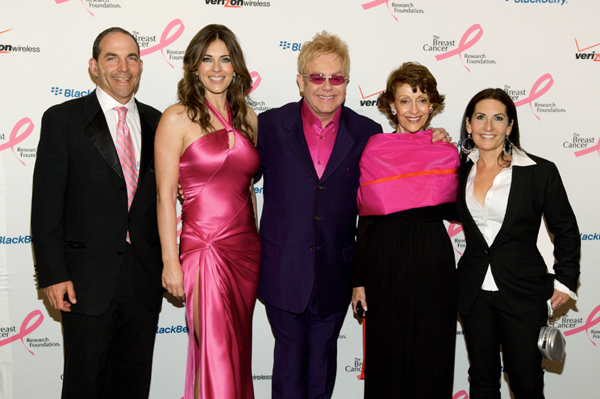 I'm excited to share with you my interview with Linda Pilkington of Ormonde Jayne Perfumery London.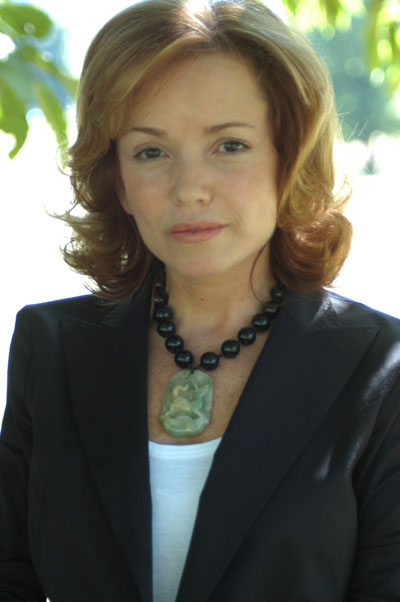 Linda Pilkington
In this interview Linda Pilkington talks to Marta Walsh about her fascination with perfumes, the Ormonde Jayne store on 28 Old Bond Street London experience, her inspirations behind Ormonde Jayne perfumes, reveals which celebrities are fans of Ormonde Jayne, and confesses about her love for gardening and cooking.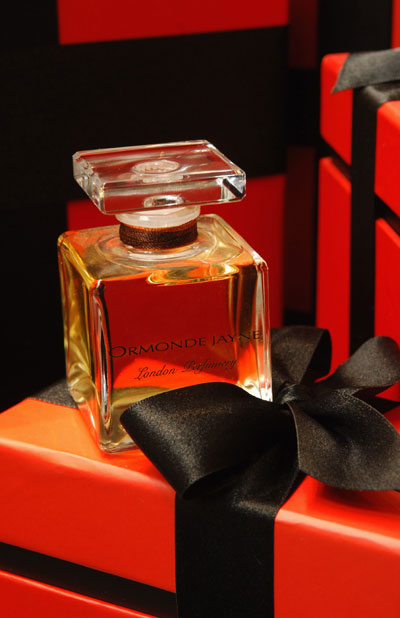 Marta Walsh: When did your fascination with perfumes begin?
Linda Pilkington: When I was 12 years old, my mother gave me my first bottle of perfume. I was actually more enthralled with the bottle than the perfume itself & you can imagine when you are 12, it's like having a bottle of treasure. It was Madame Rochas and the perfume was this lovely dark cognac colour and the bottle was made of cut glass and about six inches tall. I had spent a lot of time staring longingly at the bottle before my mother gave it to me. Our parents always encouraged us to make our things and give them as Christmas and birthday presents and we were given a lot of hobby books. I spent a lot of time making presents of candles and chocolates when I was young!
Talking Makeup is thrilled to introduce you to the hottest new luxurious candle line that has already made it into Elton John and P. Diddy's homes, Delirium & Co. Candles.
What makes Delirium & Co. Candles line so unique is that it is inspired by the most romantic, idealistic periods in history. These soy blend candles, placed in hand-made translucent reflective glass and boxed in just as elegant packaging, are divided into two collections: "The Silver Period" which features the scents of China Tea, Delicate Bouquet, Pear & Violet, and Sensual Camelia and "The Blue Period" which includes Royal Amber, Samurai Woods, Suede & Smoke, and Sweet Tobacco fragrances.
Sir Elton John, together with Slatkin and Company, has created a special fragrance and candle collection called:  Elton John Rocks.  The new collection is sold in Bath And Body Works.  All proceeds from Elton John's collection will benefit the Elton John AIDS Foundation.  Elton John Rocks comes in 4 different scents with matching candles.  For example, Elton John Rocks 1 is potpourri, crystal-like rocks, made of Egyptian resin and scented with:  hyacinth, freesia, rose and jasmine.  Cost:  $32, Elton John Candle $34.
If you buy Elton John's Fireside Candle Box you may find a wining certificate for a $75000 6-carat Journey Diamond Pendant.  Elton John Fireside Scented Candle is a luxurious blend of rich vanilla bean, smoked cedarwood, sweet Chinese star anise and spicy coriander. Cost:  $16.50.  For more details and how to enter Elton John Legendary Rock Sweepstakes go to Bath And Body Works official site.