All Posts Tagged With: "Essie"
Rock & Republic and Essie Limited Edition Matte Nail Collection: Rock & Republic and Essie join creative forces to bring you the season's hottest matte trend. Uniting Essie's luxury nail color and care expertise with the fashion authority of Rock & Republic, this exclusive collaboration contains three limited-edition must-have items that feature the shine-free look of the moment from tip to toe.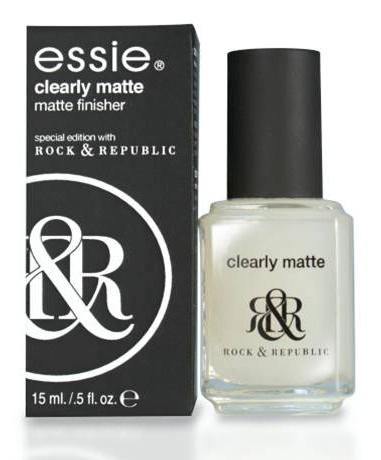 The inspiration for this innovative collaboration is Essie's Clearly Matte, an instant-mattifying finishing polish that transforms any high-shine nail lacquer into a no-luster fashion statement. This exclusive formula adds new dimension and texture, revamping your favorite shades in seconds.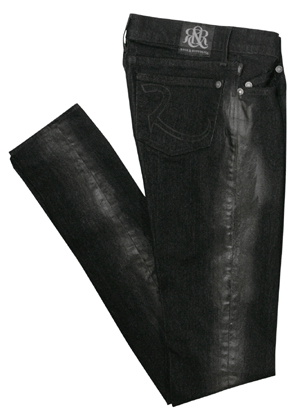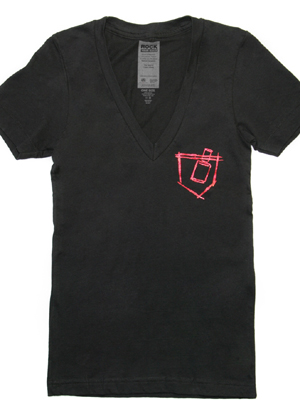 Rock the same look with Rock & Republic's All About Matte jean in Spill Black, and add the Top Matte tee in Pretend Black. All About Matte ($248), Rock & Republic's Signature Skinny Denim Fit, emblazoned with black lacquer spill detailing, pairs with the Top Matte Tee ($48), a slim-fit black jersey v-neck with red foil pocket detail, to complete the limited-edition capsule collection.
Last month during my visit to New York City for Fashion Week I stopped by at Frédéric Fekkai at The Mark Hotel to get my hair blow dried. It was a much needed blow out. The New York weather makes my hair so frizzy, and what I call" "poofy" i.e. too much volume (LOL I'm not even sure this word exist in the English dictionary). And running around town all day, whose got time to do their own hair?!!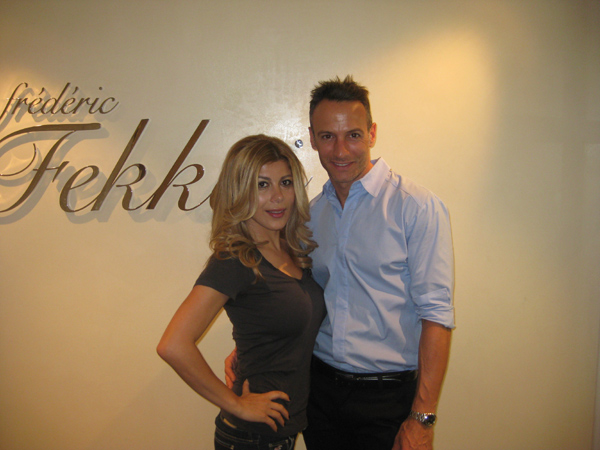 Fabulous Anthony at the NEW Fekkai Madison at The Mark Hotel just gave me Hollywood waves! Luv him:)
I crossed Central Park in a cab all the way to the East Side and arrived at the Frédéric Fekkai at The Mark Hotel. The building was so pretty and newly renovated which is kind of rare for NYC, everything is normally so ancient. My service was impeccable, and the best part was that I got to do my nails and my hair at the same time. I felt like I can totally can get used this life. Wouldn't you?:)

Marta's nails in Essie Sexy Divine gorge deep black-ish purple:Mani by Gabriela at Fekkai salon The Mark hotel NYC
Loved my hair stylist Anthony! He blew dry my hair and gave the perfect Hollywood curls without even using a curling iron. And Gabriela who did my nails with Essie Sexy Divine did a great job in making my manicure last for 4 days! I yet need to investigate which top coat she used on my nails. I assume it was Essie as well.
Introducing Essie Loves Diamonds by Judith Ripka: A Nail Color Collection Infused with Diamond Dust and Hidden Gemstones.
How do you wear diamonds? Prep nail and polish. Essie Cosmetics and Judith Ripka – two iconic luxury brands – joined forces to create the ultimate luxe accessory. Introducing Essie Loves Diamonds by Judith Ripka – a limited-edition collection of 3 nail colors infused with genuine diamond dust.
"Judith Ripka is a visionary brand with stunning jewelry pieces and they are the perfect partner for this collection," says Essie Weingarten, Founder/President of essie. "With Judith, I created this collection for every woman who loves diamonds – the colors are chic and classic."

To celebrate the launch of this collection, Essie and Judith Ripka are offering 3 lucky winners the chance to find and own a genuine precious gemstone. A sapphire, emerald and diamond will each be hidden separately inside three different polish bottles. The lucky finders will become owners of these stunning stones.
When you buy any of the three polishes, go to www.essie.com  and www.judithripka.com  and enter the UPC code on the bottom of the bottle for additional discounts and promotions. 
I totally admire Rachel Zoe. I know, another celebrity. But, I love her infectious passion for her work. It's the way to live life, love what you do. Rachel is the quintessential example of that. A true inspiration!
I receive The Zoe Report though my email, and I must admit that I'm always very curios to find out what are Rachel's latest style & fashion picks. Here is one: Chanel Intermezzo Nail Polish, $23. I love white as my nail polish. It's a nice break from all the other dark colors, such as: red, black, purple. And it looks very clean, understated, yet very polished.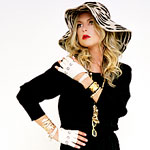 Marta's look for less: Essie Nail Polish in Waltz


Chanel Intermezzo Nail Polish is available at chanel.com
ESSIE Creates Limited Edition Nail Polish for Mercedes-Benz Fashion Week SWIM.

Mercedes-Benz Fashion Week SWIM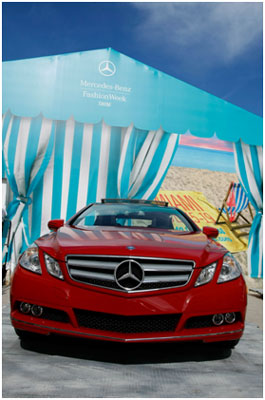 Mercedes-Benz Fashion Week SWIM
To celebrate Mercedes-Benz Fashion Week SWIM and its' newly launched range of E-class vehicles the luxury car company teamed up with Essie to create a limited edition nail color. The latest custom shade Mars Red was inspired by the 2010 E-Coupe vehicle on display at the Mercedes-Benz Fashion Week SWIM tents. Unfortunately, this buzz worthy color will be available only to those attending the weeks' soirées but not to fret to get this same look try Essie nail color "Forever Young."
I follow lovely Giuliana Rancic from E! News Daily on Twitter because she is so great!
Giuliana posted this today on Twitter: "Just got hair done for E! News @ Studio 110 in Chicago. Kristen rocks 4 hair and Nella did my mani in St Lucia Lilac by Essie. Loving lilac!"

St Lucia Lilac by Essie.
Other Essie nail polish colors Talking Makeup recommends:
Really Red by Essie: this is a pure shade of red, glamorous and a classic. Looks great both on hands and feet. Manicure or pedicure.
Essie Neon Nail Polish Collection: Bright Lights, Big City Essie Introduces the NEW Neon Collection.
Have fun, rock out and play with color on toes and tips. Essie brings color intensity back with the Neon Collection – a new crop of bright shades that pop.
As a sequel to last year's high-demand neon hues, essie's new vivid nail colors are super chic, bold shades that take cues from fashion and art. From the vibrant pinks and purples on Spring runways to pop culture's Technicolor graffiti art explosion, neons are having their day in the spotlight. The essie Neon Collection is a palette of gorgeous acid tones that light up the night.
"I want women to have fun with nail color," says founder Essie Weingarten. "These colors make a strong fashion statement and have personality. They really will bring smiles to women's faces."
This new Neon Collection Mini 4-Pack by Essie comes in succulent and vibrant shades, perfect for sporting short, perfectly manicured nails.
 
Colors featured in Essie Neon Collection Mini 4-Pack: Shorty Pants (yellow), Short Shorts (pink), Bermuda Shorts (purple) and Mini Shorts (orange). SRP: $15.
It looks like the dark or almost black nail polish is in once again.  Many celebrities have been seen sporting this look.  Deep nail polish shades seem to go well with short and squared nails.  It may be a bold look for you, but since so many cute girls display the new vamp trend then it feels almost OK to try it yourself.  And for the British readers, we have a picture of the very famous glamour model actress and business woman, Abby Titmus.  Abby is perfectly manicured in deep shade nail polish as feathered in her new 2007 Abby Titmus Calendar.
Talking Makeup picked two nail polish shades that will help you achieve this hot look.  OPI created Lincoln Park After Dark NL W42 as part of their new Chicago Collection.  OPI describes this color as: " When midnight meets purple".  Cost:  around $7. 
Our second pick is Essie Wicked 249 which has a burgundy red undertones and less purple then OPI Lincoln Park After Dark NL W42.  Cost:  around $7.