All Posts Tagged With: "eyelids"
CHANEL introducing Ultra Correction Lift Total Eye Lift & Ultra Correction Lift Plumping Anti-Wrinkle – Lips and Contour.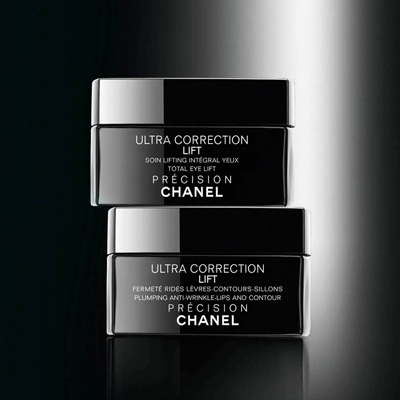 ULTRA CORRECTION LIFT TOTAL EYE LIFT
A woman's eyes are a reflection of her unique beauty. They are the ultimate seduction — but can also be a tell-tale sign of aging. Today, CHANEL PRÉCISION offers a solution to restore youthfulness to the eye area, especially the eyelids. ULTRA CORRECTION LIFT TOTAL EYE LIFT naturally lifts the eye-area skin from within while helping to minimize the look of puffiness and dark circles. The key ingredient, elemi PFA*, delivers concentrated power to the eye area for targeted firming and lifting action. A complex containing escin (a molecule extracted from Horse Chestnut) provides immediate concentrated action on puffiness and dark circles. A tetrapeptide reinforces this corrective action and helps keep the eyelids supple and toned. A state of tension is restored to skin around the eyes. With skin firmed, the appearance of wrinkles and fine lines are visibly smoothed. The eye area appears brighter and radiates with youth and vitality.
Indian actress Freida Pinto has been on the Mumbai modeling circuit for many years; however, most know her best for her debut film role as Latika in Slumdog Millionaire. Since the highly regarded film was released in 2008, Freida has won an Academy Award, a Screen Actors Guild Award, and a Palm Springs International Film Festival Award. In addition to these honors, she is also frequently listed in the media as one of the world's best-dressed and most beautiful people. While Freida often goes with a neutral palette, we absolutely love her makeup in the Indian Vogue photoshoot!
Below is a step-by-step guide to recreating this effortlessly glamorous makeup look with THEVI cosmetics.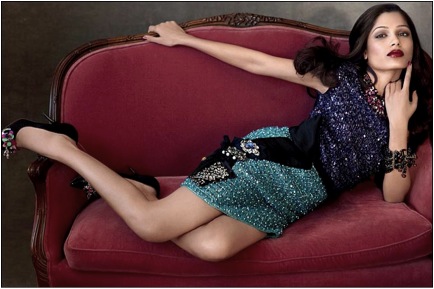 Face: The first step to recreating Freida's look above is to apply your THEVI Liquid Mineral Foundation with SPF 15 as needed to smooth out any flaws, leaving a clean, fresh face. Next, add color to the face with THEVI Mineral Finishing Powder Duo in Mocha Mates. For this particular look, it is best to apply this product in a "3" starting at the middle of the forehead, curving out down to just below the cheekbone, and curving out once more down to the chin. Highlight by adding a touch of the lighter shade right on the cheekbones.