All Posts Tagged With: "fall perfumes"
Coty Prestige Fall 2011 Fragrance Launches. These are no ordinary perfumes, they smell good, the bottles & packaging are a work of art, they will go down in history as very classic. Today I'm wearing Calvin Klein Forbidden Euphoria, I love the original, these become one of my all times most favorite perfumes.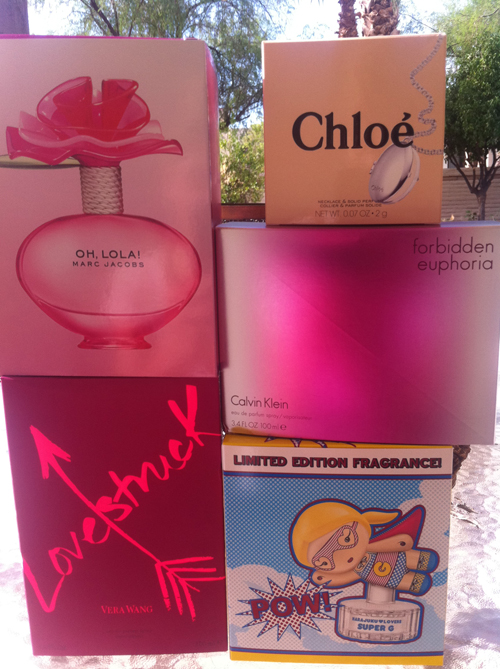 T to B: OH! Lola! Marc Jacobs, Chloe, Calvin Klen Forbidden Euphoria, Vera Wang Lovestruck, Gwen Stefani Super G
Marc Jacobs Oh, Lola!
Oh, Lola, the re-energized twist on the iconic fragrance. This sparkling and fruity scent is refreshing and light, personifying Lola's flirtatious free spirit. The bottle is girly and vibrant pink with the new campaign featuring Dakota Fanning.
Top: Fraise Des Bois, Pear, Effervescent Raspberry Cocktail
Loving the new Narciso Rodriguez In Color For Her and Essence limited edition Perfumes for fall 2011. The bottles are beautiful. In Color is a bit more woody and warm than Essence. Just in case you're wondering. Although Essence smells more floral and powdery than In Color it's a more complex floral, woody floral if you will. I would say I'm more In Color For Her than Essence because I tend to wear warmer perfumes & not into florals.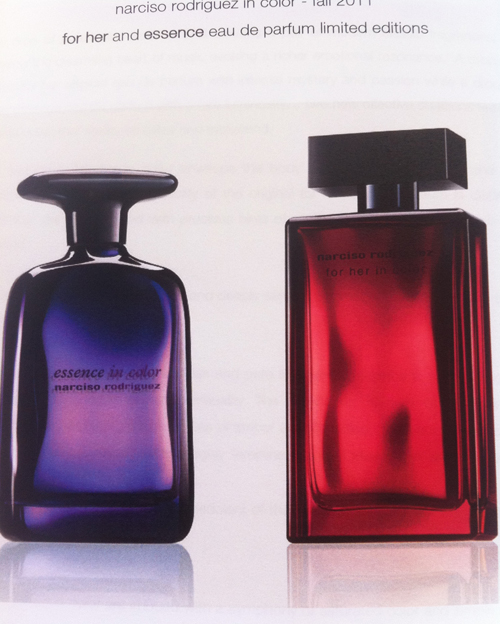 L to R: Narciso Rodriguez In Color For Her and Essence Perfumes available September 15th, 2011 at Saks Fifth Avenue.
"I love color when it's pre; it can be subtle or it can be very strong, bit most of all I love it when it's very pure. Pure color elicits profound emotions and memories and that's what fragrance should be about."-Narciso Rodriguez.