All Posts Tagged With: "Fashion's Night Out"
Come join Vera Wang Fashion's Night Out: On Fashion's Night Out, September 10th, Vera Wang will host the events in both of her New York City stores: Vera Wang on Mercer and the Vera Wang Bridal House.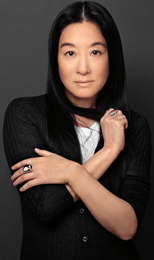 Uptown at the Vera Wang Bridal House, located at 991 Madison Avenue, Vera will be joined by industry experts who will be sharing their artistry: Decorate a wedding cake with Sylvia Weinstock; arrange bouquets with Michael George; receive nutritional advice from celebrity nutritionist Oz Garcia; sit back as Yves Durif consults and styles hair and make-up;
Join Space NK for an evening of cocktails and treats, while their skincare experts and makeup-artists get you primed, prepped and glossed for New York's most fashionable week, Get Fall Fashion Week ready with the latest tips and trends from Space NK, including:
Personalized skin consultations with top experts in the field
Color perfect foundation techniques
Eyelash applications
Quick fixes to turn make-up in to after-hour glamour
Latest Fall looks right off the runway
WHEN: September 10th, 2009
WHERE: For locations refer to image below: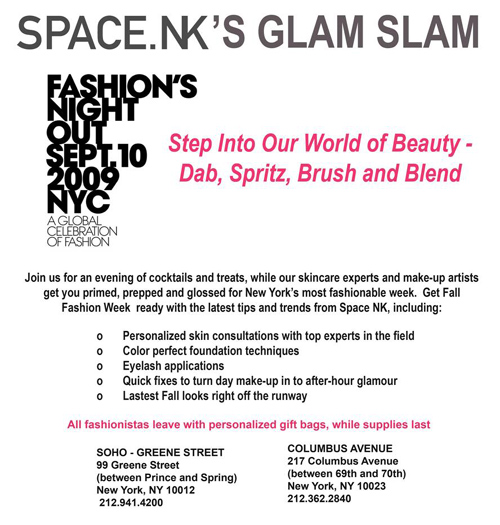 You are invited to join Bergdorf Goodman celebrate Fashion's Night Out, Thursday September 10th 5:30-11PM.
WHERE:
Bergdorf Goodman
5th Avenue At 58th Street, New York City
The list of Fashion & Style who's who is incredible:
5:30PM: Zac Posen paints one-of-the kind dresses modeled by Anna Cleveland. Fifth Avenue Windows
6PM: Padma Lakshmi, Cynthia Rowley, Edward Bess, Giles Mendel, Lela Rose, Naeem Khan, and Peter Som
7PM: An exhibition of photographs from the book Extreme Beauty In Vogue. Guests: Curator Phllis Posnick, Dr. Patricia Wexler, Daria Werbowy, and Caroline Trentini
8PM: Andre Leon Talley, Vogue Editor-At-Large, Donna Karan, Director Linda Fargo, and Style Expert Robert Verdi
9PM: A conversation with Isaac Mizrahi and tunes by Ben Waltzer Trio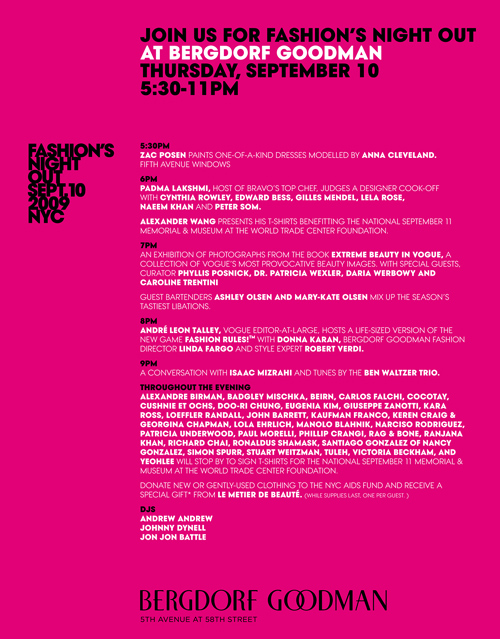 You are invited to  join Kiehl's celebrate Fashion's Night Out Thursday, September 10th 7-11PM.
Also, celebrate the 40th anniversary of Lip Balm #1 & get ready for surprise celebrity performances. Sing karaoke for complementary Lip Balm #1, enter a raffle to win exclusive Kiehl's products and shopping sprees, with prizes awarded every half hour, or just come for the cocktails and hors d'oeuvres!
WHERE:
Kiehl's Flagship Store
109 Third Avenue, at 13th Street, New York City.