All Posts Tagged With: "fashion and style"
It goes like this: Christmas and the New Year and then it's an Awards and Fashion Week season. Talking Makeup is ready for New York Fashion Week this February, but meanwhile we have Paris. Here's Dita Von Teese all in black leather at the Christian Dior runway show as part of Paris Fashion Week Haute Couture Spring/Summer 2010. I don't really get Dita's "shtick" ("Talent" or "Act" in Yiddish) nevertheless she always manges to look beautiful. I love the leather outfit, very different. Do YOU?
GET THE LOOK: Looking camera ready, Giuliana Rancic and Toni Collette were glowing as they stepped on the red carpet with HDTV perfect skin for the 16th Annual Screen Actors Guild Awards. Once again, Hollywood's leading celebrities turned to the ultimate skin-finishing brand, St. Tropez, for an award winning look.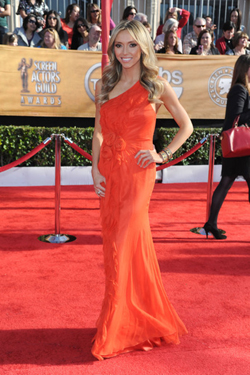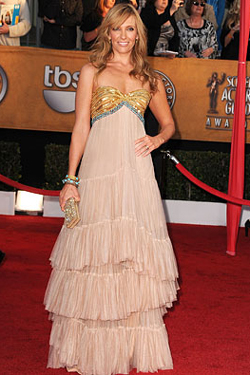 Giuliana Rancic says, "I can't live without my bi-monthly St. Tropez skin-finishing appointment. St. Tropez gives the most natural and gorgeous color on the market. I'm also obsessed with the products like the Bronzing Rocks and the Radiance Mousse. They give me a beautiful glow on the set of E! News everyday, as well as on the red carpet. I love St. Tropez!"
"Not even the rain will stop the stars skin from glowing radiantly at the16th Annual SAG Awards in Hollywood" says St. Tropez Skin Finishing Expert Fiona Locke. Rain or shine I will still be providing St. Tropez Skin Finishing treatments to some of Hollywood's hottest stars nominated for a SAG Award this weekend, providing a healthy, confident boost of color to the skin that will glow with pure radiance even under dark skies."
ASSOULINE Announces the Release of PIERRE CARDIN: 60 YEARS OF INNOVATION By Jean-Pascal Hesse.
"Geometric motifs, asymmetry, oversized buttons and collars, hooped dresses, vinyl inserts-Cardin is an original in every sense of the word."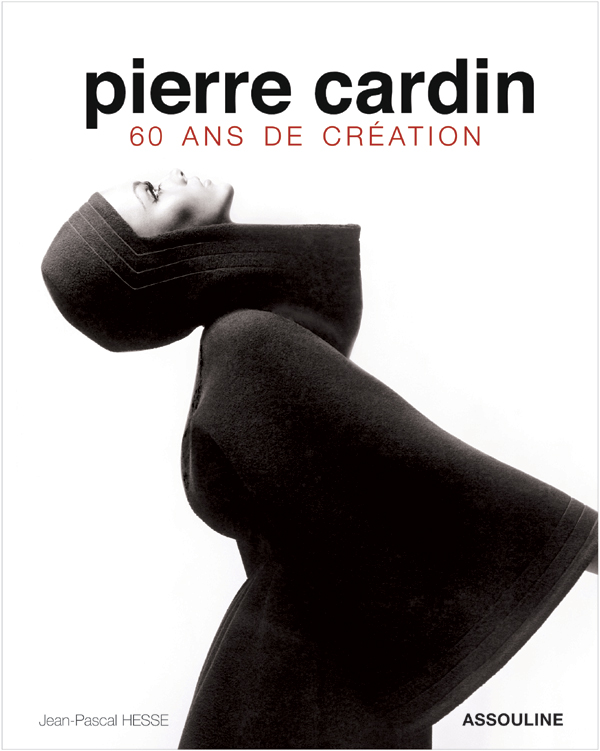 ASSOULINE is delighted to celebrate the sixtieth anniversary of the Masion Cardin, with the publication of a commemorative retrospective of the work of its founder, fashion designer Pierre Cardin.
Born in 1922 in San Biagio di Callalta, near Venice, Pierre Cardin immigrated to Paris in 1924. After working briefly with Elsa Schiaparelli, Cardin joined Dior in 1946 and opened his own couture house in 1950. He was a pioneer from the start, creating a design-based, architectural fashion with a futurist sensibility. Cardin also had an avant-garde understanding of fashion's relationship to new audiences, presenting his collections to large crowds. He was the first to demonstrate that fashion can be both a creative process and a business-and that one man can excel as both a businessman and an artist.
Available at: assouline.com
Read full article in styleinterviews.com
In celebration of Lifetime's upcoming debut of Project Runway Season 7, they are offering Talking Makeup's readers a chance to WIN a prize pack! Remember to join Project Runway as they head back to the Big Apple to kick off the new season. Catch the Project Runway Season 7 premiere tomorrow, Thursday, January 14, 2010!  at 10/9C only on Lifetime.
What's In It For You? PROJECT RUNWAY, SEASON 7 Kick-Off Prize Pack! Estimated ARV = $165
How To Enter to WIN: Simply leave a comment and let us know why should we pick you!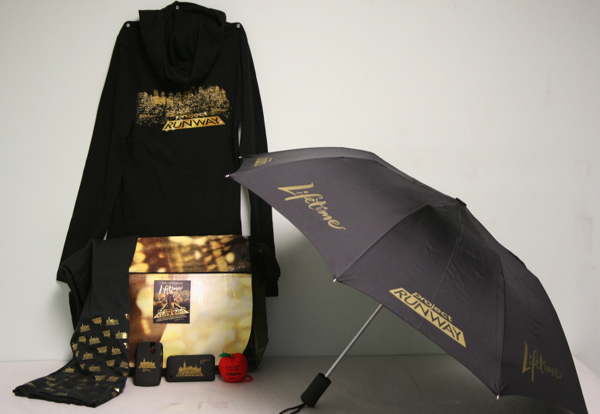 Contest Items:
(1) Messenger Bag – Made with Vinyl from Season 7 Billboards (Items included in bag listed below)
– Umbrella (Black with Project Runway and Lifetime Logos)
– iPhone Cover (Black Silicone with Project Runway Logo)
Actress Emma Watson returns for Burberry's Spring/Summer 2010 Ad Campaign featuring her younger brother Alex Watson. Please note: Marta's wants at least one of the Burberry trench coats featured in the campaign. 🙂  I LOVE Burberry, to me it's an English classic and a style genius.
WATCH: Behind the Scenes with Emma Watson at the Burberry Spring Summer 2010 Campaign.
Gossip Girl star, Leighton Meester, shopped at Chicago's premier shopping destination, Sofia Vintage at 1165 North Clark Street, Suite 400 on Friday, January 1st. Leighton was in town for her performance at The Underground and was dressed head to toe in Sofia Vintage's finest fashions for the red carpet including a sexy long sleeve open back, black lace top with trendy olive colored trousers.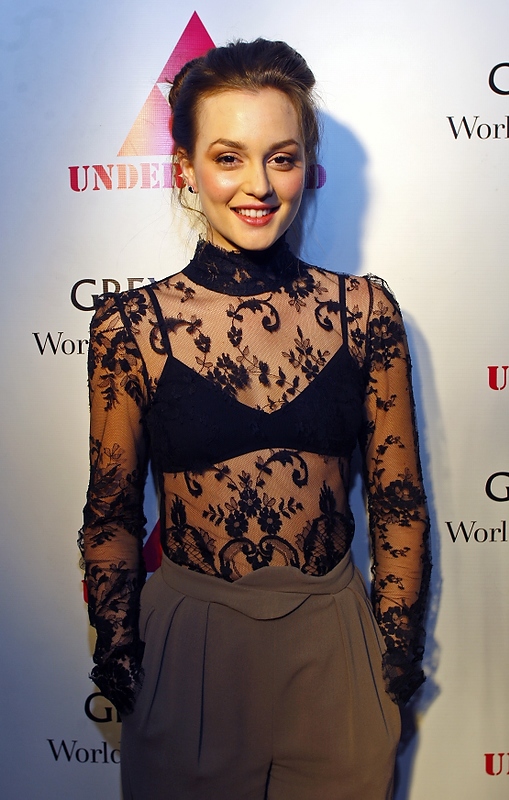 Leighton in Sofia Vintage from the red carpet at The Underground (photo credit Rob Grabowski)
ELLE, the number one global fashion magazine, announces the ELLE Make Better Program and DVD Series. The Make Better program is a multiplatform initiative surrounding fitness, fashion and beauty content that includes a themed January issue, a dedicated website and a three-DVD set hosted by and starring model Brooklyn Decker.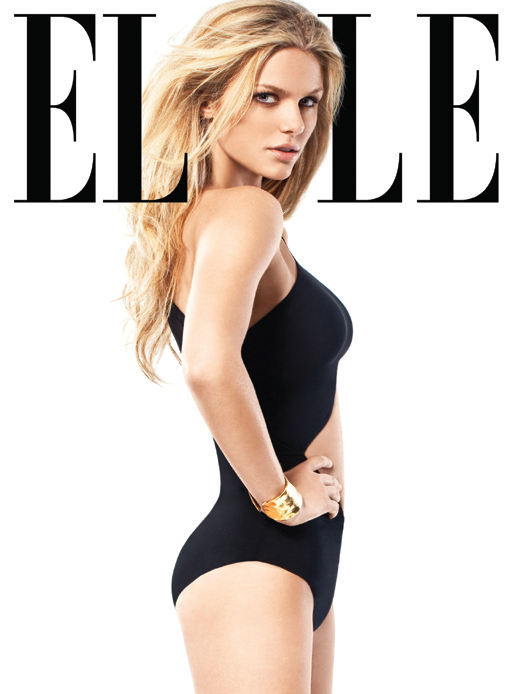 ELLE is turning the dated notion of the "makeover" on its head and instead focusing on new ways to look at fashion, beauty and fitness through simple, yet strategic adjustments to one's everyday life. Spending unnecessary time, money and energy on a new wardrobe, overhauling one's closet or engaging in expensive beauty and fitness regimes is out–so beginning with the January 2010 Make Better Issue, ELLE will demonstrate how to make small tweaks to readers' lifestyles that offer big results. ELLE will also feature Make Better edit in the beauty/fitness section throughout 2010, inspiring you to continue striving to improve your life. The program will be sponsored by Reebok, which will integrate its fitness apparel and Easy Tone technology into the DVDs and custom advertorials in the January issue.
On behalf of Lifetime, Talking Makeup is excited to present a NEW Promo Spot entitled "Big" from PROJECT RUNWAY Season 7! Headed back to the one and only Big Apple, this season kicks off Thursday, January 14, 2010 at 10/9C only on Lifetime!
Just in time for the holidays, the edgy-chic Rodarte for Target collection will launch in Target stores and on target.com December 20. Ranging in price from $9.99 – $79.99, the line includes a variety of statement-making pieces, like lace and tulle dresses and skirts, leopard-print sequin frocks, netted legwear, silk camis and bow belts, making designer fashion available for all at a great value. The collection will be in stores from December 20 through January 31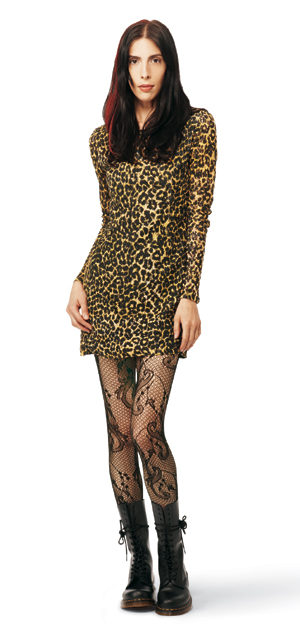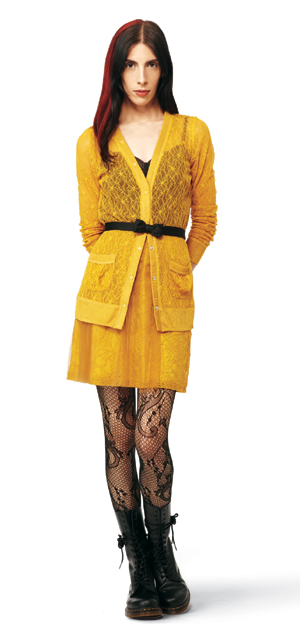 From left: Look 1: Lace Bow Dress in Yellow Leopard, $44.99. Lace Tights in Black, $12.99.  Look 2: Lace Cardigan in Mustard, $29.99. Lace Cami in Black, $19.99. Lace and Tulle Skirt in Mustard, $29.99. Bow Belt in Black, $12.99. Lace Tights in Black, $12.99.
The NARS 15X15 Project celebrates 15 years of iconic beauty by François Nars. The centerpiece of the project is the 15X15 book, featuring 15 celebrity portraits, including Marc Jacobs, Daphne Guinness, Amber Valetta and Naomi Campbell and others. During Art Basel Miami, the 15 images from the NARS 15X15 book will be on display at The Standard Hotel in Miami, on 40 Island Ave, Miami, FL,  through December 6th.
To celebrate the exhibition, François Nars hosted a cocktail event at The Standard Hotel to launch the exhibit on December 2, 2009 from 7-10PM.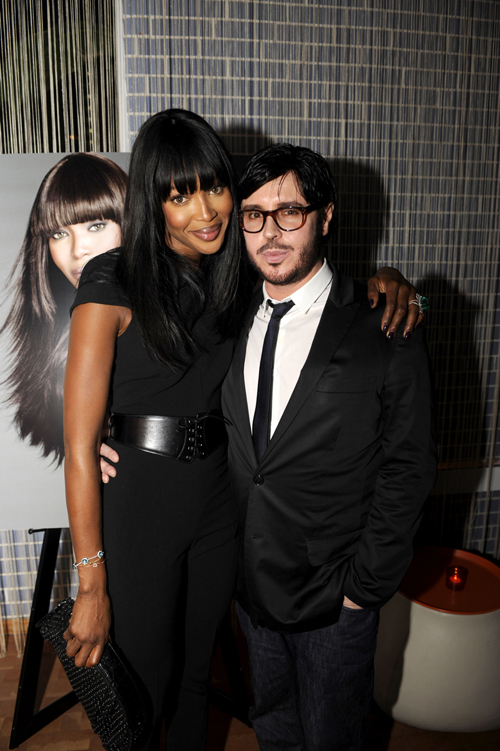 François Nars & Naomi Campbell
Celebrities spotted at the NARS 15X15 celebration at Art Basel Miami: François Nars (Founder and Creative Director of NARS), Naomi Campbell (NARS 15X15 Participant), Anthony Hadden Guest, Brian Atwood, David Hamilton (Interview), Dennis Paul, Diana Picasso, Genevieve Jones, Geordon Nicol (The Misshapes), Glenn O'Brien (Interview), Greg Krelenstein (The Misshapes), Jeremy Scott, Leigh Lezark (The Misshapes), Lorenzo Martone, Peter Som, Rafe Totengco, Sebastian Puga, Terrence Koh and others.