All Posts Tagged With: "fashion show"
The CHANEL Fall/Winter 2010-2011 Ready-to-Wear Collection debuted at the Grand Palais in Paris on March 9th, 2010. Here are some photos from the CHANEL fashion show front row and VIP.
Karl Lagerfeld and Venessa Paradis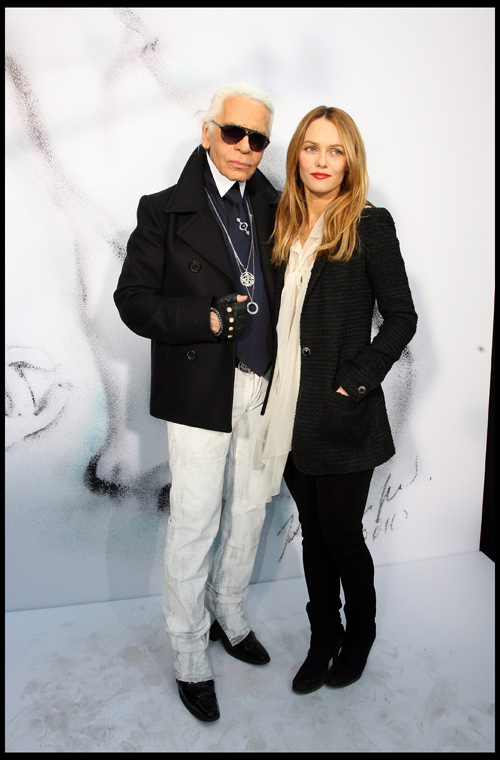 Dolce&Gabbana Woman Fashion Show Winter 2011 Part 1: For this Winter 2011 Dolce & Gabbana women's collection, Domenico Dolce and Stefano Gabbana looked back to the inspirations of their beginnings and showed us what putting on a show really means.
Marta says: Quite revolutionary to show the behind the scenes of a fashion show. Dolce&Gabbana is ahead of their time!
For more Dolce&Gabbana videos visit their YouTube Channel.
Backstage Sneak Peek: Thanks to www.swide.com here is a little sneak peak to backstage at the Dolce&Gabbana Winter 2011 Woman Fashion Show!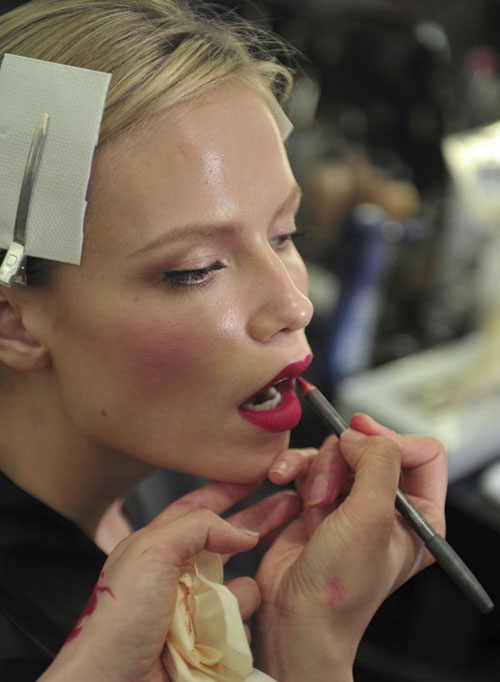 Going backstage at Chris Benz fashion show during New York Fashion Week is always exciting to me because I know I'm going to get to see and chat with Lancome's fabulous lead makeup artist Daniel Martin. Just a reminder, Daniel and fashion designer Chris Benz were the brilliant minds behind one of Lancom'e best selling lipstick (and Marta's all time favorite) Chris & Tell. If you're into makeup like myself, Daniel is the best guy to pick his brains about it. Needless to say, he is always so sweet to me! Thanks Daniel. xo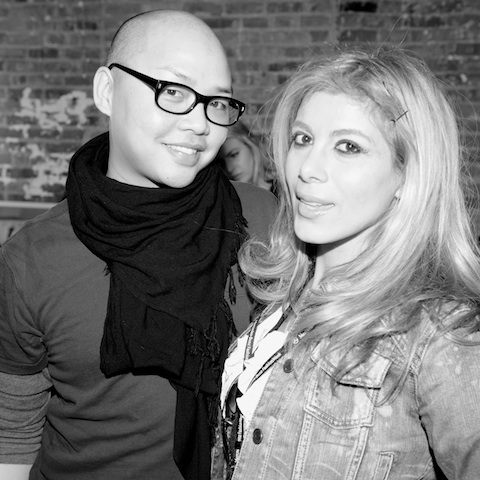 Daniel Martin and Marta Walsh backstage at Chris Benz Fall 2010 with Lancome
Photo Credit: © amber rima mclinn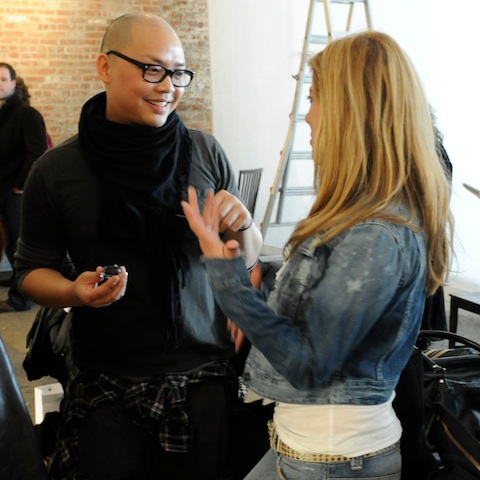 Photo Credit: © amber rima mclinn

Me, Marta Walsh, backstage at Chris Benz Fall 2010, also in the background Redken
team busy creating the hairstyle for the show. Photo Credit: © amber rima mclinn
New York Fashion Week Fall Winter 2010. Show: Rachel Roy Fall 2010. Makeup by Bobbi Brown Cosmetics.
"Eyes are intense, covered in rich velvet…Scarlet and black create a modern smolder…" –Wendy Rowe for Bobbi Brown Cosmetics.
The Look & Inspiration: A 1930s Egyptian influence weaves together fashion and beauty at the Fall 2010 Rachel Roy Fashion Show. Peacock prints are lifted from feminine silhouettes and translated into bold, beautiful makeup. Iridescent "peacock feather" eyes gleam in denim and burgundy metallic shades from brow to lower lash line with a hint of aqua on inner corners, ultimately lined with a black kohl pencil. An even, dewy finish of the skin, softly defined pink cheek, and sheer beige lip allow the eyes to be the star of this show.
These are the Bobbi Brown Cosmetics makeup used to get the Rachel Roy Fall 2010 runway look:
New York Fashion Week Fall/Winter 2010 REPORT: The Susan Woo Fall/Winter 2010 fashion show took place on February 13th, 2010, on the 25th floor of the Bryant Park Hotel. As soon as I arrived I spotted lovely Olivia Palermo star of MTV's The City. Dressed in black leather pants, black jacket, and yes, black shoes. I introduced myself to her and asked to photograph her. Olivia smiled and agreed and suggested she brings Susan Woo the style genius to the photo. And there we have it!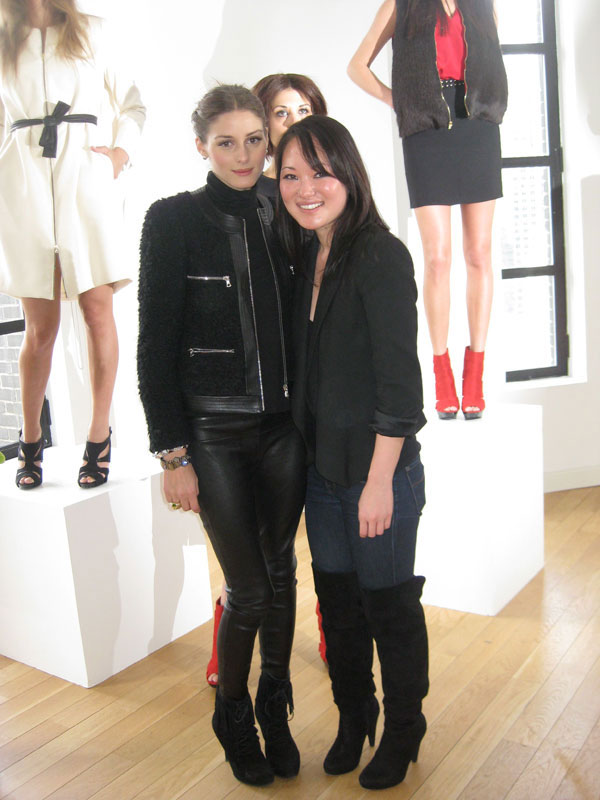 L to R: Olivia Palermo and fashion designer Susan Woo
The Susan Woo collection could be my entire personal wardrobe. All the garments were extremely elegant, with a bit of rock chic element mixed with 1960s old Hollywood movies style. I loved the Michael Antonio red high heels on some of the models. Definite inspiration for me (and you guys) t0 add one pair of hot red high heels to your closet! It breaks black nicely and adds a bit of intrigue to your look. Hair was done by Bumble & Bumble. Makeup by Tarte Cosmetics. The delicious drink at the show was by Belvedere Vodka. Visit susanwoonyc.com to explore the collections.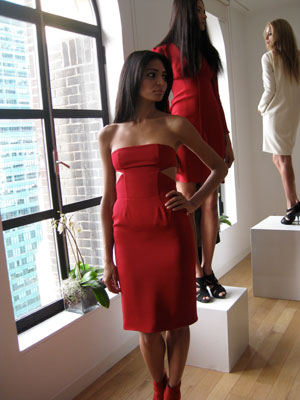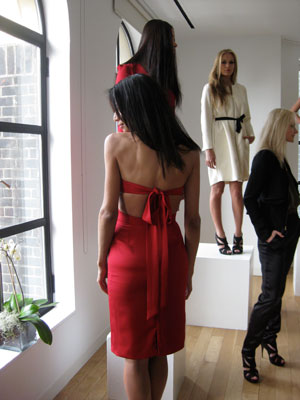 Looks like it's time to break out the Manic Panic. The big beauty trend for hair at Fashion Week was bright, chunky streaks of color that brought to mind punk-inspired street style circa 1996. At the Cynthia Rowley Fall 2010 fashion show, Eva Scrivo for Wella Professionals custom colored hair extensions in shades of emerald, lapis, amethyst, navy and turquoise to replicate the rich jewel tones present in the collection. Each hair extension was completely saturated with professional salon haircolor and then woven into the hair and styled, creating an element of surprise and intrigue when models hit the runway. Read full article in dailymakeover.com

Turquoise tresses at Cynthia Rowley.
Photo courtesy of Wella Professionals
For more Beauty Trends and News visit dailymakeover.com
New York Fashion Week: WATCH the Yigal Azrouël Fashion Show Fall Winter 2010!
Hair by Teddy Charles. Hair Team: TIGI CATWALK. Makeup by Bobbi Brown. Men's Grooming by AHAVA. Women's Shoes Manolo Blahnik. Men's Shoes FRYE. Jewelry by Pamela Love. Music by Jorge Elbrecht of Violens. Celebrity attendees included: Malin Akerman, Diane Birch, J. Alexander, Poppy Delevigne, Harley Viera Newton, Zani Gugelmann, Lorenzo Martone.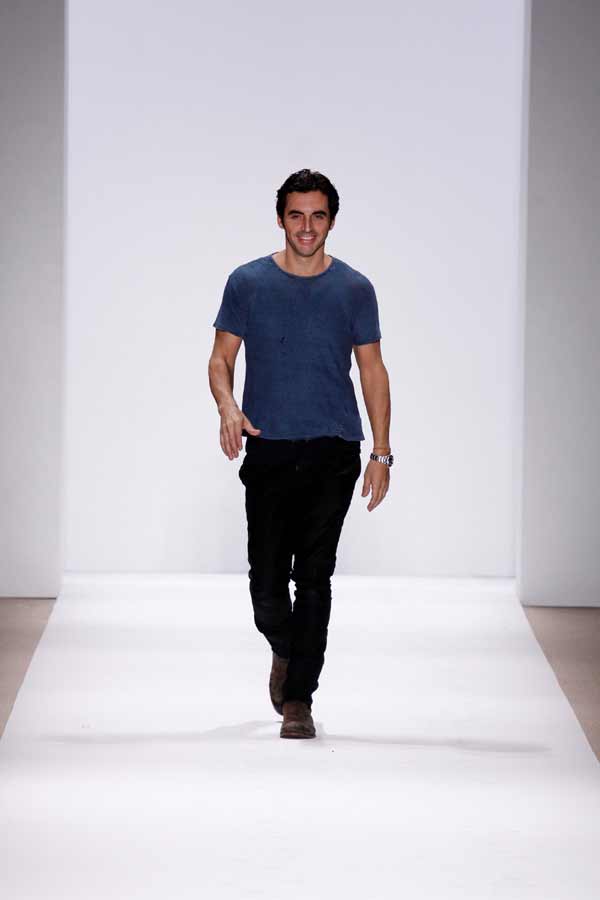 Yigal Azrouël, Fashion Designer
New York Fashion Week Fall Winter 2010 Nail Trends: Models at the Peter Som Fall 2010 Fashion Show rocked the runway with Zoya Nail Polish in Charity, $7. The nail look backstage at Peter Som was created by manicurist Jackie Saulsbery. Available at www.zoya.com