All Posts Tagged With: "Fergie"
Fergie and her fellow Black Eyed Peas band members were in Johannesburg, South Africa, June 9th, 2010, preparing for their FIFA World Cup Kick-off Celebration performance.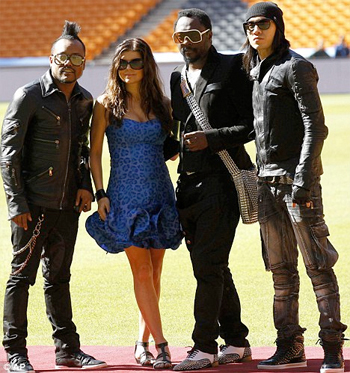 Fergie is seen here wearing the Iso from her spring 2010 Fergie shoe collection. The Iso (on sale for $51.75) is available for purchase at FergieShoes.com.
Black Eyed Peas Fergie teamed up with Avon with a new perfume called Outspoken. According to Now Smell This the notes in Outspoken feature frozen blackberry, starfruit, saffron, tuberose, jasmine, passion flower, ebony, black leather and vetiver.
Looking for hair that has Boom Boom Pow? Tracey Cunningham, Redken Creative Consultant for Color and Hollywood colorist, gave Fergie glam color for Elle May 2010 issue cover shoot.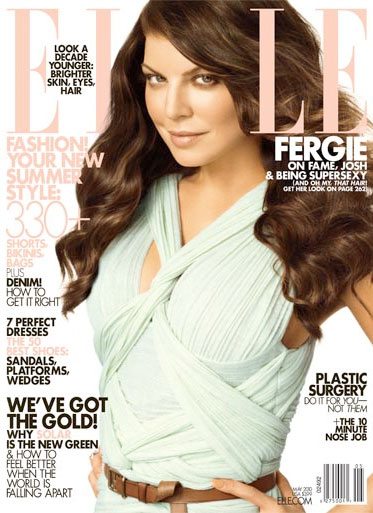 If you want Fergie's fab color, ask your colorist to use:
1. Redken Color Fusion (5NN) on the base: Color Fusion Advanced Performance Color Cream delivers healthy-looking, multi-dimensional haircolor and features Redken's exclusive Colorbond Technology to provide optimum durability, condition and shine.
BEST DRESSED: Fergie looked absolutely gorgeous in a Pucci dress at the 2010 Grammys. Even Fergie's brown hair color is growing on me. Fergie's hair by Andy Lecompte of the Andy Lecompte Salon in West Hollywood, CA. Do you love?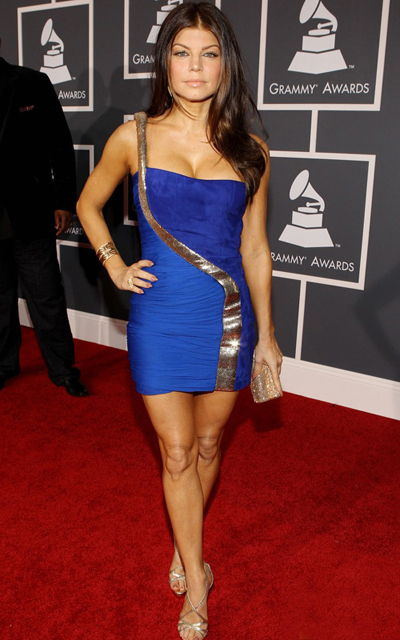 Introducing: Celebrity Makeup Artist and Luxury Cosmetics Designer AJ Crimson. Co-founder of luxury cosmetics line, Kissable Couture, AJ has built an established reputation for clean yet luxe makeup and skin techniques, while quickly becoming one of today's premier makeup artists and beauty experts. AJ has worked on numerous key campaigns with many artists and celebrities including Fergie, Hillary Duff, Adrienne Bailon, Amerie, Estelle, Mya, Christina Milian, Letoya Luckett, Missy Elliott and Keyshia Cole just to name a few.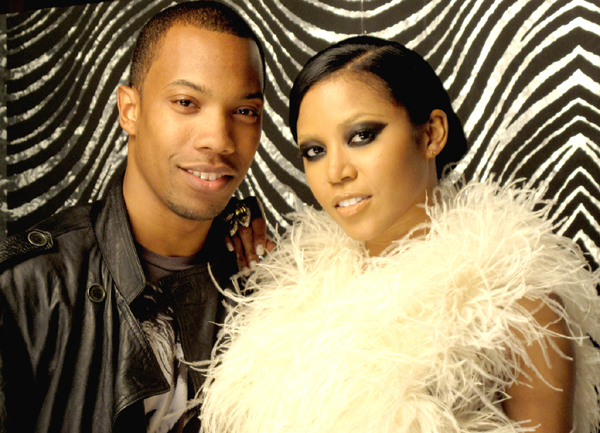 AJ Crimson With Recording artist Amerie
"Always remember this Beauty Statement: There's no need to break the bank to look great!"– AJ Crimson.
WATCH: AJ was recently on The E! Network's "That Morning Show", sharing some of his beauty tips with all of you beauty addicts out there in the world!
visit www.ajcrimson.com to learn more about AJ's work! 
Fergie wears a one shoulder draped chiffon column Marchesa gown with embroidered waist at the New York Premiere of "NINE", December 15, 2009. Do you love?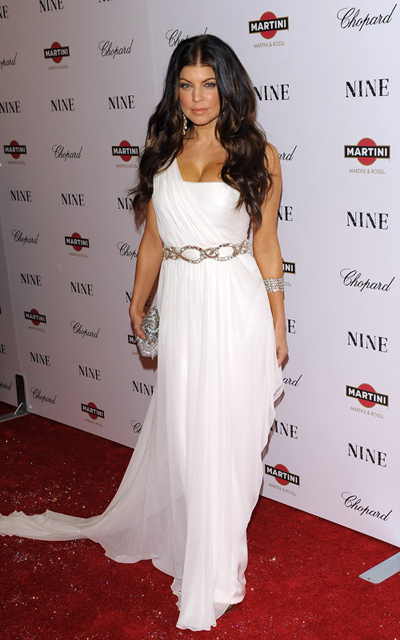 Co-founded by Georgina Chapman and Keren Craig, the company's namesake and muse is the noted eccentric European style icon Marchesa Luisa Casati. The collection, designed by Georgina Chapman, is available in the United States at Bergdorf Goodman, Neiman Marcus, Saks Fifth Avenue and specialty stores nationwide. Internationally it can be found at Harrods in London, Holt Renfrew in Canada, Joyce in Hong Kong, Alothman in Kuwait and other prestigious stores worldwide.
Here are my celebrity picks from the 2009 AMA (American Music Awards)!
Carrie Underwood: I love Carrie's entire look here: the dress, hair and makeup, but, the look is a bit soft and not so edgy rock and roll.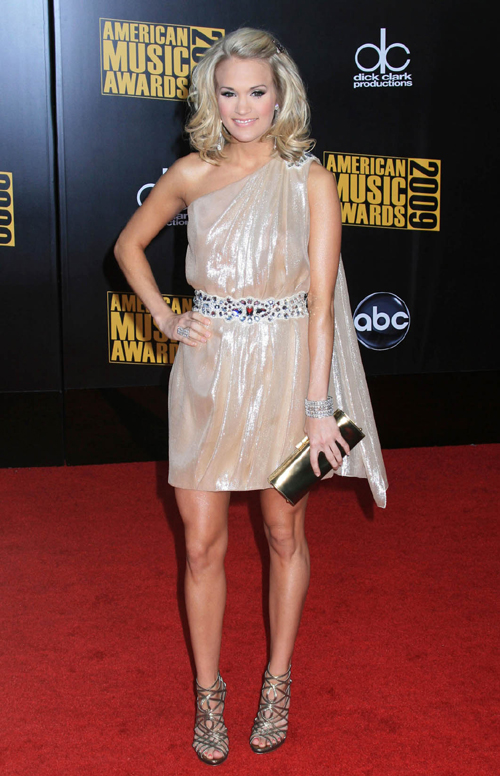 Fergie: Fergie's dark brown hair color is growing on me. I like the sparkly dress. Fergie's look here is a bit more rock and roll.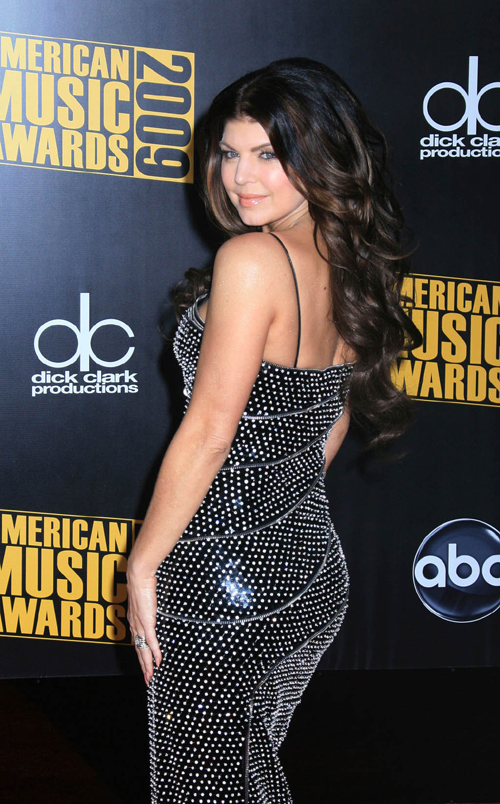 Shakira: My list is evolving in the order of edgy rock and roll. LOL. Number 3 is beautiful Shakira ("I get that a lot" that I look like Shakira. wow. Thanks guys:). Shaira's dress reminds me of a gladiator costume.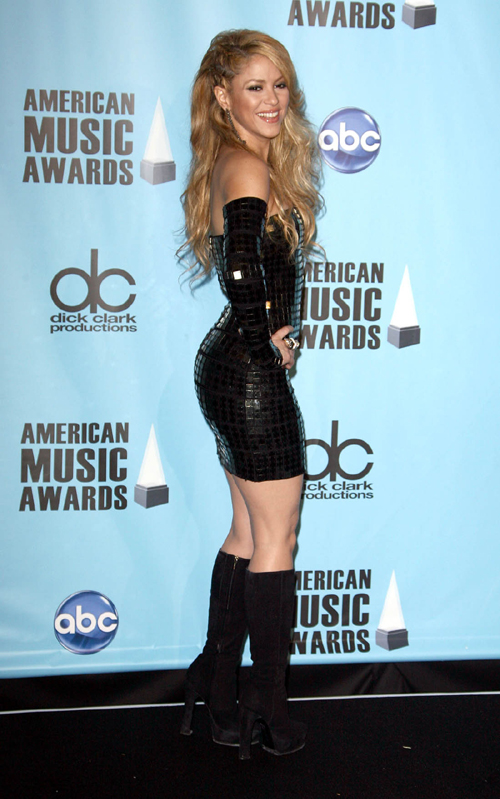 See more celebs at the 2009 AMA:
Celebrities Reese Witherspoon, Lauren Conrad, Courtney Cox and Fergie, and  were spotted looking beautiful last night at the Avon Foundation for Women Gala.
This is besides the point-Anyone watching ABC's "Cougar Town" staring Courtney Cox? The funniest and most entertaining show I've watched on TV since Sex And The City. Courtney does an amazing job playing her character Jules Cobb!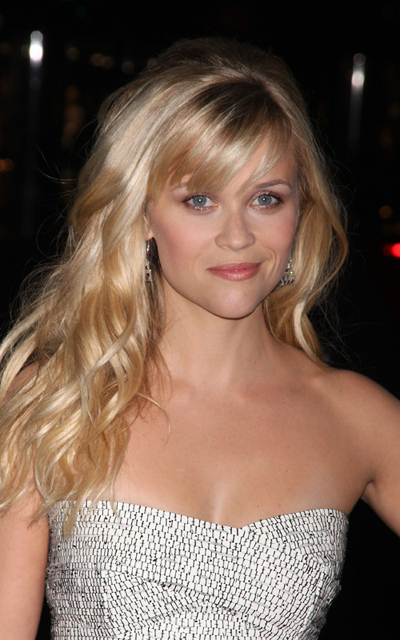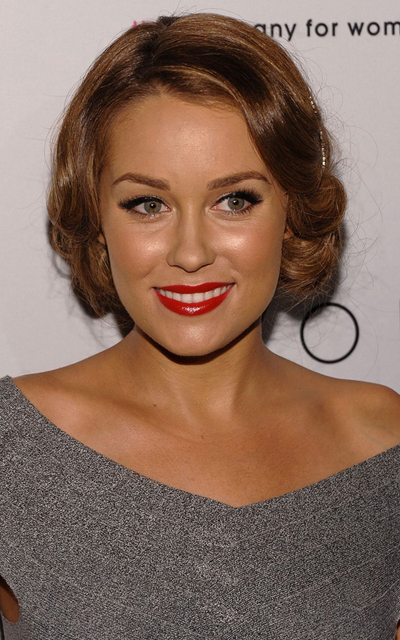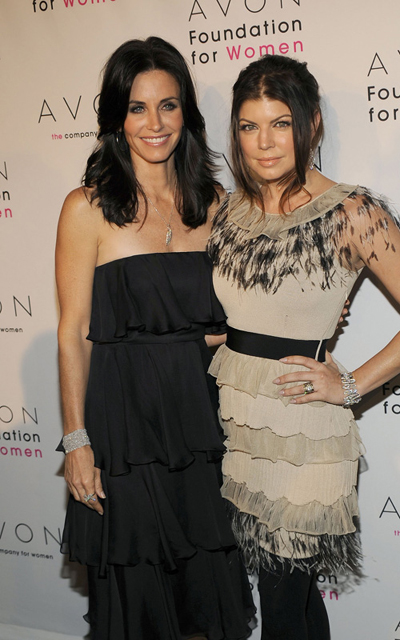 Celebrity images via celebrity-gossip.net
Avon Products Inc. has turned up the volume in the rising din of the celebrity fragrance fray by signing one of hip-hop's hottest acts — Black Eyed Peas frontwoman Fergie.
The multiyear deal comes on the heels of a record-breaking 26-week run at number one on Billboard's Hot 100 chart for the Peas' "Boom Boom Pow" and "I Gotta Feeling," and serves as Avon's answer to last summer's deal between Parlux Fragrances Inc. and musical heavyweights Jay-Z, Kanye West and Rihanna, not to mention Coty's latest coup in signing perhaps the greatest prize, Beyoncé Knowles.

Fergie walking the runway at the fall 2006 Heart Truth Red Dress event.
Photo By Talaya Centeno
Fergie, 34, whose real name is Stacy Ferguson, is the latest high-profile name to join Avon's growing cast of celebrities. The list includes Reese Witherspoon; Patrick Dempsey and his wife, makeup artist Jillian Dempsey; Courteney Cox; Derek Jeter; Jennifer Hudson, whose contract is due to expire, and in Latin America, Salma Hayek. Avon's designer alliances have included Cynthia Rowley, Christian Lacroix and Emanuel Ungaro.
Stars of 'Nine' Nicole Kidman, Marion Cotillard, Penelope Cruz, and  Kate Hudson grace the Vogue Magazine cover November 2009. This Vogue cover was photographed by Annie Leibovitz. The movie "Nine" directed by Rob Marshall is about a famous film director Guido Contini who struggles to find harmony in his professional and personal lives, as he engages in dramatic relationships with his wife, his mistress, his muse, his agent, and his mother. Release Date:25 December 2009 (USA).
Which "Nine" star on the cover of Vogue Magazine November 2009 is your favorite or is the perfect 10?:)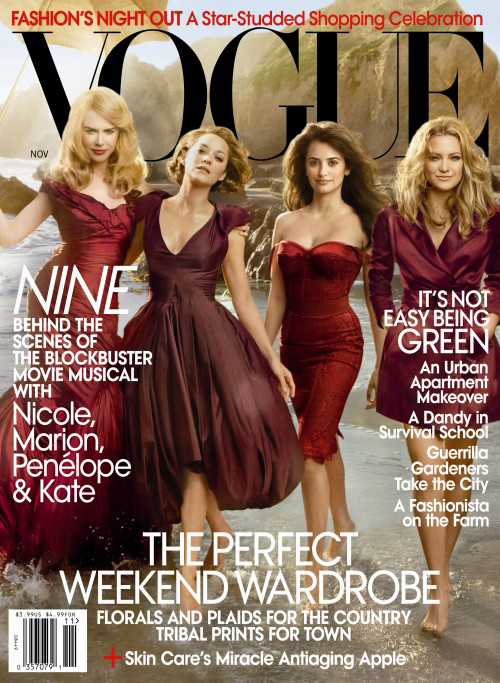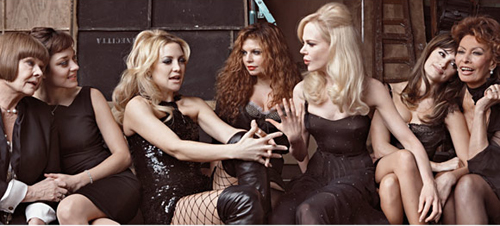 The Women of Nine [From Left]: Judi Dench, Marion Cotillard, Kate Hudson, Fergie, Nicole Kidman, Penélope Cruz, and Sophia Loren, at London's Shepperton Studios.