All Posts Tagged With: "Fresh"
Give Thanks with These Beautiful Buys …Only at Sephora
Now that you've satisfied your tummy with hearty eats, it's time to satisfy your craving for beauty! Beat the crowds this Black Friday and make Sephora your first shop stop for true holiday magic. From adorable stocking stuffers, to larger than life makeup sets and fragrance kits, Sephora is offering sweet steals and deals you and your wallet won't want to miss!
Check out these Black Friday finds:
· Kat Von D Painted Love Lipstick Gift Set ($34, $54 Value!) – This trio of rich, full-color lipsticks is perfect for creating a smoldering, sultry holiday look. NEW! LIMITED EDITION!
Watch: Follow Marta Walsh founder and editor of Talking Makeup.com and the rest of the Daily Makeover Beauty Bloggerati through the beauty boutiques of New York City.
The bloggers hit Kiehl's, L'Occitane, Lancôme, Fresh, and Space NK.
On my recent trip to New York City I've discovered some great new skincare brands and products, and I'm very excited to share them them you.
I love cleansing my face before bed and especially in the morning. I look for cleansers that are not too greasy or too irritating. I also want my cleanser to work effectively in removing makeup and refreshing my face.
Here is Marta's top face cleansers for this week:
Fresh Soy Face Cleanser Extra Gentle For Face And Eyes: Love this cleanser. It's very gentle, smells a bit like cucumber which is quites relaxing. It leaves my skin fresh, clean, and ready for my day. More great stuff: it contains high concentration of soy proteins packed with amino acids and antioxidants. SRP: $15 for 1.7 oz. $38 for 5.1 oz. Available at www.fresh.com & Sephora.com
Peter Thomas Roth Gentle Foaming Cleanser: Cleanser and makeup remover in one, with wheat amino acids and vitamins A C & E. This cleanser is soap-free, sulfate-free, alcohol-free, and fragrance free. A very gentle cleanser for anyone, especially if you have sensitive skin or like your products green. SRP: $32. Available at www.peterthomasroth.com & Sephora.com
I'm very excited to bring to you my interview with Christina Moore who plays Tracy Clark, Naomi's mom, on CW's Beverly Hills 90210. I've interviewed Christina for Talking Makeup's celebrity beauty section: www.beautyinterviews.com
Christina Moore also plays the role of Candy Sullivan, a nurse with a unique sense of duty, in an upcoming television drama on TNT called HawthoRNe, directed by Mikael Salomon. Jada Pinkett Smith is also starring on HawthoRNe.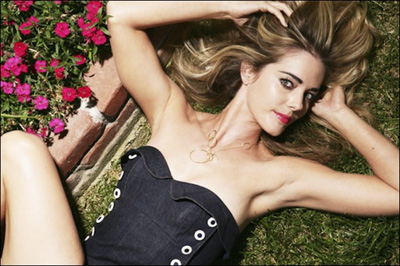 Photo Credit: Rudy Martinez.
Marta Walsh: How did you decide on a career in acting, and what were some of your first breaks as an actress?
Christina Moore: I loved the theatre. I got into a professional theatre troupe when I was in High School. We toured around the Chicago suburbs doing musicals. It was like a 2nd family for me. There is such a kinship in the arts and I knew I wanted to be a part of it forever.
I got lucky when I landed (alone) in LA. I was cast in a string of popular sit-coms all produced at the Warner Bros studio. (Friends, Suddenly Susan, Just Shoot Me, Drew Carrey) This led to me auditioning for Hyperion Bay, which was my 1st series regular job. I had only been in LA for 2 years at that point. And from there-I was off and running in television.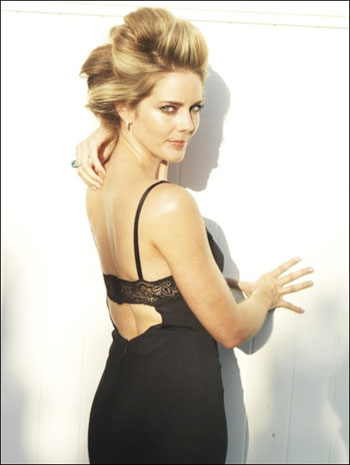 Photo Credit: Rudy Martinez.
This Earth Day, Wednesday April 22, Fresh is sharing the beauty with our Get More, Give More Earth Day special.
Fresh has always been committed to using natural ingredients. They are an integral part of the efficacy of their products. They connect us to time-honored beauty rituals of the past, and they keep us at the forefront of innovation.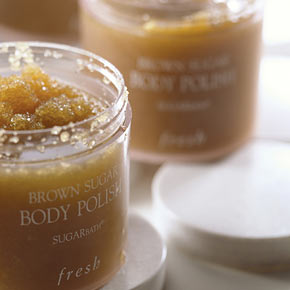 In honor of Earth Day, Fresh is creating awareness around five of our most iconic, natural ingredients: meadowfoam seed oil, rose, soy, sugar, and Umbrian Clay.
Fresh Brown Sugar Body Polish is a body scrub made with real sugar crystals soaked with soothing natural oils.  Fresh Brown Sugar Body Polish gently exfoliates your skin making it softer and more radiant.
Ingredients include: evening primrose, sweet almond oil, citrus oils, apricot kernel and jojoba oils, anti-inflammatory arnica and calendula, ginseng, peppermint, passionflower and white lily.  Cost: $62.50.      
Fresh Cotton Shampoo is an hydrating and volumizing shampoo.
Fresh Cotton Shampoo contains ingredients like: cotton powder, cotton seed oil, Moringa extract, sunflower extract, and camellia.  What you get is hair full of volume, good condition, and tamed flyaways.  Safe even for color-treated hair.  Cost: $26. 
Long full lashes 60's style are back in. And there is not a better way to achieve this look then stocking up with Supernova Mascara from Fresh.  Lev Glazman and Alina Roytberg are the geniuses who came up with this Fresh idea.  It all started when they couldn't find the perfect soap to sell in their apothecary-style beauty shop in Boston.  They realized they were on to something.  Perfect soap means a soap bar that not only smells and looks good but actually works.  Bar soaps were their first love but they then expanded into skincare, makeup, fragrance, home, hair, and body care.
Supernova Mascara by Fresh was first seen in InStyle Magazine on January 2005 issue.  This extra special mascara will give you the dramatic, glamorous lashes you always dreamt about in just one coat.  More good reasons to buy this mascara are as follows:  it comes with a unique mascara wand to optimize application and desired coverage, it is enriched with nourishing meadowfoam seed oil and strengthening linden bud extract to fortify lashes.  And lastly,  it is ophthalmologist tested.  Comes in Black shade and Costs: $25.