All Posts Tagged With: "Get The Look"
WATCH: Hair Extensions Tutorial by Jenny Balding stylist at the Cutler/Redken Salon in New York City. Host: Kelli Acciardo at Seventeen.com. Find out how easy it is to switch up your hairstyle at home!
For a night out, a smoky eye is the perfect accessory. With products from Rimmel London, it is easy to achieve and affordable!
Rimmel London Soft Kohl Kajal Eyeliner at Jet Black: Delivers a soft, smudgeable line and fade-resistant color that's easy to apply and great for creating smoky eye looks. This pencil gives dense color application, which can be blended into the lid for a softly smudged look.

NARS Makeup Tutorial On StyleCaster! Learn the secrets behind contouring with NARS artist James Boehmer!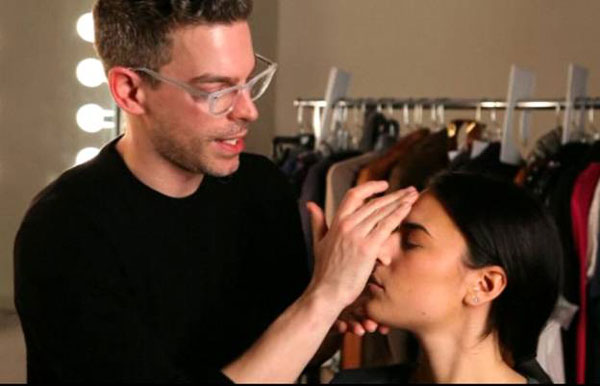 L to R: MARS International Lead Stylist James Boehmer and model
NARS teamed up with StyleCaster.com to bring to you exclusive makeup application tutorials. For the month of March 2010, Stylecaster will stream Beauty Beat videos featuring NARS International Lead Stylist James Boehmer. The first video, which launched on Friday, March 5th, 2010, gives step-by-step instructions on how to achieve a luminescent and contoured look using key products like the NARS Orgasm Illuminator and NARS Multiple Bronzer.
Check out Stylecaster for the video and stay tuned for more in a few weeks!
Backstage Makeup at Dolce&Gabbana Winter 2011 during Milan Fashion Week.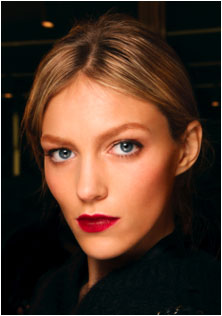 At the Dolce&Gabbana Winter 2011 Ready-to-Wear show in Milan, The Designers' showcased their Sicilian roots and fascination with "sartorialità" or tailoring, highlighting the jacket with keen focus on both perfection and sensuality. Dolce& Gabbana The Make Up added an aura of softness and seduction to each impeccable look, with washes of fresh, feminine color. On the runway, each model donned red lips and understated eyes created using Dolce&Gabbana The Make Up.
"This season, we took inspiration from our Sicilian heritage, and the art of traditional tailoring—sartorialità, " said Domenico Dolce. "The beauty look was all about modern feminine perfection, with impeccably pure, detailed touches, like the stained lip," added Stefano Gabbana.
New York Fashion Week. Show: Brian Reyes Fall 2010. Makeup by Bobbi Brown Cosmetics.
"The Brian Reyes girl for fall is modern and sophisticated from head to toe, but she has an edge, which her makeup reflects. She's a very cool girl who is comfortable in her own skin." –Wendy Rowe for Bobbi Brown Cosmetics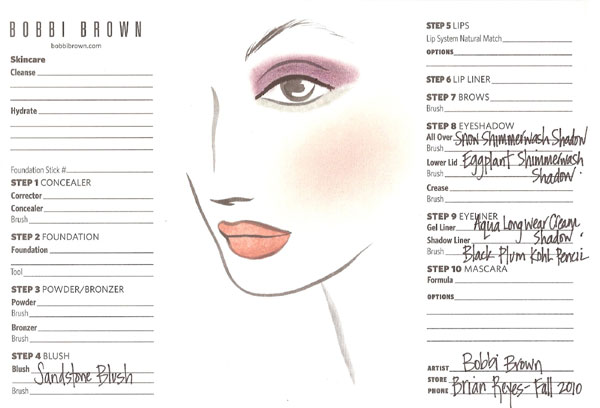 Brian Reyes Fall 2010 makeup face chart by Bobbi Brown Cosmetics
NEW Spring/Summer 2010 makeup collection from Avon: High Definition Color. The effect: extreme lases, brilliant liners and soft focus skin.
Avon Ultra Color Rich Mega Impact Lipstick High-Definition Lip Color for Mega Watt Drama. Developed with breakthrough color magnifiers, this new Mega Impact lipstick by Avon highlights and reflects true color for bright, vivid, high impact looks. Gilds on smoothly for hours and has SPF 15.

Expert makeup tips by Jillian Dempsey Avon Global creative Color Director and Hollywood Makeup Artist: "With Mega Impact, lips will really pop with color, so it's important to keep eyes simple. To avoid color overload, pair bold lips with a sheer shadow and black mascara for a sophisticated, glamorous look."
New York Fashion Week. Isaac Mizrahi AW 2010. Makeup by Val Garland for MAC Cosmetics.
The look and inspiration: "The theme was Siberian winter storm – we wanted the girls to look frosty, as if they had been caught in a snowy wind."– Val Garland

Isaac Mizrahi AW 2010 makeup face chart by MAC Cosmetics
The makeup breakdown. All products by MAC.
Eyes:
Eye Shadow in Vanilla – washed over the eyelid and into the crease of the eye
Select Cover-Up Concealer – applied to the lashes and brow to mute natural colour
Hourglass Cosmetics lead makeup artist Michael Pierce created the LA PERLA Fall 2010 Collection Preview makeup look. The preview took place at the Lehmann Maupin gallery in NYC on the first day of Fashion Week.
"LA PERLA is known for stunning, one-of-a-kind lingerie," say Michael Pierce. "Women simply feel beautiful when wearing their pieces and when creating the makeup, I wanted to reflect the inner-confidence and radiance that comes with wearing LA PERLA."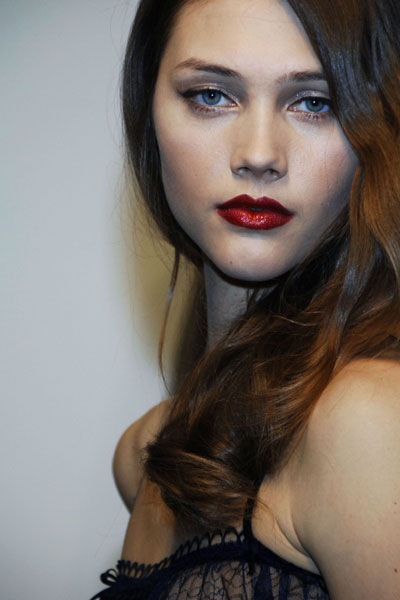 Makeup Tutorial:
For the LA PERLA collection, I was inspired by 40s Hollywood – Veronica Lake and other silver screen sirens. The focus is on a gorgeous, strong red lip, but a red that every woman can wear. LA PERLA is beautiful, sexy and feminine and nothing portrays a woman's beauty like the ability to wear a truly stunning red. Hourglass' "Raven" lipstick is gorgeous and sexy– and works for all women. To add to this look, the eyes are light with tight black eyeliner.
New York Fashion Week. Show: Tibi Fall 2010. Makeup with Bobbi Brown Cosmetics.
"The Tibi woman for Fall 2010 is always pretty, but doesn't know it, and didn't try to be. She's a youthful woman with round, soft features, but dramatic eyes. She is disheveled, yet elegant all at the same time…"-Wendy Rowe for Bobbi Brown Cosmetics

Tibi Fall 2010 makeup face chart with Bobbi Brown
Unaware of the beauty she possesses, the Tibi woman always exudes disheveled elegance in the most unintentional, yet glamorous way. A fresh, dewy face provides the perfect canvas for showcasing a 60s-inspired "cat eye" with winged liner and dramatically defined lashes. A bit of pink blush on the cheek and a nude lip polish off this soft, youthful look that marries pretty with powerful.
The makeup breakdown. All products by Bobbi Brown Cosmetics.
Skin: Hydrating Face Cream ($50), Hydrating Eye Cream ($45), Skin Foundation ($45), Tinted Eye Brightener ($38)
Aveda lead stylist Antoinette Beenders created a 1960's Parisian glamour "wave" updo using Aveda Control Force Hair Spray at the Christian Siriano Fall/Winter 2010 Fashion Week show in New York.
"The Christian Siriano hair look for this season is a Parisian chic updo—a surge of 1960's glamour." —Antoinette Beenders for Aveda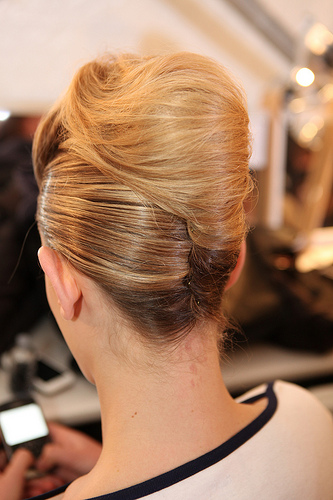 Q: What is the inspiration for your collection? What is the look you are capturing?
"The collection is inspired by 1960's Parisian women and the idea of getting dressed up from day into evening. It is a collection filled with effortless, soft, romantic shapes and silhouettes that compliment strong, structured jackets, coats, and cocktail dresses." —Christian Siriano