All Posts Tagged With: "Givenchy Spring 2009 Makeup Collection"
Today is a good day and I'm very excited! Talking Makeup and myself, Marta Walsh are featured in Glamour.com
Make sure to also check out Glamour Beauty section for other great stories!
Blogging Babes: Meet Marta of TalkingMakeup.com and BeautyInterviews.com

Photo Credit: Amber Rima McLinn Photography.
Usually, Marta Walsh, the sweet beauty addict behind the Talkingmakeup.com network of sites, does all the interviewing. In fact, two of her blogs, beautyinterviews.com and styleinterviews.com, are solely dedicated to that very thing. But I got this lady (pictured here with hair wizard Edward Tricomi) to agree to flip the tables here in Blogging-Babe-land and do some spillin' of her own. Keep reading to find out all about her, her makeup tips and the one product she thinks every woman should own.
TGBD: Tell me how you got into makeup? Was it something you took to right away in your pre-teen years or did the love come later?
Marta: My love for makeup began in my early teens. My classmates use to wear black eyeliner and a lipgloss. I wasn't allowed any makeup until I was 16, so I used to cheat now and then borrowing my big sister's eyeliner and pretend I'm wearing real lip gloss with ChapStick. Growing up in Israel we didn't have the variety of brands we have now, a lipstick from Revlon meant real luxury to me. Everything changed when I moved to New York City in my later teens, I felt like a kid in a candy shop. My obsession with trying every makeup and skincare brand just got bigger.
Watch Marta's video blog for today presenting the new Givenchy Spring 2009 Makeup Collection also knows as: Givenchy Maharani Spring 2009 Makeup Collection.
Givenchy Maharani Spring 2009 Makeup Collection was created by Nicolas Degennes, Givenchy's Le Makeup Artistic Director.
Products:
Givenchy Prismissime – 22 Maharani Apricots.
Givenchy Magic Kajal Eye Pencil.
Givenchy Sari Glow Iridescent Blush in 44 Maharani Orange.
Givenchy Pop Gloss Crystal in Rose By Night (Givenchy Holiday 2008 Collection).
Givenchy Rouge Interdit Satin Lipstick in 40 Maharani Rose.
Givenchy Precious Sari Glittering Eyeshadow in Maharani Silver & in Maharani Gold.
On my recent trip to New York City, I had breakfast with Givenchy! Yes, Givenchy, sounds a bit like 'breakfast at Tiffany's' right? Needless to say, that day changed my life. I know, I'm a bit over dramatic, but it's true. If you had the opportunity to meet and hear Givenchy's Le Makeup Artistic Director Nicolas Degennes I'm sure you too would  fall in love…with Givenchy, with makeup, beauty, and being a woman.
Nicolas Degennes presented us with Givenchy's Spring 2009 Makeup Collection or the Maharani Spring 2009 Collection and walked with us through his inspiration journey when creating this beautiful collection. Which in case was India.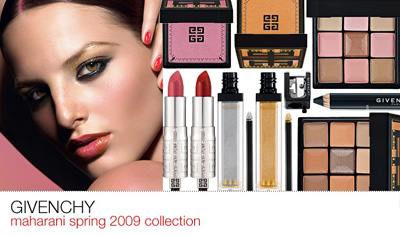 Nicolas' philosophy about makeup and beauty is all about freedom. The freedom to express yourself with makeup and be what you want to be, and the freedom to play with makeup. He told us many times at the meeting to please touch the makeup, feel it, don't be afraid to play with it and make it your own!
I'm wearing Givenchy today: Prismissime – 22 Maharani Apricots. Shade #5 from left to right on my eye lid and a bit on my crease, and shade #1 from left on my brow-bone and inner corner.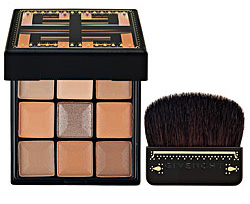 I've lined eye lids with one of the best eye pencils I've ever tried, Magic Kajal Eye Pencil! It is rich in pigment, glides on easily on skin, and lasts all day. Really, you have to try this! Nicholas Degennes told us at the meeting that in India both men and women wear an eye liner such as the Magic Kajal Eye Pencil to protect them from the sun!