All Posts Tagged With: "Hair Color"
Emma Stone's hair color. Emma Stone was spotted with a new blonde hairdo at the Trevor Live event in Hollywood, December 5, 2010. Do you love Emma's new blonde hair or you miss the red hair? BTW I hear Emma Stone is a Scottsdale AZ native (Talking Makeup & Marta Walsh's headquarters:).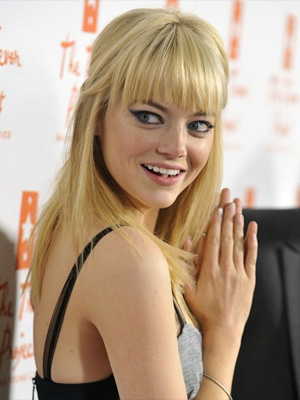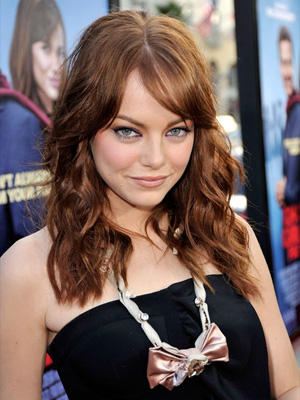 Super excited about the NEW Pureology colour stylist hair care collection. I simply love anything Pureology! The scent: vanilla, rose and mandarin promote a positive sense of well-being. Ingredients: naturally derived Keravis, exclusive blend of potent antioxidants and full spectrum UVA/UVB sunscreens, olive, camelina and coriander, and orange oil. Launch/Availability: November 2010 in salons nationwide.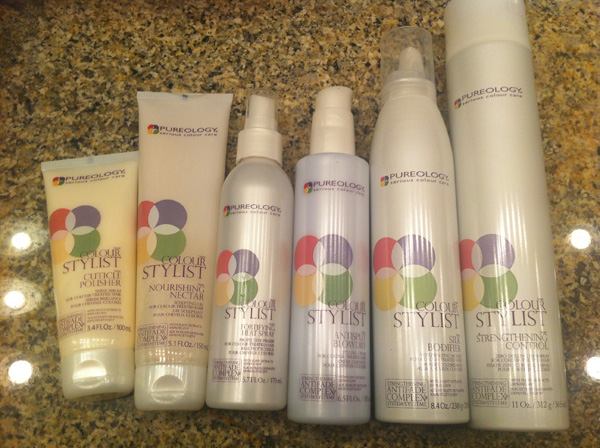 L to R: Pureology colour stylist cuticle polisher shine serum ($26), nourishing nectar sculpting gel ($26), fortifying heat spray protective primer ($22), antisplit blowdry styling cream ($28), silk bodifier volumizing mousse ($24), and strengthening control zero dulling hairspray ($24). Photo by Marta Walsh.
The Pureology colour stylist hair care line address all finishing needs from priming the hair to creating volume to perfecting blowouts while protecting your colored hair or hair color.
Clairol's Perfect 10 has launched their partnership with Jill Stuart during Jill's Spring 2011 show.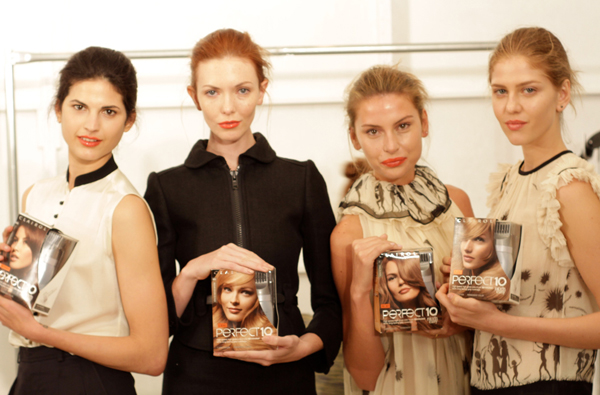 Clairol Color Director, Marie Robinson colored 5 models with Perfect 10, working closely with Jill to stay true to her vision for the show. Four of the models were their "runway to real-way" girls who represented Jill's and Marie's fashion and hair color inspiration for Spring 2011.
Red Carpet Hair Color. Prior to walking to red carpet at the 2010 Primetime Emmy Awards this Sunday, August 29, celebs attended a two-day star studded beauty haven at the Byron & Tracey Salon in Beverly Hills. Attendees received complimentary haircuts, blowouts, Redken color services among other pampering treatments. Tracey Cunningham, Redken Creative Consultant for Color, prepped Leslie Mann, Marly Shelton, Emma Stone, Anne Heche, Eva Amurri, Hilary Duff among many others.

To get Marly, Leslie and Emma's color, ask your colorist for the following Redken color formulas:
Take this quiz to find your ideal hair color for your skin tone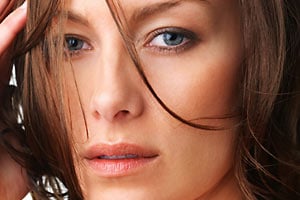 This is a TotalBeauty.com hair care article
Celebrity colorist Beth Minardi helps you find the most flattering hair color to enhance your skin tone.
Celebrity Hair Watch: Drew Barrymore got roots! Drew showed up with this hair color to the Going the Distance premiere in London, August 19, 2010. The roots seem intentional and a take on the 'Brazilian Beach Blond' look, or as they call it in Brazil (so I've been told): 'The California Beach Blond'. Whatever you want to call it, do you love?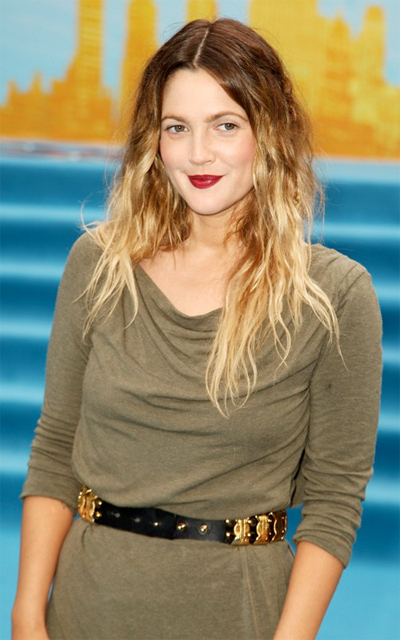 On my recent trip to LA I had the great honor to meet celebrity colorist Denis De Souza at Andy Lecompte Salon. At the beginning of this year I did a post about Rachel Bilson and her new hair color created by De Souza which attracted a huge following from Talking Makeup's readers. As a very inquisitive beauty editor with a good eye for spotting legendary talent this very handsome Brazilian born artist caught my attention.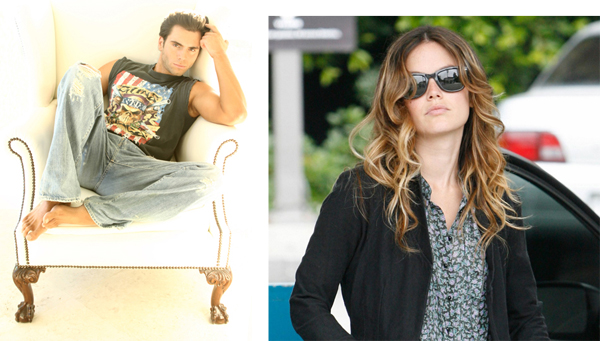 L to R: Celebrity colorist Denis De Souza, actress Rachel Bilson sporting the Brazilan Beach Hair Color done by talented Denis De Souza at Andy Lecompte Salon in LA
And of course my new discovery made me all 'fired up' for an interview. See, characters like De Souza inspire be because they take their art into a new level, they are innovators, or as I call it: they are a 'Style Genius'. I'm a sucker to new ideas and inventions and De Souza did just that. He invented a hair coloring method called: The Brazilian Beach Hair Color as seen on Rachel Bilson. Nylon Magazine has recently made an article titled: "who's your hair icon?", and miss Bilson was one of the mentions. Now, Denis De Souza is a new star born.
Fekkai's Adir Abergel created a feminine and flirty style for Kristen Stewart's David Letterman appearance and collaborated with Marie Robinson to change her hair color to strawberry blonde.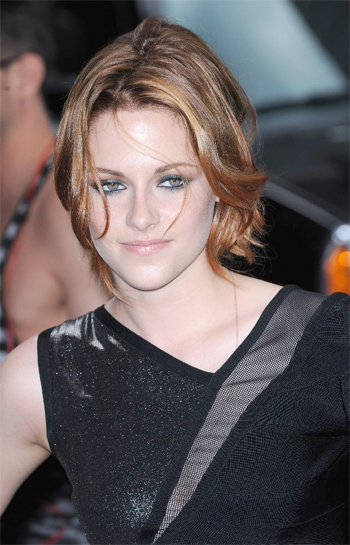 Here's how to get Kristen Stewart's Hair At The Late Show with David Letterman: Abergel started by applying the Fekkai Advanced Full Blown Volume Styling Whip at the roots and working throughout the hair. Using a round brush, he blow-dried the hair straight, and spritzed the Fekkai Advanced Brilliant Glossing Sheer Shine Mist for added shine. Adir curled the hair using a 1-inch curling iron, and sprayed with Fekkai Coiff Ocèanique Tousled Wave Spray to create the flirty texture. He then pulled the hair back loosely and secured it by knotting at the nape of the neck. To finish of the look, Adir sprayed Fekkai Advanced Sheer Hold Hairspray.
Celebrity hair makeover: Twilight superstar Kristen Stewart showed off her highlights outside the David Letterman show on Monday June 28th, 2010. Do you love or you just miss Kristen Stewart's mysterious dark hair?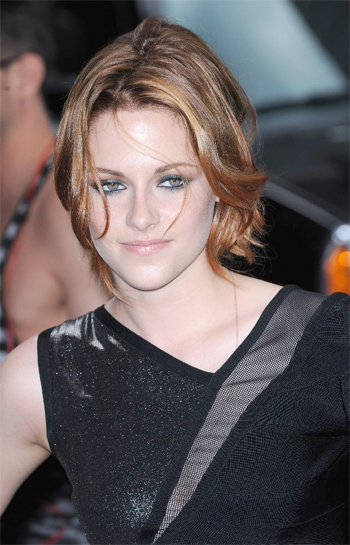 Shimmer into Summer with Redken's NEW Color Gels Gold Beige Collection.
"Clients love amazing haircolor!" explains Tracey Cunningham, Redken Creative Consultant for Color. "Redken's Color Gels Gold Beige Collection is ideal for me to use on Drew Barrymore to bring out her champagne shades with beautiful soft gold reflections."

Now Redken Color Gels is even more versatile and amazing! The new Color Gels Gold Beige Collection gives you three rich shades to create sophisticated, soft golden tones that are never too warm. This versatile, reliable haircolor provides exceptional gray coverage, from a few strands to high percentages of gray.