All Posts Tagged With: "Hair Spray"
I'm excite to share with you my interview with Avon Global Stylist Advisor Tippi Shorter.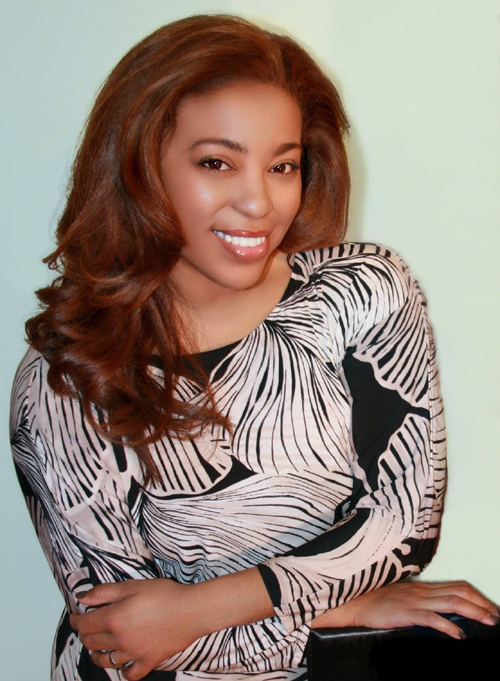 Tippi Shorter
In 1995 Tippi headed from home town, Long Beach, California to New York City, and within a year of her move she was asked to participate in a beauty feature for Essence magazine. Tippi opened Luxe Studio in Soho, but sold the successful salon after four years to pursue other career opportunities such as styling for photo shoots, music videos and commercials. Tippi is known for taming the tresses of A-list actresses, musicians, and supermodels including Alicia Keys, Rihanna, Jennifer Hudson, Beyonce, Jada Pinkett-Smith, and Vanessa Williams, to name a few! And while her beauty masterpieces are seen on the covers and editorial pages of In Style and Vanity Fair, Tippi remains modest and humble saying "I am not a celebrity hairstylist. I am a hairstylist who happens to have the opportunity to work with many wonderful celebrities."
Frederic Fekkai SoHo's Andre Rodman transformed the tresses of Sharon Stone, taking her from day to night . David Letterman to the Elton John AIDS Foundation's "An Enduring Vision"
Sharon Stone at the Late Show with David Letterman.  Inspiration: Sixties chic to match her vintage inspired Dior Dress.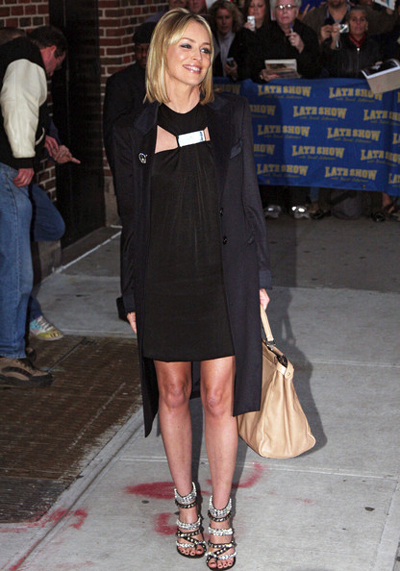 How to Get the Look: For David Letterman, Andre Rodman for Frederic Fekkai did a simple blowout using the Fekkai Extra Large Round Brush to get a stick straight bob. He parted the hair in the middle to frame her face, with a few wispy bangs falling to the front of her face. He created body and fullness at the crown using the Fekkai Full Blown Volume Spray. Finally, he finished the blow dry using Fekkai Top Coat Serum to finish the look.
I can't wait to get my hands on the new Jimmy Choo for H&M shoe collection! Did you know that Aveda did the Rocker Chic hair for Jimmy Choo for H&M launch party? Talking Makeup has the scoop on how you can get the look at home.
Show: JIMMY CHOO FOR H&M
Lead Hair: Ginger Boyle for Aveda, Planet Salon, Beverly Hills, CA
The Look: The look is very rock and roll—edgy and imperfect with thick, ruffled texture. A new flat-iron technique creates square-shaped waves for easy, rocker chic style.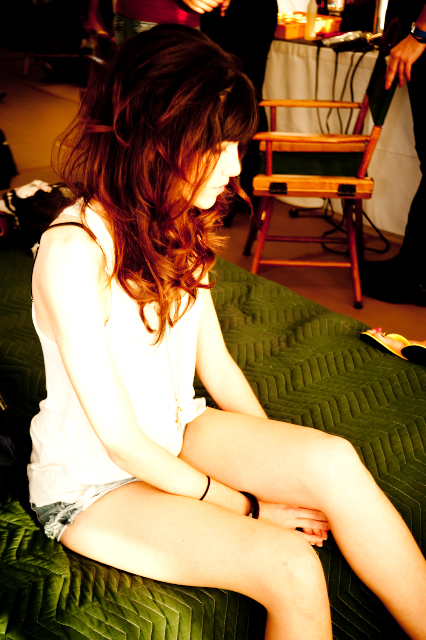 Get the Look/Step-by-Step:
Step 1: Separate hair into top and bottom sections, creating a horizontal line from ear to ear. Further divide the top section into two to three layers, depending on the amount of hair. Twist and secure each layer at the top of the head with a hair clip.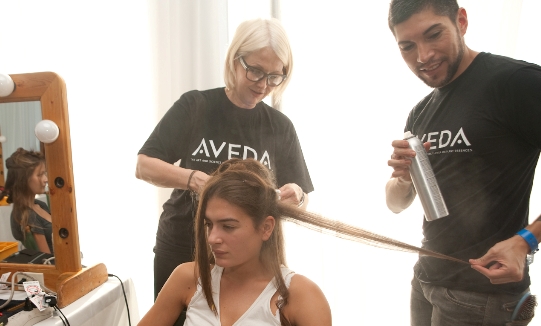 New York Fashion Week Spring 2010 Hair Trends Report:
Designer: Charlotte Ronson Spring 2010 Collection
Hair by: lead stylists Allen Ruiz for Avon Advance Techniques
Hair Trend: Classic Ballerina Chignon
Inspiration: The look mirrors the Charlotte Ronson collection, which is inspired by a remake of 80's style. The hair was created to evoke a fresh, young wispy look and a "just walked out of dance class at Julliard" look to play off her fabrics and bold designs.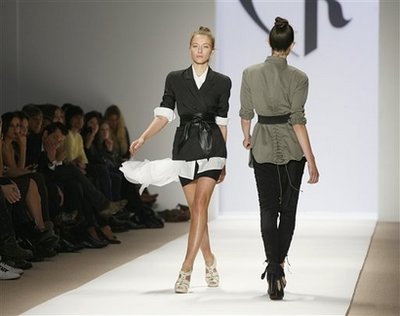 How to get the hairdo:
Step 1: Prep the hair from root to tip with Advance Techniques Salon Volume Finishing Spray to enhance natural shine and create volume.
Show: J. Mendel Sprong 2010 Collection
Lead Hair Stylist: Odile Gilbert for Moroccanoil 
Hair Trend: Volume, tons of volume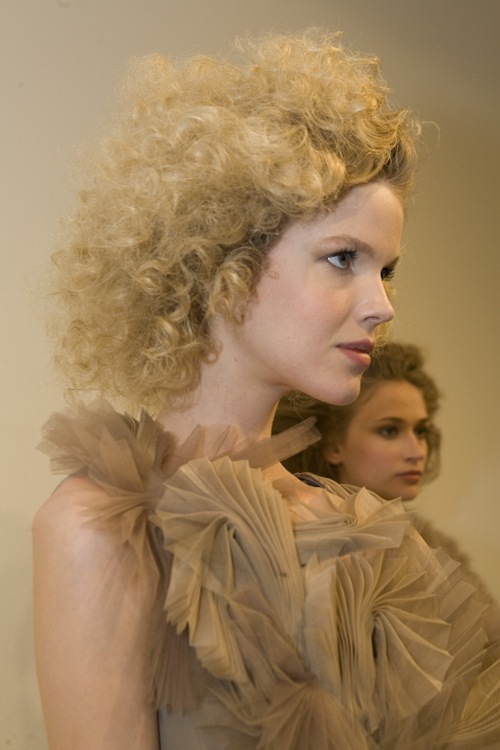 © David Webber for Moroccanoil
Inspiration: The swooping stacked cut lines of artist Noriko Ambe. The organic splendor of artist Tara Donovan. Citing these two biomorphic artists as his springboard for the season, J. Mendel designer Gilles Mendel cultivates a collection seeded in elegant technicality and fluid emotion. "It's the idea of using structured fabrics and adding an element of softness by using curved seams and intricate cut work," says Mendel. "Each piece is an emotion."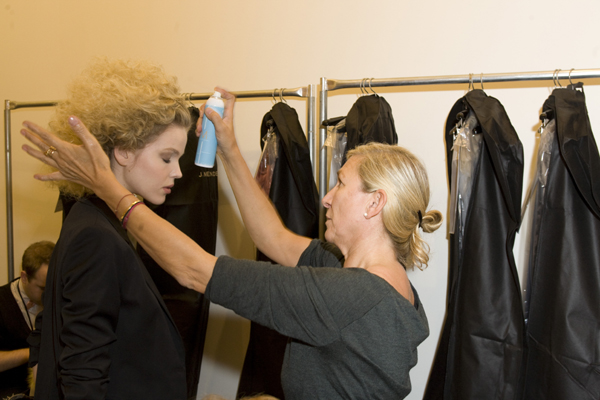 Odile Gilbert for Moroccanoil spraying the Moroccanoil Luminous Hair Spray, previewed at Fashion Week 7 available in December, 2009
© David Webber for Moroccanoil
Hair:  To mirror this dance between tailored precision and soft, sloping curves, and to evoke a feeling of ethereal airiness, stylist Odile Gilbert fashions a voluminous hairstyle that revels in the organic, chaotic nature of mussed curls. "It's all about volume — tons of volume — and a round, fluid shape. This look is very feminine." says Gilbert, adding "It's not feminine-frilly; rather it's femininity with a modern twist."
Debra Messing's head-turning look was one of the most beautiful seen at the 61st Annual Primetime Emmy Awards. Complimenting her dramatic red Michael Kors gown, star stylist Robert Vetica created a truly inspired low, asymmetrical ponytail shaped into a free-flowing cluster of curls that resembled an elegant chignon.
"It was all about style complemented by sensuous movement and healthy, natural-looking ease," said Vetica. "A smooth, shiny texture was the essence of the look."
The technique was as brilliant as the look, and was achieved without any curling or flat irons, using only Moroccanoil Treatment, Moroccanoil Glimmer Shine Spray, a blowdryer and a round brush.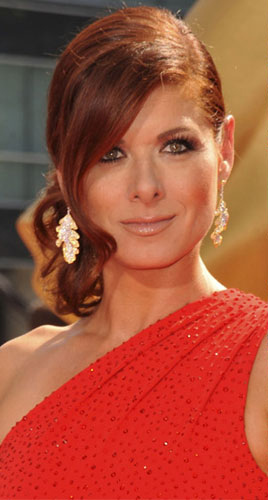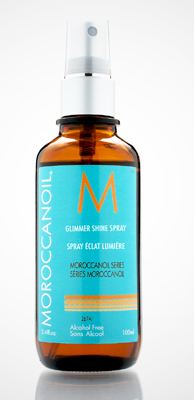 To ensure smooth, natural-looking and weightless shine, Vetica first generously applied argan-oil infused, original Moroccanoil Treatment to Messing's coarse textured, curly wet hair. "Her hair loves the ultra-light richness of Moroccanoil Treatment and it absorbs in instantly without any residue. There's nothing else like it for this kind of shine," said Vetica.
The Show: Carolina Herrera
The Trend: Fine-textured low twisted chignons with touches of delicate long strings of intricate seed-beads swept throughout strands of the hair.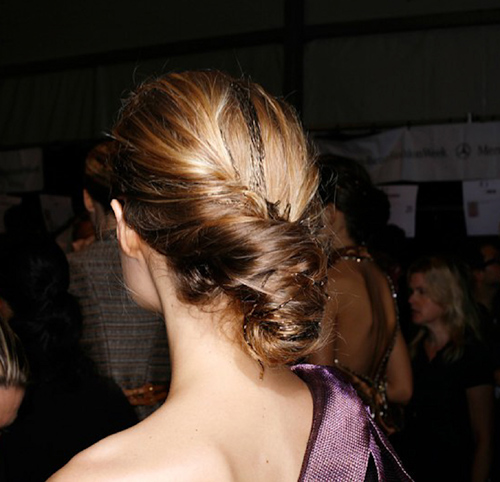 The Inspiration: The Carolina Herrera Spring 2010 collection was inspired by intricate forms woven in Japanese baskets. The texture of the fabrics and prints was taken from patterns found in the details of these baskets. Colors including amber, rose and caramel were drawn from the waning light cast at the end of a summer's day, with the luminous quality of this light reflected in the fabrics and embroidery used for evening.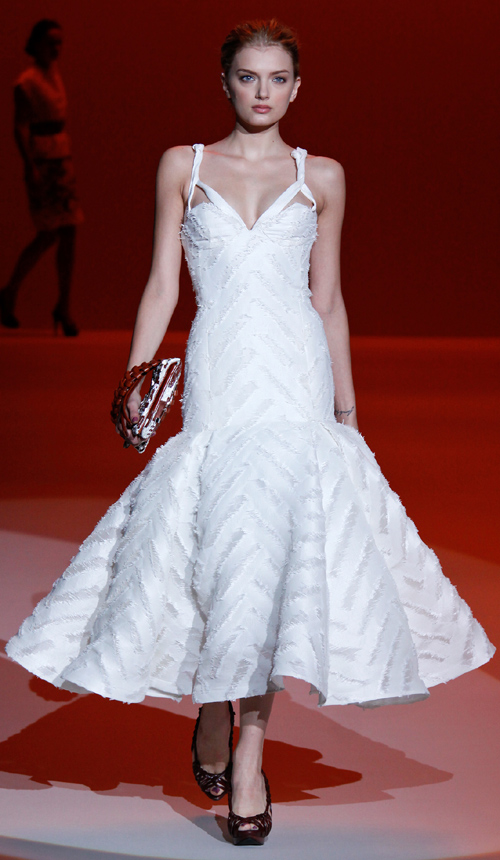 The Hair: Orlando Pita, using Moroccanoil, created beautiful, fine-textured low twisted chignons with touches of delicate long strings of intricate seed-beads swept throughout strands of the hair. The looks, created with Moroccanoil Hydrating Styling Cream, highlighted smooth elegance with a natural ease, texture and flow.
"We used argan-oil infused Moroccanoil Hydrating Styling Cream to prime the hair and give it a natural-looking, frizz-free texture with a soft hold," noted Pita. "The beads were designed to blend subtly through the hair; appearing almost as if they're embedded in the strands themselves." Pita plays with texture and keeps the look relaxed and piece-y, without stiffness or tight structure (Tip: Rather than using a brush to blow-dry strands, Pita mussed hair with his fingers as he blow-dried to enhance the tresses' natural separation and create further definition.)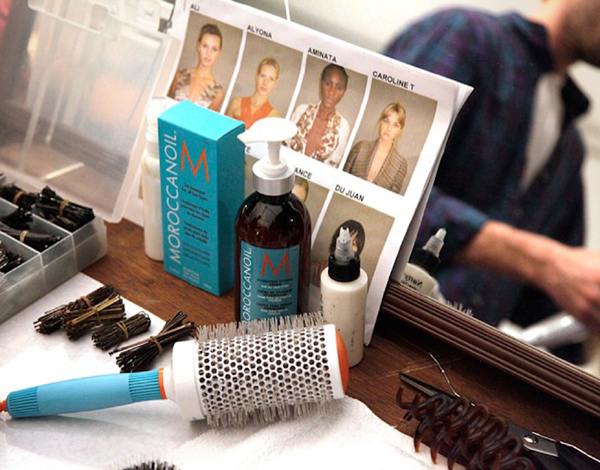 How to get the hairdo as seen backstage at Carolins Herrera:
Andy Lecompte Takes Leonor Greyl Products on Tour with Madonna!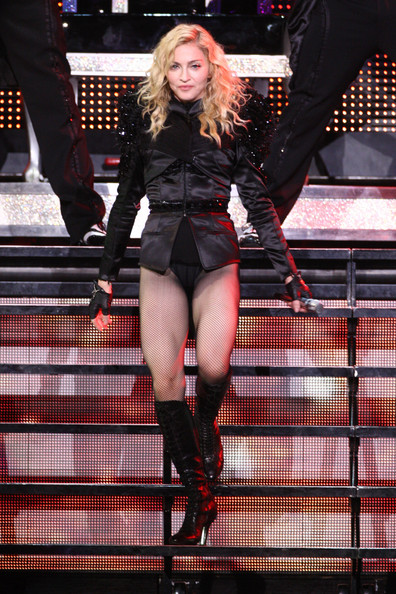 Madonna Sticky and Sweet Tour 2009..
Image via behindthehype.com
Celebrity hair stylist Andy Lecompte took the following Leonor Greyl products with him to use on Madonna during her current tour:
 Eclat Naturel styling cream for dry hair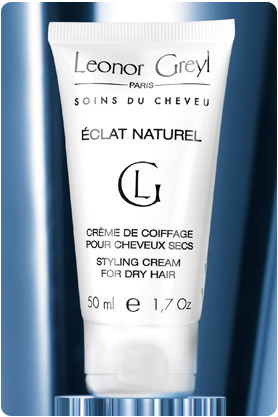 Laque Souple gentle hold setting spray
Attending for Damages, actress Rose Byrne hairstyle looked stunning at the 2008 Emmy Awards. Rose Byrne's hairstyle was created by Hairstylist, Adir Abergel for Fekkai.
THE LOOK: Old Hollywood loose finger waves accented by modern braids in the back that
 were intertwined into a low twist that rested at the nape of the head. The look came together beautifully with a little homage to the 20's and a
lot of the now.
HOW TO GET ROSE BYRNE'S HAIRSTYLE LOOK: Start by applying FEKKAI COIFF BOUFANT LIFTING & TEXTURIZING SPRAY on the
 roots and blow dry hair straight using a natural boar bristle brush.
 Create a strong side part. Then using a 1″ curling iron, curl the side
 bang and pin it into a pin curl.
 Once finished pin curling the bang, take a 1″ section from the top of the 
head and make a tousled french braid and twisted it into a low knot at the
 nape area. Pin in place. Finish the look with FEKKAI SHEER HOLD HAIRSPRAY and GLOSSING SHEER SHINE MIST to give it some sheen.
THE PRODUCTS ALL BY FEKKAI:
 Coiff Bouffant Lifting & Texturizing Balm, Glossing Sheer Shine Mist, and Sheer Hold Hair Spray.
America Ferrera's beautiful hairstyle seen on the red carpet at the 2008
Emmy Awards were created exclusively with Fekkai, and hairstylist Daniel Howell.
I actually love America Ferrera's hair style, it looks super glamorous and very old Hollywood.

Emmy Nominee America Ferrera:

Hairstyle by Daniel Howell for Fekkai.

THE LOOK: 
A modern day Veronica Lake with heightened definition and a defined wave 
pattern. Accented with a strong side part and pull back to one side.
HOW TO GET THIS LOOK: Start by applying FEKKAI COIFF DEFENSE THERMAL UV PROTECTANT to wet hair.
 Brush from roots to ends with the FEKKAI CLASSIC BRUSH. Spray FEKKAI COIFF
 BOUFFANT LIFTING & TEXTURIZING SPRAY through out and dry hair. Using a 3/4
inch curling iron start at the nape of the neck and wrap the hair from 
middle to root. Make sure all the hair is going in the same direction 
making it a repetitious pattern. Then use the next size curling iron on the ends of the hair. Go through the entire head from right side to left side.
Clip the hair into desired waves close to the scalp. Remove clips and brush out curls for a soft finish. Set with FEKKAI SHEER HOLD HAIRSPRAY.
THE PRODUCTS ALL BY FEKKAI:
Coiff Defense Thermal UV Protectant
Coiff Bouffant Lifting & Texturizing Balm
Fekkai Classic Brush
Sheer Hold Hair Spray.