All Posts Tagged With: "Halle Berry"
Halle Berry arrived with a short pixie hairdo to the 6th annual Keep a Child Alive and with a super hot dress. Halle's dress looks a bit Herve Leger to me, and this is just my wild guess.
Anyways, let's talk beauty guys: Who's loving Halle Berry's short haircut?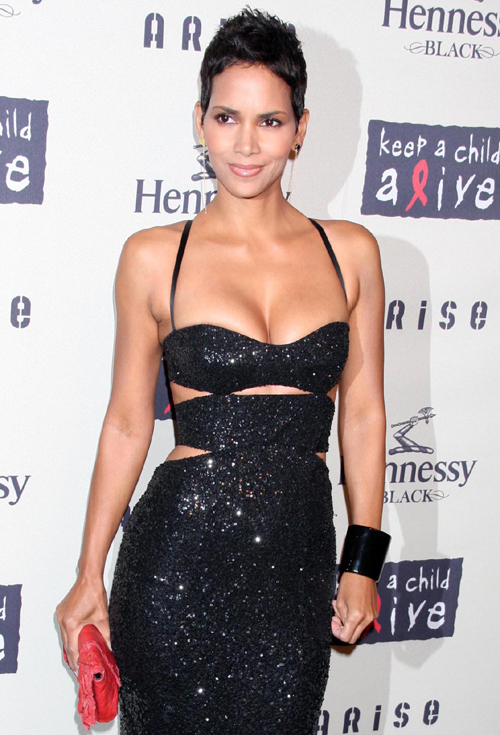 Last summer I had am amazing phone conversation with Khloe Kardashian. The interview was for Talking Makeup's celebrity beauty section: www.beautyinterviews.com
Khloe Kardashian and I chatted about her experience on her role on the show "Keeping Up with the Kardashians," and she even shared with me some of her best kept beauty secrets!
I would like to share with you my interview with Khloe Kardashian, just in case you've missed it last time.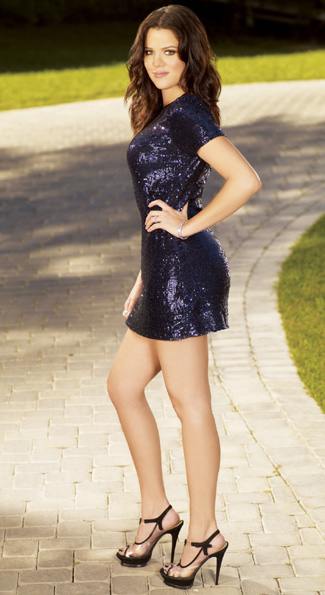 Khloe Kardashian is the youngest of the three sisters, Kim Kardashian and Kourtney Kardashian, who co-owns DASH, a high-end women's boutique, and SMOOCH, a children's clothing store in Calabasas, California. You might also know Khloe from her role on the show "Keeping Up with the Kardashians," which has quickly become an E! Entertainment fan favorite. In this interview Khloe talks about some of her beauty secrets: from her signature smokey eyes look to the lip gloss her and Kim Kardashian are obsessed about, her favorite city in the world, and future career plans.
Marta Walsh: How do you I keep your hair so beautiful?
Khloe Kardashian: I love Kerastase and all of their products. Once a week I use a deep conditioner on my hair by Kerastase because I get my hair done so much. I have naturally curly hair and I always blow it out.
MW: What are some of your favorite skincare products?
KK: I love Crème De La Mer. It's a really thick moisturizer and it's also good for your skin and body. And for soft moisturized lips I use The Lip Balm by La Mer also.
MW: Who came up with your signature smoky eyes look and what products do you use to achieve it?
KK: I don't really know when we came up with the smoky eyes look, but we were doing the smoky eyes forever. What we like to do a lot is to fill underneath the eye with a green or purple eyeliner, something fun so it's not so harsh. You can do smoky eyes with color, you don't always have to use black. We use MAC eye shadows, because they blend so well. I also like using navy eye liner so it's not so harsh as black. And it lasts forever. It's fun to do smoky eyes, it always looks so sexy. In daytime you can use a brown and make it darker with a charcoal or a black, and it keeps all day
Celebrity Makeup Artist Jackie Sanchez does make up for Tyra Banks, Alek Wek and Kimora Lee.
In this interview, Jackie Sanchez talks to Marta Walsh about her first breaks as a makeup artist, makeup philosophy, working with supermodel Alek Wek and tips to getting her look, what can we find in her makeup bag, and future plans.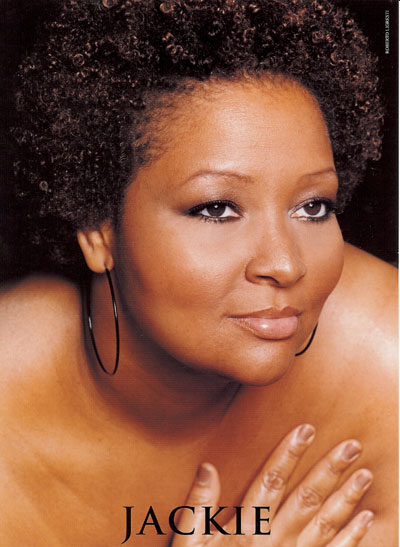 Jackie Sanchez
Marta Walsh: When did your fascination with makeup begin?
Jackie Sanchez: When I was 10 years old my brother got me a makeup kit called Scandia. It had eyeshadow, blush, lipstick, mascara, the works. I still remember opening that first box full of lipsticks!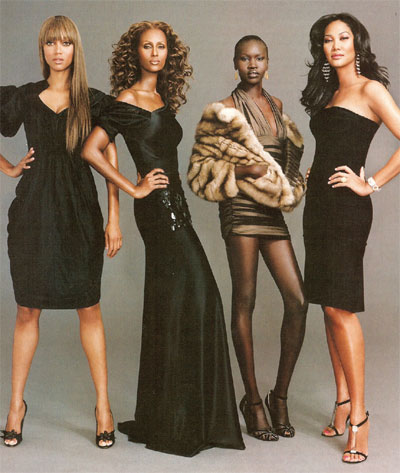 MW: How did you get your first big break as a makeup artist?
JS: There are so many exciting times that I can remember. I would have to say working with legendary author Toni Morrison opened many doors for me. Traveling with her, accompanying her on book tours, meeting the television elite such as Katie Couric, Diane Sawyer, and Charlie Rose, has been so exciting.
MW: What is your makeup philosophy?
JS: I definitely believe in "less is more". If you have nice skin why cover it up with heavy foundation and powder. Makeup should enhance your beauty.
Reveal The Woman Within: Halle Berry and Coty Beauty unveil a new fragrance for Spring 2009.
In Spring 2009, Academy Award winning actress, beauty and fashion icon, Halle Berry introduced her first signature fragrance called Halle by Halle Berry.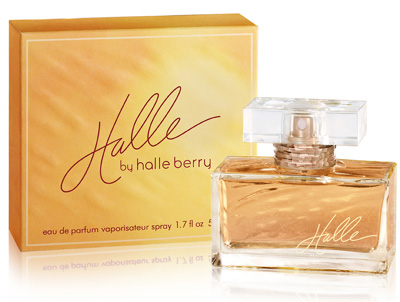 Inspired by Halle Berry's modern femininity and natural beauty, this new scent captures the spirit of a woman who is effortlessly sexy, stylish and elegant. Unique and powerful, much like the creator herself, this fragrance will resonate amongst all women around the world, inviting them to reveal their inner beauty, sensuality and strength of character.
"For years I have created my own personal scents by mixing and layering fragrances, trying to come up with something unique and different. It's a wonderful form of self-expression and I am thrilled to be working with Coty on my debut fragrance," said Ms. Berry.
Halle Berry is sporting a shorter hairstyle at the X-Men Origins: Wolverine screening. I can't tell for sure if it's actually cut short or the hair is just pinned back.
Halle Berry's hairstyle and color seems to be constantly changing within a short period of time. How does she do it? Regardless, Halle always looks pretty short hair, long hair or any hair. Lucky gal:)
Images via: www.hollywoodtuna.com
Halle Berry graces Harper's Bazaar Magazine May 2009 Cover.
Halle Berry's hair on the cover of Harper's Bazaar may 2009 cover is lighter than ever. I actually love Halley in longer hair, it's a softer look. Remember she used to a very short boy hairstyle…
Tell us what you think: Which hairstyle do you prefer on Halle Berry: short or long?
Oscar winner Halle Berry has developed her first fragrance: Halle by Halle Berry.  Berry, who was reportedly "mixing her own" blends prior to developing her signature fragrance, says the new fragrance is "a real, true expression of who I am".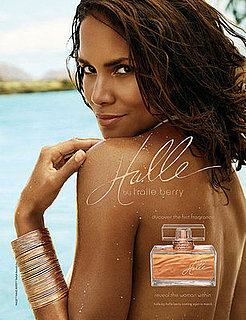 Halle by Halle Berry Perfume ia a woody oriental type of fragrance. Halle collaborated on with Coty, and the perfume is scheduled to hit shelves early March 2009.
Halle by Halle Berry perfume main notes are: mimosa and fig essences. Additional notes include bergamot, pear blossom, freesia, hibiscus, ultra mimosa, sandalwood, driftwood, cashmere musk, olibanum and sensual amber. Halle by Halle Berry will be available in 15, 30 and 50 ml Eau de Parfum and in matching body products.
via: Now Smell This
The ever beautiful Halle Berry is on the cover of Essence Magazine March 2009!
Halle Berry is looking absolutely gorgeous in Essence. I love her hair which gotten a bit longer and a bit lighter. Makeup is very neutral and doesn't interfere with Halle's natural beauty. This girl doesn't need a lot of makeup!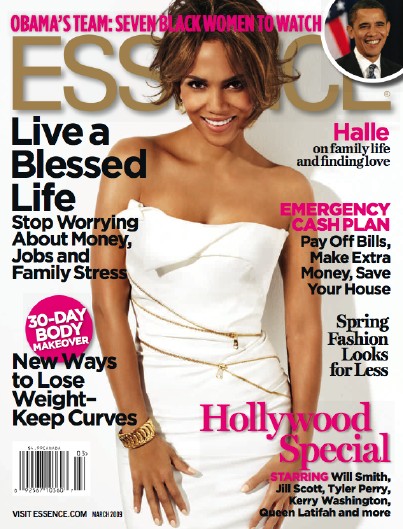 Academy Award-winning actress Halle Berry graces the March 2009 cover of ESSENCE (for the seventh time!) for our annual Hollywood issue. CNN's "American Morning" correspondent Lola Ogunnaike talks to Berry about her upcoming movie, "Frankie and Alice," remaining a successful Black actress in Hollywood and playing her most important role-being a mom to her 9-month-old daughter, Nahla.
Here are photos showing some of Halle Berry's hair styles.
Now you decide, which Halle Berry hair style is your favorite?

Halle Berry has been recently sporting a very natural Afro hair style on the set of her latest movie 'Frankie and Alice'.
See more Halle Berry hair style here: