All Posts Tagged With: "Hourglass Cosmetics"
Hourglass Cosmetics 2017. Precision color meets luxurious hydration with the Hourglass Cosmetics GIRL Lip Stylo, which features the color intensity of a lipstick fused with a luxurious blend of shea butter, jojoba, mimosa and sunflower seed for the appearance of softer, fuller lips. The precision tip allows for easy and precise application throughout the day without the need for sharpening, perfect when you're on the go! GIRL Lip Stylo is available is 20 shades and retails for $32.
SNEAK PEEK TO…beauty looks created by makeup artist Moani Lee for Hourglass at the La Perla fall 2013 presentation. The collection, which featured lace, tulle and silk designs, was unveiled on Thursday, February 7 at The Gallery at Dream Downtown in New York. La Perla designer Giovanni Bianchi looked to Spain for inspiration, specifically the moody color palette of painter Francisco Goya, and the embellished livery of bullfighters. "I wanted to capture the sensuality and the strength of the woman wearing this decadent lingerie," says Lee, who focused on elegant brows, radiant skin and dramatic lips worthy of an Almodóvar heroine.
Hourglass Makeup how to
Jessica Alba and Emily Blunt in Hourglass Cosmetics Makeup at the 2013 Golden Globes.
EMILY BLUNT
In a gilded dress by Michael Kors, Emily Blunt more than lived up to her reputation as a Hollywood golden girl. The actress, nominated in the Best actress, Musical or Comedy category for Salmon Fishing In The Yemen, "definitely had something in mind as far as the look," says makeup artist Jenn Streicher. "Emily wanted smoky eyes paired with soft pink lips that echoed her Lorraine Schwartz ruby earrings."
I'm all about Hourglass Cosmetics these days. What I like about it is that they take out a lot of the ingredients that bother me sometime in cosmetics, such as: oil, parabens, petroleum lanolin, etc. They are innovative and of course fashion forward. Here's their latest: the Hourglass Ambient Lighting Powder.
Ambient Lighting Powder, a groundbreaking collection of finishing powders that emulate different lighting effects, from ethereal moonlight to luminous candlelight. This is not your mother's finishing powder. Unlike traditional powders that merely sit on the skin, Ambient uses "photoluminescent technology" that refracts light, creates transparent coverage and renders the skin gorgeously radiant. There are six universal powders available and each has a corresponding lighting effect. Choose one or more and then step into the light. It's the equivalent of having a personal lighting technician at your disposal. Paraben, talc, fragrance, nano-particles and gluten free.
Cameron Diaz was a luminous presence at Tuesday's UK premiere of What To Expect When You're Expecting. Makeup artist Emma Lovell used Hourglass Cosmetics to create her leading lady look with a focus on dramatic eyes, plum lips and radiant skin. "The makeup was designed to complement Cameron's cream Stella McCartney jumpsuit, her choppy blonde bob and her dramatic earrings. I wanted a cute feline eye to be the main attraction, keeping the lips pretty and fresh with a plum stain."
How to get Cameron Diaz' makeup look
New Hot Makeup: Hourglass Cosmetics' Fall 2010 launches – Film Noir Full Spectrum Mascara and a brand new lipstick collection – Femme Rouge Velvet Crème Lipstick. Both were a collaboration between Hourglass founder Carisa Janes and Artistic Director Gina Brooke. In case you are not familiar with Gina, she is Madonna's uber-talented makeup artist and has worked with a lot of other A-list celebrities such as Anne Hathaway and Naomi Campbell.

Gina Brooke with model
Summer is right around the corner and everyone is looking for the perfect bronzer to create a luscious brown tan. Hourglass Cosmetics is launching a brand new product for summer, Illume Crème-to-Powder Bronzer Duo in Sunset ($40), a bronzer and blush in our gorgeous, signature swivel compact. Paraben, fragrance, oil and wax free, Illume's formula creates a soft, velvet finish and stays fresh on skin all day without blotching or streaking. It also features vitamins A & E to provide moisturizing and antioxidant benefits.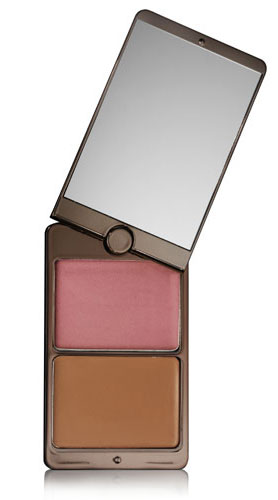 Introducing Prodigy Lip Gloss Collection for Spring by Hourglass Cosmetics!
I've discovered the Hourglass Cosmetics on my last visit to Barney's New York here in Scottsdale Arizona and fell in LOVE. Their lip gloss is super glossy, come in hot shades, and super glam!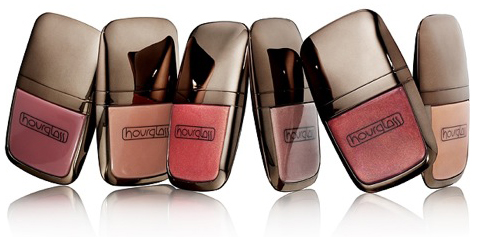 Prodigy by Hourglass Cosmetics is a line of lip glosses that come in the most adorable packaging – a flat "tube" that conveniently fits into a clutch or back pocket. So cute and practical! Available in a range of stunning shades, Prodigy is truly the perfect "it" accessory this spring. The Best Part: "Tube" features a metalized outer shell to conveniently fit into the palm of the hand or slip into a back pocket or clutch. Silky and non-tacky texture provides high shine and comfort. Enhanced with Vitamin E to hydrate and protect the lips from becoming chapped and dry.
Offers superior water-resistant color. Paraben-, sulfate-, phthalate, and fragrance-free. Available in Eden, Hypnotic, Legend, Opium, Pulse and Surreal.
Retails at Sephora.com on 2/18/2010
Talking Makeup loves new makeup brands.  Just more new makeup products to explore. Here is a good one, Hourglass Cosmetics created by Carisa Janes.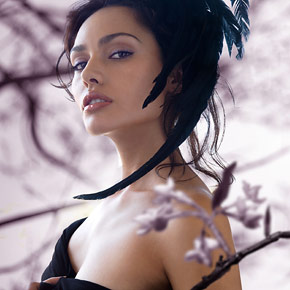 Hourglass Cosmetics Sheen Reflective Lipgloss is a luxury lip gloss.  What makes Hourglass Cosmetics Sheen Reflective Lipgloss special is that its water-resistant, smooth and non-sticky.  Comes in 5 hot shades like: Beach, Creation, Primal, Truth, and Verse.  Cost: $26.