All Posts Tagged With: "House Of Holland"
London Fashion Week SS 2011. Designer: House of Holland. The Makeup Look:  "The look was inspired by Brooke Shields in blue lagoon but pushed further with a strong concentration on the cheeks." Lucia Pica for MAC Cosmetics.

MAC makeup face chart for House of Holland SS 2011
How to using all MAC products:
Eye
Clear lip conditioner – dabbed over the eyelids. Clear brow set – brushed up through the brows. Impeccable brow marker – sketched through the brows in an upward motion.
Here are some of the MAC Cosmetics makeup look for London Fashion Week Autumn/Winter 2009:
DESIGNER: Giles
ARTIST: Miranda Joyce
"The collection is quite structured so I wanted the look a bit undone-that's why we purposely smudged the lip a little bit. It's a true bright matt-ish red but patted on so you get this soft, sexy, mouth."-Miranda Joyce.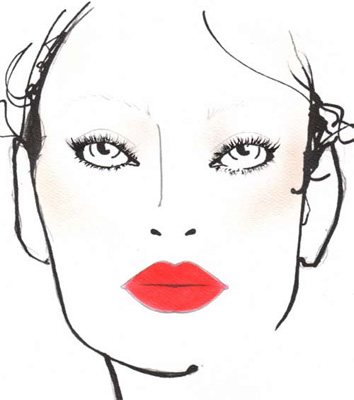 Eyes: Clear brow set-combed through brows. Plushblack Plushlash mascara-applied lightly to top lashes.
Skin: Studio Sculpt SPF 15 Foundation-blended into the skin. Prep+Prime Loose-Applied to set foundation. Luna Cream Colour Base-Blended as a sheer highlight onto the inner corners of the eyes, bridge of nose, forehead and wrapped around tops of cheek bones to accentuate the nudity of the face.