All Posts Tagged With: "Interview with Bridget Marquardt"
Beauty Interview has an exclusive interview with Bridget Marquardt of the popular TV show The Girls Next on E! Networks.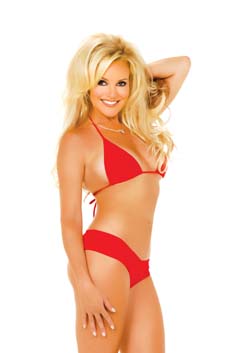 If you are in love with Bridget like we are you might want to also read about some of her beauty secrets.  Did you know that Bridget is working on her own Radio show called: The Bridget and Wednesday Friday Show on Playboy Radio/Sirius 198.  Bridget also developed her own perfume called simply: Bridget.
Here are some highlights form Bridget Marquardt's interview with Beauty Interviews:
I keep my hair beautiful thanks to… products by Frederic Fekkai. I love to use his "Protein RX" shampoo and conditioner. I also love their new line called "More" which aids in hair growth. In addition, I use vitamins by Phyto for strong healthy hair.
I get my eyelashes looking long, full, and sexy using… I always use MAX aqua lash in jet black. I use waterproof mascara no matter what because my eyelashes are very long and after blinking a few times mascara ALWAYS leaves a mark.
The celebrity I find most beautiful is… Charlize Theron and Catherine Zeta-Jones.

My signature fragrance is… "Bridget", seriously! I was able to develop my own line of perfume and bath products! I love it. It is sweet enough to eat. 
To read Bridget The Girl Next Door star full interview visit Beauty Interviews or click here !