All Posts Tagged With: "January Jones"
Actress January Jones wore a Yoana Baraschi knit top for an informally-chic ensemble walking around LA! Jones is in a Yoana Baraschi African Queen Tank in French White.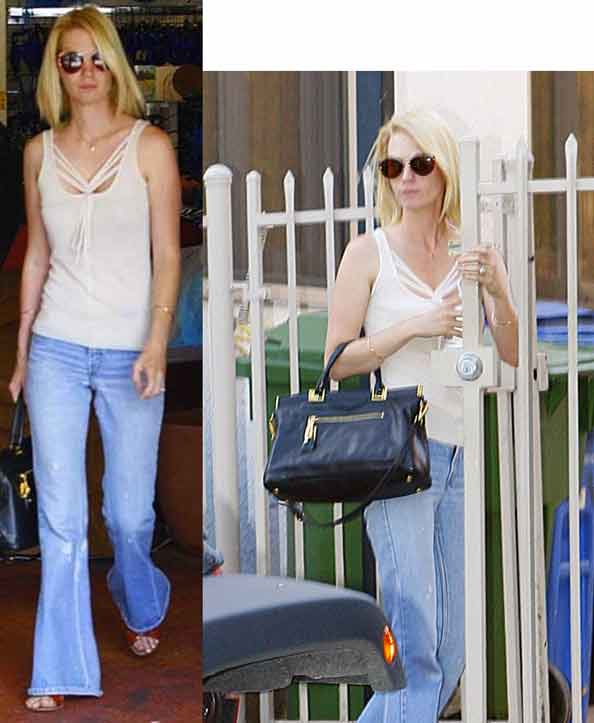 Similar styles available at www.yoanabaraschi.com
As promised, Talking Makeup has the World Oceans Day dive video with Oceana Spokeswoman January Jones sponsored by La Mer. Today, June 8th, 2010, marks the second official (UN) World Oceans Day.
January Jones was wearing CHANEL Beauté at the 2010 Costume Institute Gala, Monday, May 3, 2010, at the Metropolitan Museum of Art New York, NY. Makeup Artist Rachel Goodwin created January's makeup look for CHANEL. Beauty Inspiration: "The inspiration for January's look was her dress. I wanted the makeup to be dramatic with a futuristic edge."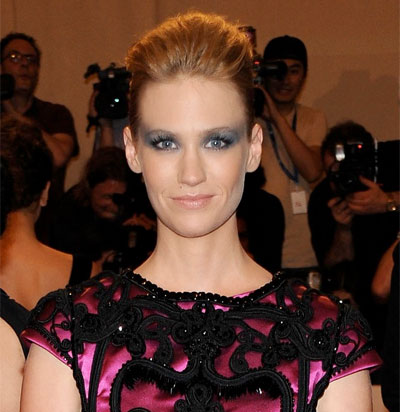 Beauty Tip: Makeup Tutorial
Rachel prepped January's skin with CHANEL Sublimage Fluid. She used shades of blue and grey from the CHANEL Quadra Eyeshadow in Bleu Celeste all the way up into the eyebrow and toward the hairline as a bold singular statement. Her lips were totally nude but hydrated with CHANEL Rouge Allure in Mythic and the cheeks were sculpted with CHANEL Moisturizing Bronzing Powder in Terre Ambre – no blush colour.
GET THE LOOK: January Jones' dramatic hair look at the 67th Annual Golden Globes Awards, created by top celebrity stylist Mark Townsend, introduced a new, modern take on red carpet style.
The Look & Inspiration: Inspired by her gorgeous black Lanvin dress, Townsend created a head-turning look that was boldly accessorized with a sleek black ribbon headband. "As soon as I saw the dress I knew I wanted to put her hair up," said Townsend, "and I think that adding the satin ribbon as a headband gave a classic French twist with a very modern edge."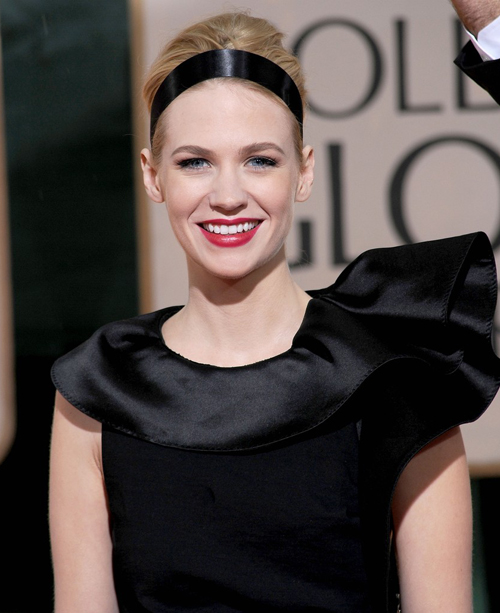 Here's Mark Townsend's hair tutorial on how to get January Jones hairdo at the 2010 Golden Golbes:
I started by applying a small amount of Moroccanoil Treatment to January's damp hair and blow-dried it with a round brush. This unique argan oil-infused formula gives the hair amazing shine and silky finish, an essential to the look I had in mind.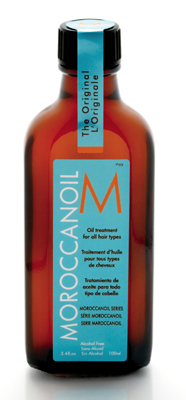 When the hair was dry, I took a dollop of Moroccanoil Hydrating Styling Cream into my hands and then finger combed the hair to give a soft hold and add even more shine and leave the hair extremely smooth.
GET THE LOOK: January Jones was wearing CHANEL Beauté at the 67th Annual Golden Globe Awards. January's makeup look was created by Makeup Artist Rachel Goodwin.
Beauty Inspiration & The Look: "January's Golden Globes makeup was all about taking a fresh approach to the classic red lip."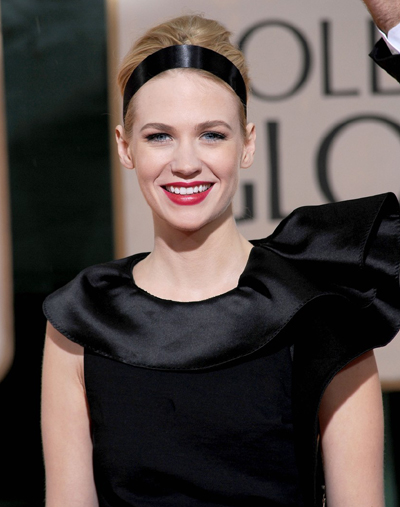 Beauty Tip: "I used Le Blanc de CHANEL under her base to create luminous 'glowing from the inside' porcelain skin, then treated her lips with CHANEL Hydramax + Active Lip Treatment before applying CHANEL Rouge Coco Lip Colour in Paris – a gorgeous garnet red from a new lipstick line launching in March. I painted the finest black line on her upper lid with CHANEL Automatic Liquid Eyeliner in Noir and shaded under her eyes with CHANEL Intense Eye Pencil in Graphite in the outer corners. I finished her look by layering lots of different false eyelashes then added Exceptionnel de CHANEL Noir Obscur Mascara over the top for an intense black lash line."
Lana Horochowski, Department Head of Makeup for Mad Men, loves using NARS on the cast-members of Mad Men. "I love, love, LOVE the NARS Velvet Matte Lip Pencils because they are long-lasting and give that perfect matte finish that is so authentic to the time period," says Lana. "In the past, we used mostly cream cheek color because that was used in the period. Since powder blush was invented in 1963, we were finally able to throw it in for this season!"
Below are details on what Lana has used to create the looks for January Jones' Betty Draper and Christina Hendricks' Joan Harris.
Betty Draper, January Jones: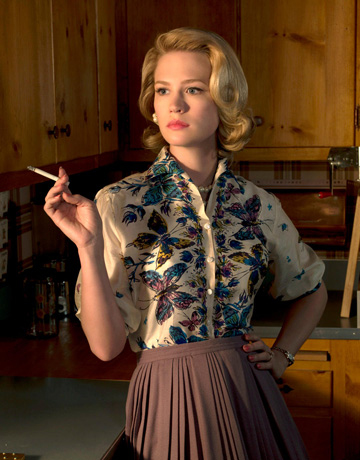 "January's character Betty wears NARS Madrague Duo Eyeshadow in almost every scene when she is at home. "It's a staple," explains Lana, "but when she goes out, we spice it up with color." To add emphasis to her eyes, Lana adds NARS Heart Of Glass Eyeshadow. For her lips, she uses NARS Calliope Velvet Matte Lip Pencil and NARS Belle de Jour Velvet Matte Lip Pencil. "I also love Barbarella Lipstick on January because it's perfect for her every day look." For blush, try NARS Penny Lane Cream Blush, NARS Gueule de Nuit Cream Blush, and NARS Gilda Powder Blush!
Mark Townsend, Matrix's celebrity stylist, helped "Mad Men" star January Jones get glam for the 2009 Emmy Awards on Sunday, September 20, 2009. According to Townsend, "working with January for any event is always going to be fun and inspiring."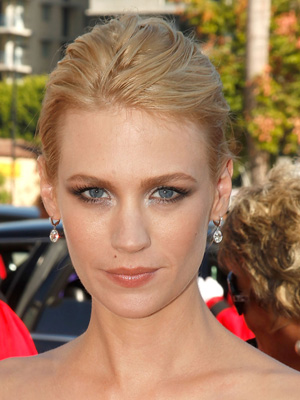 Mark was blown away with the detail and craftsmanship that went into making January's stunning Versace gown. "While getting January ready, we had the dress hanging close by so I could see it while doing January's hair, and that proved to be the inspiration for her overall look," says Townsend, who loved all the lines and cut-outs of the dress, and wanted the hair to have the same feeling.
On Monday, June 8th (the first official U.N. designated World Oceans Day ever) La Mer and Oceana held a big celebration in Los Angeles. The celebration attreacted some of Oceana's top celebrity supporters and spokespeople and was reported to be  a wonderful evening for a great cause.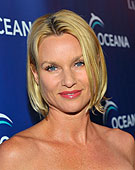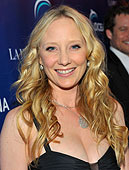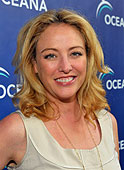 Nicolette Sheridan, Anne Heche, & Virginia Madsen
Oceana Chairman of the Board Keith Addis and Keri Selig hosted a celebration for the first official U.N. designated World Oceans Day with La Mer at their home in Los Angeles. La Mer President Maureen Case and Oceana CEO Andrew Sharpless toasted the collaboration and evening while thanking supporters and special guests including Morgan Freeman, Nicolette Sheridan, January Jones, Anne Heche, Virginia Madsen, Melora Hardin, Kelly Lynch, Rosanna Arquette and champion surfer Karina Petroni.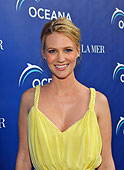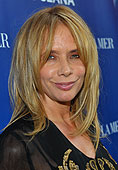 January Jones, Rosanna Arquette, & Melora Hardin
Celebrity Hairdressers Oscar Blandi & Mark Townsend get Hollywood's biggest stars glam for the 2009 Costume Institute Gala.
Calvin Klein (styled by Oscar Blandi, wearing Calvin Klein Collection).
With Brooke's hair, Oscar wanted to keep it very clean. "I decided to give her curls and keep them loose so that the look stayed soft." When her hair was still wet, he applied his Volumizing Spray to the root and then the Onde Wave Spray all over the hair to really lock in the curl. After drying the hair, he used both a medium and large barrel curling iron throughout. Using two different size barrels prevents the curls from all being the same size and ultimately blending together, so this way we avoid the blending and create more dimension. Once the curls were finished, he gently applied a small amount of Jasmine Oil on the hair to create sheen and sprayed Lacca hairspray all over.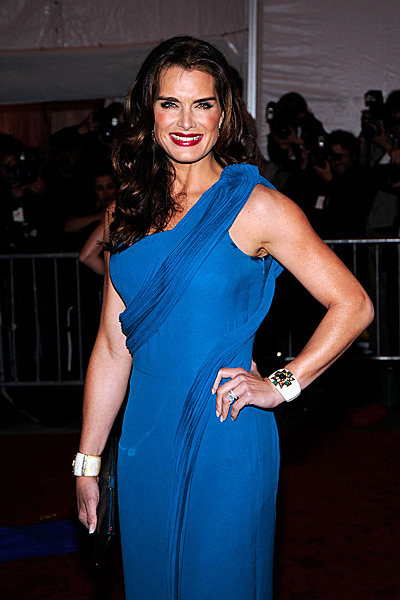 Rosario Dawson (styled by Oscar Blandi, wearing Diane von Furstenberg)
"For Rosario, I created what I like to call an abstract chignon." First Oscar blow dried the hair straight and then secured a low pony tail above the nape of the neck. Once the ponytail is set, you add medium and large size plastic rollers to the loose hair (again with both sizes to ensure texture throughout the hair). Then he sprayed Onde Wave Spray while setting the curl make sure the hair takes. Once he pulled out the rollers, it was easy to create a chignon with loose pieces– you just follow the curve of the hair and begin pinning sections in place with a bobby pin. Feel free to let hair hang and fall as it may and pull out pieces in the front to layer around the face. The final step was to spray the look with Lacca for hold through the night.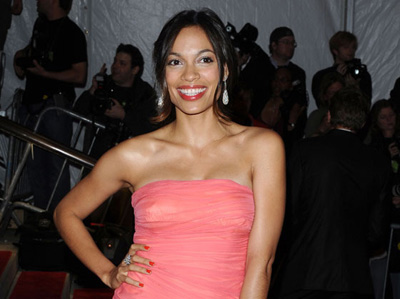 Ashley Olsen (styled by Matrix stylist Mark Townsend, wearing The Row)
Matrix celebrity stylist Mark Townsend recently cut Ashley's hair into an asymmetrical bob, so for the Met Ball they wanted to leave her hair down.
Giorgio Armani Beauty launches its latest skin care project – Crema Nera Eye Compact.
It debuted at the opening of Giorgio Armani's flagship store in NYC, Armani/Fifth Avenue, on his celebrity friends Molly Sims and January Jones, who both looked radiant. Crema Nera Eye Compact kept them looking fresh faced and glowing, perfect for the celebration of such a spectacular occasion!

Molly Sims.
Tim Quinn, Giorgio Armani Beauty's Celebrity Makeup Artist and National Artistic Director, explains the importance of skincare before makeup application. Tim's advice is: "A great look starts with glowing skin. I always like to start by applying a restorative cream like Crema Nera Eye Compact beneath the eyes to hydrate and plump those tiny creases, resulting in a radiant complexion. This is the perfect tool to use on my celebrity clients, as it helps reduce puffiness and keep their eyes looking bright throughout those long red-carpet nights!" Already a Hollywood favorite, clients better rush to the counter to get Crema Nera Eye Compact while they can!!!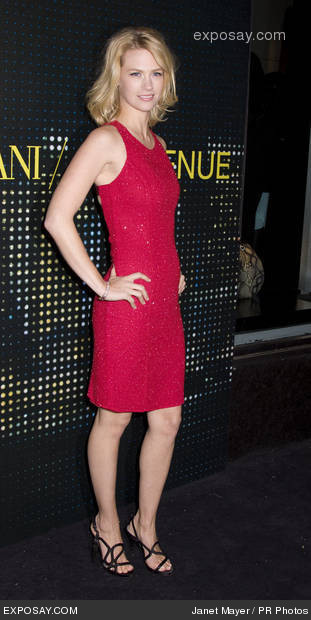 January Jones.