All Posts Tagged With: "jewelry"
(Hollywood, CA – March 2nd, 2011) – J Lo aka Jennifer Lopez judged the Top 12 Females left in Season 10 of American Idol wearing Stephen Webster jewelry.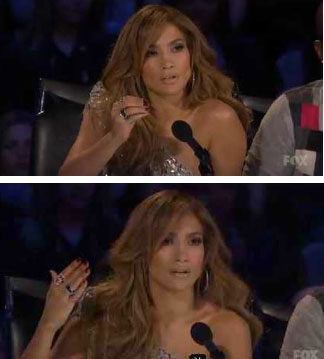 Lopez selected six pieces, first accessorizing with the Classic Crystal Haze Ring in 18k white gold with white diamonds and hematite, Vortex Cigar Band in 18k white gold with mixed white and black diamonds, In Deep Spider Crab Band Ring in 18k white gold with white diamonds and the In Deep Spider Crab Stone Ring in 18k white gold with white diamonds and hematite.
Mother-daughter design duo Lisa and Brittny Gastineau launched their high-end, celebrity-coveted jewelry line Tres Glam last year, and now they're expanding their jewelry empire with Gastineau Glamour, an on-trend, affordable collection created and sold exclusively on HSN. Brittny and her mom will debut the collection of stylish, bold pieces on HSN on Monday, March 21st, 2011.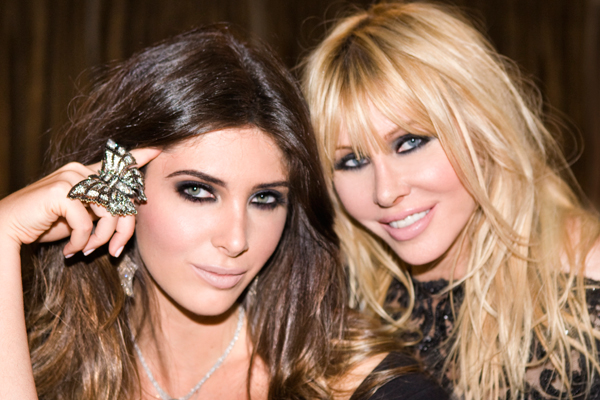 Lisa & Brittny Gastineau
I'm super excited to interview for the second time the ever so gorgeous supermodel and business woman Molly Sims. My first interview with Molly was in April 2010. Molly is the creator of an exquisite jewelery collection called  Grayce by Molly Sims which consists of timeless classic jewelry pieces without breaking the bank. Just in time for the holiday season I interviewed Molly Sims and picked her brains on what's hot when it comes to jewelry, her most memorable holiday childhood memories, makeup bag, super modeling, the Grayce for Molly Sims Holiday 2010 Collection, and future plans. BTW-there will be a 3 day Christmas sale on Molly Sims 's jewelry holiday collection from December 14th -16th, 2010, don't miss it loves:)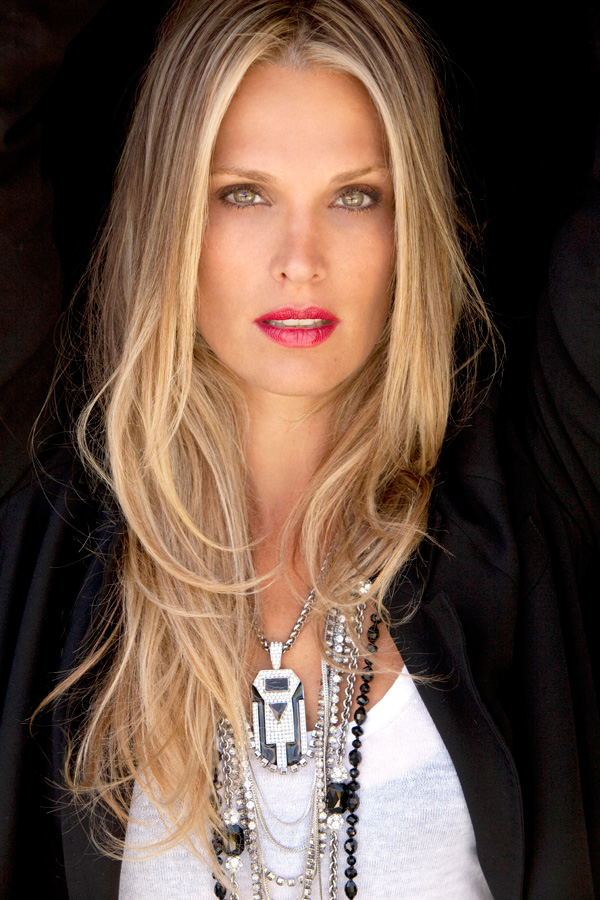 Molly Sims supermodel and founder of Grayce By Milly Sims jewelry line
Marta Walsh: Are you planning to be home for the holidays?
Molly Sims: I will be in Miami with my family. My brother had a baby so we decided to have Christmas there every year until I have children of my own.
Actress and Gossip Girls star Blake Lively wore Versace to the launch event for the Lorraine Schwartz "2BHAPPY" Jewelry Collection at Lavo in New York City. Blake wore a look from Versace's 2011 Spring/Summer Collection with a woven nude fringe top with thin straps and a cascading layer of fringe in the front over a fitted pencil skirt. Do you love?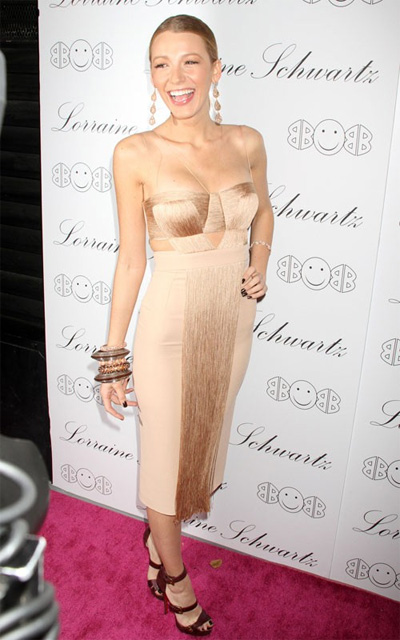 ATELIER SWAROVSKI launches its seventh collection for Autumn / Winter 2010 featuring innovative crystal jewelry and accessories in collaboration with Karl Lagerfeld, Marios Schwab, Holly Fulton, Hariri & Hariri, Kirt Holmes and Stephen Webster.

"As the collections unfold, the diversity of crystal accessory design is illuminated through the immense creativity of the artists who have incorporated new techniques and innovations. It is an honor to work with this talented group of designers for Autumn Winter 2010."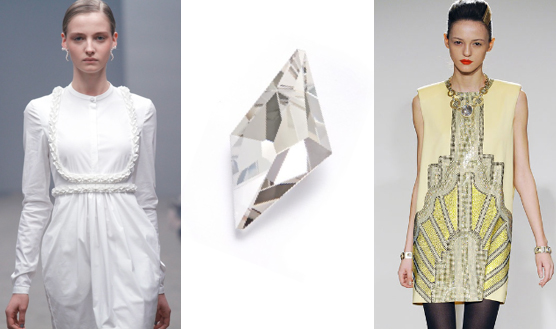 Jewelry in style. 'The City' star Olivia Palermo was spotted at the Rileys & Elton John AIDS Foundation Party, New York City, October 18th, 2010, in stacked Everlon Diamond Knot Bangle Bracelets in white and yellow gold all from the special red carpet Everlon Diamond Knot Collection. Do you love?
Drew Barrymore wears Malandrino for her appearance on The Late Show with David Letterman, August 24, 2010.
During her appearance on The Late Show with David Letterman Drew wore, Malandrino's hoop earrings with citrine and pyrite stones from the Malandrino Holiday/Resort 2011 collection. Do you love?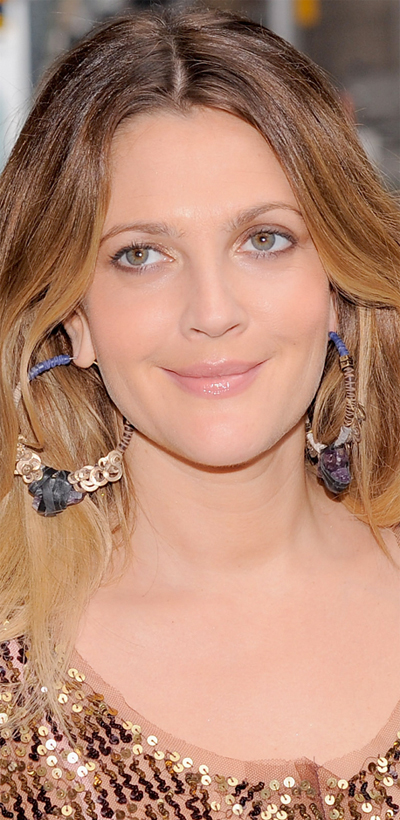 Get Emmy Rossum's Style: Emmy Rossum wore Curations with Stefani Greenfield on the red carpet of the opening night of Off- Broadway show, Trust, NYC, Thursday, August 12, 2010. The bracelet which can be purchased on hsn.com, retails for only $49.95!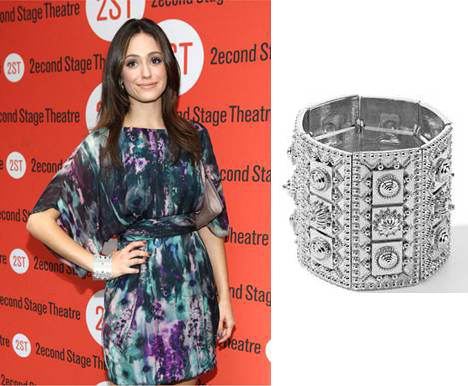 Frédéric Fekkai and Marchesa are excited to take you from New York chic to Hollywood glam at Henri Bendel.

Frédéric Fekkai Fifth Avenue Salon at Henri Bendel will present an interactive red carpet experience open to Fashion's Night Out revelers. New York Fashionistas will become the celebrity selecting from five award-winning Marchesa moments. The uber-talented Fekkai hair and make-up team will re-create these signature styles while your personal dresser waits to outfit and accessorize you in a glamorous Marchesa dress, House of Lavande jewelry and Christian Louboutin shoes. Finally, The City star and fashionista, Olivia Palermo, will be on the red carpet styling and instructing guests how to pose like a star in front of the cameras before having the paparazzi capture their Hollywood moment.
Molly Sims attends the Mulberry pool party in Los Angeles, California, Wednesday, July 21st, 2010. Molly dress is by: Mulberry (style- Raglan). Jewelry: Grayce by Molly Sims Faceted Rectangular Crystal Gem Necklace (HSN Line $79.95 on hsn.com). Shoes: Lanvin. Do you love?