All Posts Tagged With: "Joan Allen"
GET THE LOOK: On Saturday, January 23, 2010 at the Shrine Auditorium in LA, Hollywood honored its own top talent at the 16th Annual Screen Actors Guild Awards. Nominated for Outstanding Performance by a Female Actor in a TV Movie or Miniseries, for her role in Georgia O'Keefe, Joan Allen sparkled and shone on the red carpet. Sebastian Stylist Design Team member Thomas Dunkin crafted the actress' soft, cascading waves that gracefully grazed her shoulders and complemented her overall look.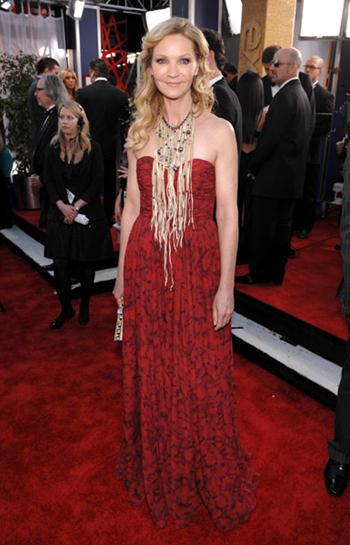 To recreate this A-list style at home, Thomas shares these step-by-step instructions:
1. To begin, apply Sebastian Professional Taming Elixir to slightly damp hair
2. Blow-dry hair straight to give the hair a smooth, even base to work on and part slightly to the left of center
3. Once dry, use a ¾-inch curling iron to wave the hair by starting at the nape and taking 2-inch sections of hair and leaving them loose to drop slightly
Arcona will be helping Vera Farmiga get red carpet ready for the Golden Globes – skincare wise, that is.
Golden Globes Nominee Vera Farmiga will be getting an in-room facial from Arcona's star esthetician Brandi Brown. Vera will be treated to Arcona's exclusive Facial Contouring Treatment – which includes an intensive acupressure massage that tones, lifts and tightens – leaving skin with a beautiful glow.

Other Arcona devotees to visit the studio this weekend:
· Emily Deschanel, Bones
· Joan Allen, Georgia O'Keefe