All Posts Tagged With: "Josie Maran"
May 2011 Beauty Events. (Los Angeles, CA) – The CHAZ DEAN STUDIO consisting of three spaces in one compound was formally reopened after an extensive renovation in a special event that also served to launch the latest issue of luxury fashion and lifestyle magazine GENLUX. Premiere celebrity hairstylist CHAZ DEAN hosted the fete with special guests including GENLUX cover model Petra Nemocova, Rosalyn Sanchez of CBS' "Without a Trace", Ming Na of SyFy's "SGU Stargate Universe", actress and cosmetics entrepreneur Josie Maran, Nicole Murphy, comedian Hal Sparks and many other fashion and entertainment industry insiders.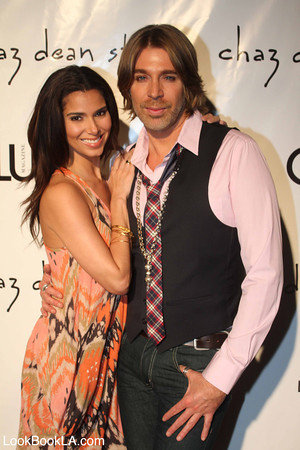 L to R: Rosalyn Sanchez and Chaz Dean
Jeff Lewis, who designed the extensive interior refurbishing, was also on hand, being trailed by cameras covering the event to serve as the season finale episode of his Bravo hit reality show "Flipping Out". A centerpiece of the festivities was a sumptuous red velvet cake by A Sweet Design custom sculpted to replicate some of Chaz Dean's award-winning WEN® haircare products and Genlux magazine covers mounted on a cake tower and surrounded by four tiers of mini cupcakes in red and pink velvet flavors. Floral arrangements were provided by Dandelion Ranch; catering by Deuce Events and drinks by Dolce Vodka.
Sephora's 2010 holiday gift collections are must-have! They make Christmas shopping for your beauty obsessed friends and family super easy and a no brainer.
Sephora Holiday Gift Collections 2010 Marta Walsh's Picks:

Too Faced Enchanted Glamourland ($145 Value), $49
Sneak peek photos from Josie Maran's "Day of Makeovers" Event in honor of the GOGO campaign at City Of Hope, one of the nation's top cancer research and treatment hospitals. You may have already heard about her new GOGO Natural Volume Argan Mascara. "GOGO" stands for "Get One, Give One" and for every mascara purchased, another one gets donated to a woman coping with cancer from City of Hope. Then, after the first 5,000 sales, Josie will continue to donate $1.00 from every purchase to support women's cancer research.
On Tuesday night, April 20th, 2010, Josie Maran was honored as "The Role Model" for her eco-fabulous cosmetic line, Josie Maran Cosmetics. Hearst's green living website, The Daily Green, recognized people, organizations and companies that take being "green" to heart.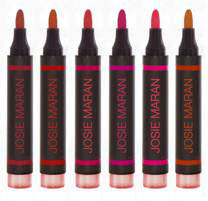 L to R: Josie Maran and the NEW Josie Maran Cosmetics Magic Markers
And, as many of you know, Josie is dedicated to growing her brand and innovating her line, all while maintaining true to her natural values. Check out the latest launch, Magic Markers (exclusively at Sephora) and get the latest updates on the Heart of Green Awards here: www.thedailygreen.com/awards
Yesterday, April 13th, 2010, Kelly Ripa teamed up with Electrolux, maker of eco-friendly, ENERGY STAR qualified appliances, to host her first-ever live Webcast in support of Earth Day and Global Green USA. As part of the exchange, known as the first-ever "Green Idea Swap," Kelly took questions from a live Web audience with the help of three eco lifestyle experts: Josie Maran, creator of her own eco-friendly makeup line; Zem Joaquin, founder and CEO of Ecofabulous; and Anna Getty, green living and holistic lifestyle expert.
"Eco is so much more than recycling these days," said Ripa. "These women prove that you don't have to sacrifice style to go green. From your makeup routine to your laundry room, you can make small changes that can add up to make a big difference."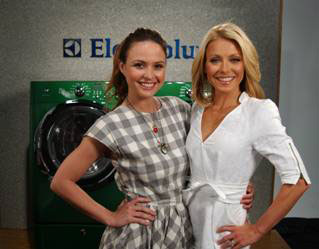 Happy New Year! Hope you enjoyed the holidays and are gearing up for a brand new decade! This year we should all vow to be a little greener, and actually do something to reduce our carbon footprints. Go green simply by choosing paraben-free mascara, a biodegradable compact, or a body wash with the Natural Product Association seal of approval! Start your new natural collection off right with some of the below eco-chic cosmetics and skincare items—they're natural beauty best-sellers!
Clean up your act with Josie Maran Bear Naked Wipes. These natural cleansing cloths are biodegradable (meaning they won't clog landfills after you throw them away) and they're made with natural ingredients that will soothe, comfort, and gently cleanse your skin without harsh chemicals or toxins. Plus, a portion of proceeds goes to the NRDC's Polar Bear Initiative, the campaign to save polar bears' natural habitats, bringing a whole new meaning to "Earth-friendly". Now available in a new travel size! Sephora.com; $6.00 – $12.00.
I'm excited to share with you my interview with American model and actress Josie Maran. Josie is also the founder of her own natural cosmetics product line, named Josie Maran Cosmetics.
In this interview Josie Maran talks about what led her to create Josie Maran Cosmetics. Her ultimate beauty secret. Her passion to protect the environment and for all things green. The people that inspire her the most, and future plans.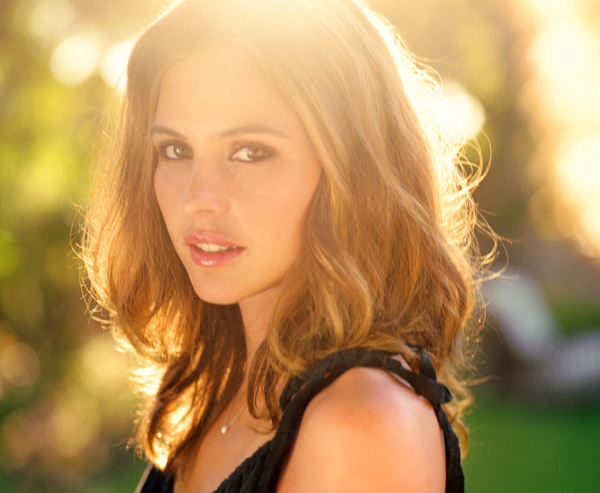 Marta Walsh: You are known for your career as a model and actress, what inspired you to create your own cosmetics line?
Josie Maran: When pregnant with my daughter a few years ago, I decided to look for natural makeup formulas to use and discovered that none lived up to the levels of sophistication and luxury as I wanted. It was then I realized that after spending so many hundreds of hours in the makeup chair, I was uniquely qualified to create my own line of cosmetics, the type of makeup that I was searching for: chic, luxurious and, most importantly, healthy. Not long after the birth of my daughter, Josie Maran Cosmetics was born.
New from Josie Maran Cosmetics: Josie Maran's New Argan Product Launches on Sephora.com.
The Argan Oil Revolution continues!! Josie's latest launch: Argan Moisturizing Stick has debuted yesterday and is now exclusively available at Sephora.com ($22.00).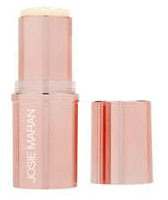 Josie's best-selling Argan Oil now comes in a stick form. This multi-purpose balm offers all the benefits of the nourishing oil, which includes anti-aging ingredients rich in fatty acids and vitamin E. A head-to-toe spot treatment for dry areas in need of moisture, this soothing balm conditions and repairs skin as it hydrates. Use it to moisturize chapped lips, soothe dry skin, tame fly aways, alleviate itching and stinging from insect bites, moisturize dry cuticles, relieve chafing skin, soothe stretch marks, calm sunburn, soothe waxed skin, and much, much more.
Don't miss supermodel Josie Maran as she gives super-gorgeous makeovers at the grand opening of Sephora's new Times Square location!
Josie Moran Cosmetics celebrates the grand opening of Sephora at 5 Times Square NYC. Meet Josie and receive a FREE JMC Makeover.
WHEN & WHERE: Friday, July 31st 9AM to 3PM at 1590 Broadway & Saturday, August 1st 1PM to 7PM at 5 Times Square.
Click image below to enlarge!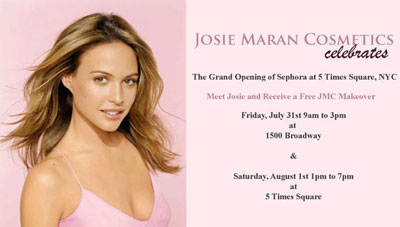 Introducing the first in a series of video tutorials on how to get the latest looks from Josie Maran Cosmetics—straight from the supermodel herself. In this episode, Josie's go-to artist Sole preps you for Date Night with a natural sultry eye courtesy of Josie Maran Cosmetics. Get the look now, and share the tutorial with everyone you know!! Stay tuned for more!