All Posts Tagged With: "Karl Lagerfeld"
CHANEL 2010 SPRING/SUMMER HAUTE COUTURE BEAUTY: Get The Look and makeup tutorial.
"Karl Lagerfeld gave me three key words: Neon Baroque, Chemical Pastels and Liquid Silver. For the lips I used the new Summer 2010 Rouge Allure Lipstick in Genial. This coral shade perfectly matched the Technicolor and Neon Baroque spirit Karl wanted for the makeup at this show."- Peter Philips, Global Creative Director of CHANEL Makeup.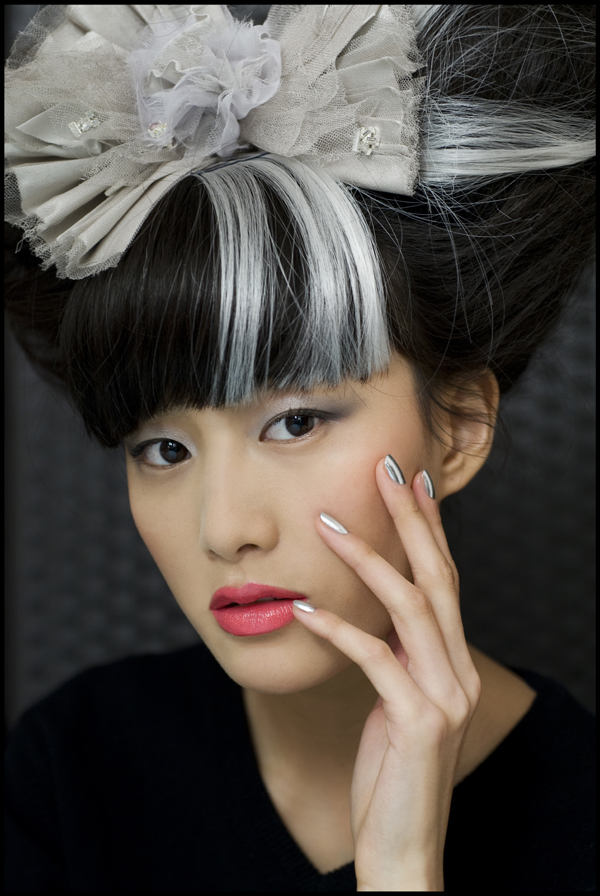 Photo Credit: vincent lappartient – photographe
Marta Walsh says: I love the CHANEL Spring/Summer 2010 makeup, particularly the coral lips and the silver nail polish. I also loving the grey and white highlights on model's hair, and yes, the hairstyle.
Peter used the following CHANEL products to create the runway beauty looks:
Skincare:
Skin prepared with Hydramax + Active Nourishing Cream for Dry Skin (Available in March 2010)
Complexion: Base Lumiere Illuminating Makeup Base Pro Lumiere Professional Finish Makeup SPF 15
Poudre Universelle Libre Natural Finish Loose Powder
Stylo Eclat Lumiere Highlighter Face Pen
Correcteur Perfection Long Lasting Concealer
STRAIGHT FROM PARIS: I would love one day to attend the CHANEL Haute Couture presentation in Paris. Meanwhile all I can do is admire from the distance. I have selected some of my favorites looks from the CHANEL collection to give you a sneak peek. BTW I love the hairstyle and the true coral lips seen on the runway models. The hairstyle? It's a cross between Minnie Mouse and Hello Kitty. Better yet, I see an Asian influence, an Asian Doll perhaps, or the glamour of Shanghai. The fingerless gloves are so Karl Lagerfeld. The silver shoes add a bit of  a space-age element making the whole look very intriguing. And finally, can the skort (skirt plus shorts) make a comeback?
Which CHANEL Haute Couture Spring/Summer 2010 look is your favorite?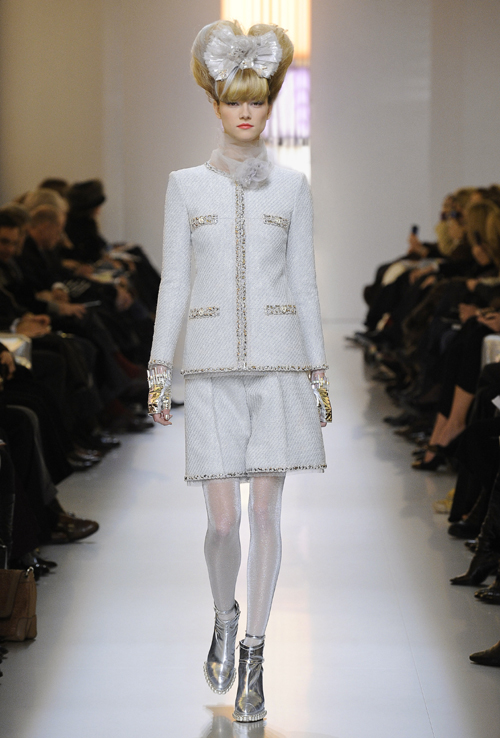 The CHANEL Haute Couture Spring/Summer 2010 collection debuted in Paris yesterday, Tuesday January 26th 2010.
Talking Makeup is excited to share with you exclusive VIP  CHANEL Haute Couture Spring/Summer 2010 photos!
Also, WATCH Karl Lagerfeld interview in French at the CHANEL Haute Couture Spring/Summer 2010 presentation: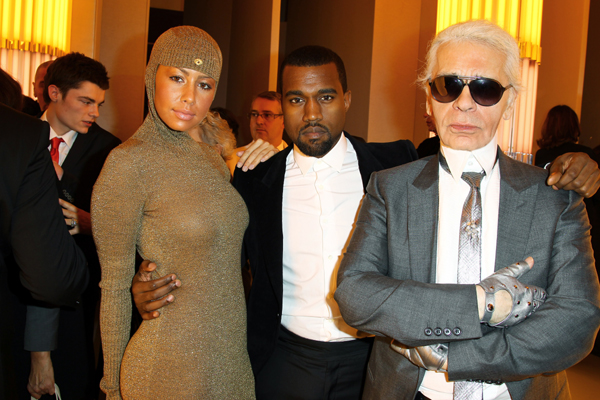 From Left: Amber Rose, Kanye West, and Karl Lagerfeld
VOGUE January 2010, Hello Gorgeous Article on Lara Stone
At five feet ten and a size 4, supermodel Lara Stone has struggled to fit in. Stone is about 2 sizes larger than her modeling peers, but this has not stopped her career from skyrocketing. "Lara Stone has a gorgeous women's body," affirms fan Karl Lagerfeld. Stone has appeared in ad campaigns for the likes of Givenchy and has walked the runway for almost every major designer including Marc Jacobs and Balmain.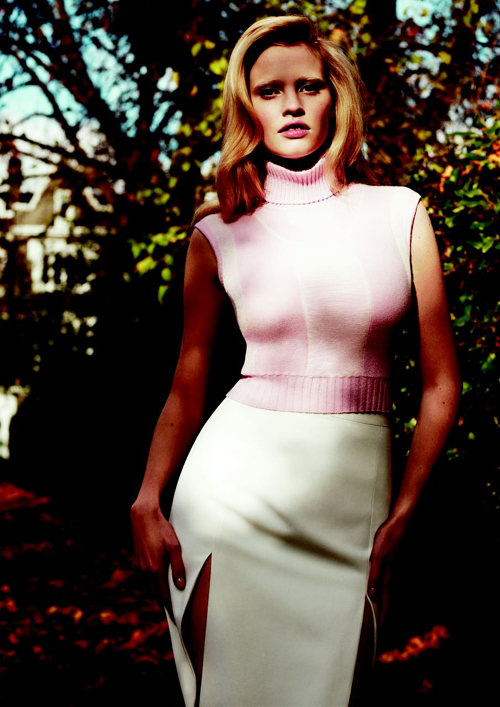 Lara Stone photographed by Willy Vanderperre
In the article Hello Gorgeous, Vogue recalls the days when stylists came to a shoot armed with pins to make the clothes fit the models and examines the absurdity of the thought that clothes only hang nicely on super-skinny girls (aka coat hangers). The opposite is also true – some clothes look better on bodies with "boobs," which is why Stone's career has flourished. Could her unexpected success mean the return of curves? In the January issue of Vogue, Stone opens up to Rebecca Johnson about how difficult it can be to constantly hear how different she is, her methods of coping, and how she views herself now.
Kate Hudson and Penelope Cruz both looking fabulous in CHANEL Haute Couture at the NY Premiere of "NINE", December 15th, 2009. Which CHANEL dress are you?
Penelope CRUZ was wearing a long asymmetrical satin red dress Chanel Haute Couture. The dress was specially chosen by Karl Lagerfeld for Penelope from the Chanel Conservatoire. This unique dress was shown during the Spring/Summer Haute Couture show of Karl Lagerfeld for Chanel in1989.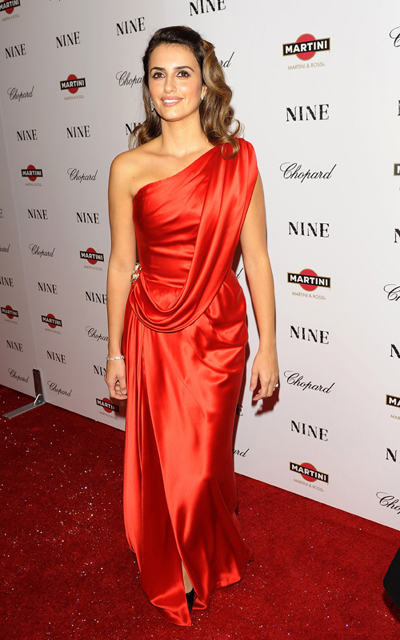 Kate Hudson was wearing an embroidered dress from the Fall/Winter 2009 Haute Couture collection.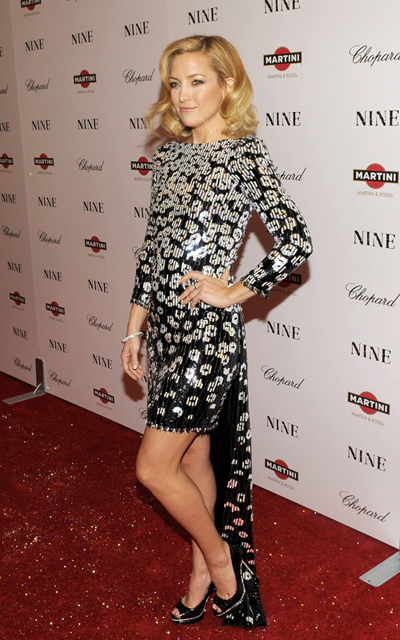 The CHANEL Metiers d'Art Collection 2009-2010 Paris-Shanghai
For some years, CHANEL has been ensuring the destinies and preservation of the skills of the Maisons d'Art: metal worker Desrues, feather maker Lemarié, embroiderer Lesage, shoemaker Massaro, milliner Michel, goldsmith Goossens and flower maker Guillet. Since 2002, Karl Lagerfeld has dedicated an annual collection to them, presented in exclusivity in a city that is part of, or is destined to leave its mark on, the history of the brand. In Shanghai on December 3rd, he unveiled his 8th edition of this collection, called "Paris Shanghai". Shanghai is a city in constant evolution, a cosmopolitan theater to an extraordinary cultural boom, and where CHANEL has recently inaugurated its third point of sale in continental China over an impressive 480m2.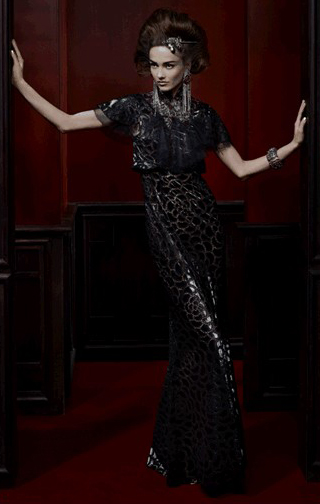 As a prelude to the show, the film "PARIS SHANGHAI, A FANTASY", written and directed by Karl Lagerfeld, tells the story of Coco Chanel's imagined voyage to China.
Vanessa Paradis Named the New Face of CHANEL Lipstick: In 1992, Vanessa Paradis whistled and displayed her skills as an acrobat, lending her youthful grace and already exceptional personality to the Coco fragrance. In 2003, in front of Karl Lagerfeld's camera, Vanessa became the muse of the Cambom handbags. In 2010, Vanessa's modern elegance, boldness of character and power of emotion will unite with a range of lipsticks with an evocative name: Rouge COCO de CHANEL. The special relationship thus continues, with consistency and modernity.
CHANEL is all about jade this season! From nail polish and perfume all the way to jade colored pants. Jade was never so major:)
The Inspiration: "In the middle of black and white, I found it pretty to add a splash of pale green."-Karl Lagerfeld.
The CHANEL Jade With Envy collection:
CHANEL Nail colour in Jade: This mineral inspired shade transforms nails into genuine gems and recalls the jade jewelry and pistachio tweed of the Autumn/winter 2009-10 Ready-to-Wear Collection.
CHANEL Cristalle Eau Verte: "It's a delicious jasmine and lemon scent with aqueous fresh, green notes."-Jacques Polge, CHANEL.
CHANEL black satin and jade 'ring' shoe.
CHANEL 'Sublime Deco' jade and enamel ring. 
CHANEL 'Sublime Deco' cord necklace.
CHANEL black satin evening clutch with jade closure.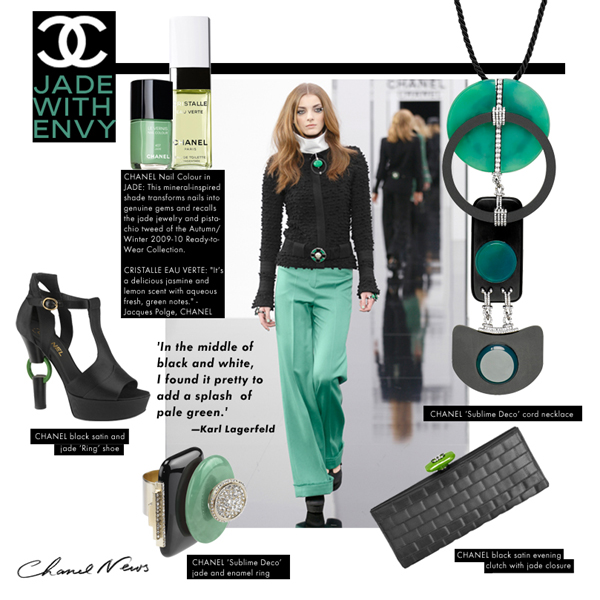 Click image above to enlarge.
Looks like Next season's big trend is a flat look that debuted backstage at Alexander Wang, courtesy of Butter London's Nonie Crème, who created the finish by putting her Nail Foundation base coat on top of her flesh-toned go-to Yummy Mummy. Look out for matte color collections from Zoya and Orly this fall, as well as Opi's line launching in July.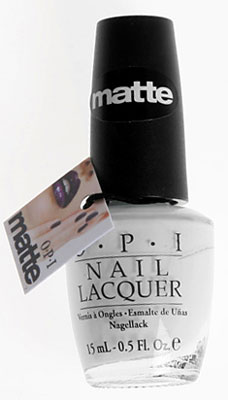 Opi Matte, $8.50, available in July at www.opi.com
Chanel's creative director of makeup, Peter Philips, created a jade lacquer from the brand's Fall 2009 show.
What do you think about this trend: Hippie Headbands, as seen on the runway this year and on celebrities, such as: Lindsay Lohan, Ashley Simpson, and Nicole Ricci. Is it too disco or you will give it a go?
SEE MORE CELEBS!

Karl Lagerfeld and Lindsay Lohan (in a hippie headband).