All Posts Tagged With: "Karolina Kurkova"
WATCH an exclusive video of the day in the life of supermodel Karolina Kurkova preparing for the 2010 Victoria's Secret Fashion Show which aired tonight on CBS at 10pm.

See more videos on modelinia.com
Karolina the veteran returns to the runway after having her first child and gives Modelinia the inside scoop on the day leading up to the famous show …proving Heidi Klum isn't the only super mom out there!
Also see the Victoria's Secret Fashion Show Face Book
Karolina Kurkova looks lovely in Marchesa and carries a Marchesa clutch to the 2010 AMFAR's Cinema against AIDS Gala, May 20, 2010. Karolina wears a black bias cut gold embroidered chiffon fringed dress and carries a black crocodile frame clutch with hand beveled quartz crystal clasp. The shoes look very Christian Louboutin.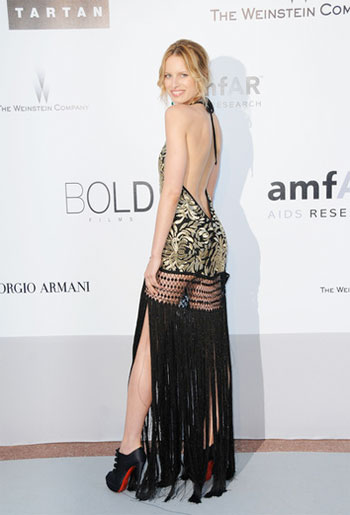 BEAUTY: Besides working out and having amazing style, a supermodel's main priority is having healthy skin. Modelinia caught up with the best of the best including: Cindy Crawford, Alessandra Ambrosio, Dree Hemingway, Karolina Kurkova, Veronica Webb and many others to get their beauty secrets of 2010.
Click to start slide show below!

See the full slideshow on modelinia.com
SUPERMODEL BEAUTY SECRETS:
Heidi Klum what's in your beach bag this Memorial Day weekend?
This exactly the question Modelinia.com's asked upermodels, such as: Heidi Klum, Karolina Kurkova, Hilary Rhoda and Brooklyn Decker, just in time for Memorial Day weekend.
Ever wonder what's hiding inside supermodels beach bags for the long holiday weekend?? Or what are supermodels Memorial Day Beach Bag Essentials?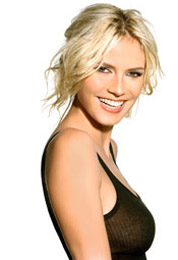 It's Memorial Day weekend, which means summer has officially arrived, complete with beach vacations, relaxing poolside, and barbecues with friends. But before the trips and celebrations begin, packing is the No. 1 priority. If you're stressing about just which suit to buy or what beauty products to pack, Supermodels Heidi Klum, Hilary Rhoda, Karolina Kurkova, and Brooklyn Decker opened up their beach bags to show off their SPF levels, what they're reading, and their iPod playlists, so you can strategize for the long weekend just like them!
WHO: Heidi Klum
Renowned Celeb Stylist Ward Stegerhoek creates Naturally Chic Hairstyles for: Ashley Judd, Karolina Kurkova, and Denise Richards.
The look for Sundance this year was natural yet whimsical. All the celebrities were looking for a casual look that still had style. Renowned hair stylist Ward Stegerhoek for Living Proof NO FRIZZ heat up Sundance with looks for Ashley Judd, Karolina Kurkova, and Denise Richards.
Ashley Judd: Attended the Premier of her new movie "Helen".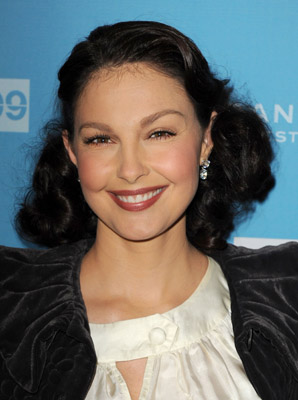 Ashley Judd's hairstyle: A soft fifties style wave.
How to get Ashley Judd's hairstyle: Ward suggests using about 15-20 sprays of Living Proof NO FRIZZ CREAM starting at the roots and working towards the ends.
Ward combed NO FRIZZ through fingers to make sure it's evenly distributed. He then blew the hair straight and added rollers to create Ashley's natural 50's wave.
For Ashley's extra volume Ward elevated her hair applied the heat directly to the roots. He then used a large curling iron to enhance some of the curls.
Karolina Kurkova: Attended the Screening of "The September Issue".
Karolina Kurkova's hairstyle: Karolina wanted a look that was soft and straight with a bit of body.
How to get Karolina Kurkova's hairstyle:  Ward used No Frizz Straight Making Styling Spray. After applying the product completely, Ward started at the roots, gently combed the brush through your hair one section at a time, aiming the blow-dryer down the hair shafts.
The very famous and very glamorous Victoria's Secret Fashion Show took place at the Fontainebleau Hotel in Miami Beach last Saturday, November 15, 2008.
The Victoria's Secret Fashion Show will broadcast Wednesday, Dec. 3rd (10:00-11:00 PM, ET/PT) on the CBS Television Network! This marks the sixth time the show will air on CBS and the first time the show will be in Miami Beach. You don't want to miss it. It is one of the best shows to look forward to every year.

Victoria's Secret Angel Marissa Miller.
Curious how to get the look of the Victoria's Secret Angels from this year's VS Fashion show in Miami?  Talking Makeup has got the scoop for you!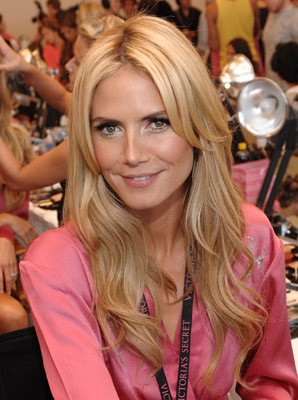 Victoria's Secret Angel Heidi Klum.
Meet the Victoria's Secret Angels: Heidi Klum, Karolina Kurkova, Adriana Lima, Alessandra Ambrosio, Selita Ebanks, the newest angels Marisa Miller, Miranda Kerr, and Doutzen Kroes and more…
Celebrating the launch of Bio-Fit Uplift (I know it's a bra not makeup, but we love everything from Victoria's Secret), Victoria's Secret Angels Adriana Lima and Karolina Kurkova will host an autograph signing at the Victoria's Secret Store at The Grove in LA (6301 West 3rd Street LA). When: Tuesday March 4th, 2008, 6-8pm.

Victoria's Secret Angel Adriana Lima
Victoria's Secret BioFit Uplift is the must-have bra for the Spring season! This new bra by VS features cup-specific enhancement scientifically designed to provide uplifting benefits based on individual cup size, creating the most personalized fit for every figure. 

Victoria's Secret Angel Karolina Kurkova
As the cup size of VS BioFit Uplift increases, the padding decreases, creating a natural sexy look. The BioFit is available in a variety of sassy, bright spring colors and sized ranging from A-DD. Price range from $42-$45.